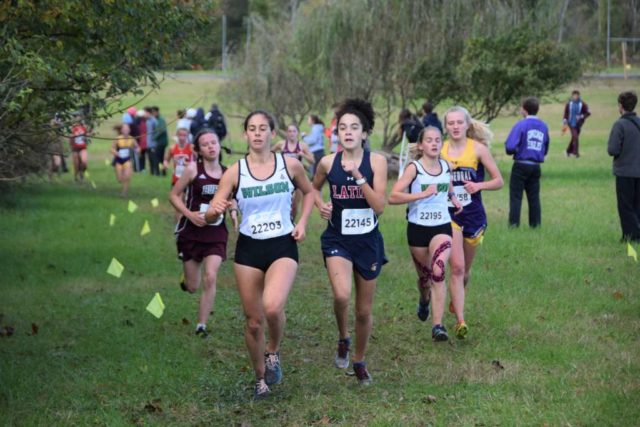 In the last five years, D.C. state championships have had the most drama in the middle, where teams' fourth and fifth runners battle on the margins while Taylor Knibb or Page Lester run away with the individual title. Spectators got better shows this year, The race this year stayed interesting much, much longer, with Woodrow Wilson sophomore Ava Nicely kicked past Washington Latin sophomore Zoe Edelman in the last tenth of a mile to win the individual title, 19:41-19:43.
Nicely and fourth-place finisher Claire Wigglesworth (20:03) led the way for Wilson upset of defending champion St. John's, 44-49. It made Wilson the first public school to win a title since the DCSAA championship race started in 2013.
DCSAA Championships
Nov. 3, 2018
Kenilworth Park, Washington, D.C.
5k+ ~40 meters
1.Ava Nicley Wilson 19:41
2.Zoe Edelman Latin 19:43
3.Sophia Hanway NCS 19:58
1.Wilson 44
2. St. John's 49
3. National Cathedral 53
1.Luke Tewalt Latin 16:28
2.Cullen Capuano Gonzaga 16:36
3.Gavin McElhennon Gonzaga 16:45
1.Gonzaga 47
2.Wilson 82
3.Sidwell 83
Nicely, Edelman, Wigglesworth, National Cathedral's Sophia Hanway and Edmund Burke's Katie Hirsche kept a pack going throughout more than two miles until Edelman started to pull ahead and Nicely yo-yoed behind her. The two loops of Kenilworth Park were muddy after a late-Friday rain, and opinions differed as to whether conditions were better than the notoriously muddy DCXC Invitational five weeks prior.
"There were parts where I stepped down and I had to pull my foot back out of the mud," Nicely said. "I'm not used to running in that big of a pack, it felt nice to be engaged in the race like that."
Following the last uphill and right-hand turn toward the finish line, Nicely made a move to pass Edelman and held on for a two-second margin over the course that Gonzaga Assistant Coach Tom Kelly measured as roughly 40 meters longer than 5k.
"I really wasn't expecting to make a move, but I got to the end and had more left in me, so I just went for it," Nicely said. "I tripped a little when I passed Zoe, so I was a little nervous she'd catch back up."
Being able to win was somewhat of a surprise to nicely, who, despite finishing seventh as a freshman, has spent more time in the pool cross training this Fall.
Wilson Coach Emily Farrar said that confidence was a symptom of the team's investment and faith in their training.
"They trusted the process," Farrar said. "I thought that was just what old (school) coaches said, but I found myself saying that over and over again. They're in the pool, on the elliptical, wondering how they'll be ready to race, but they bought in and were all in."
With that in mind, she stressed that what happened before should not predetermine anything that happened that day.
"We figured out where they had to place for us to succeed and they knew each one of them was going to have to compete to get there," Farrar said. "Ava went for it, and I wasn't expecting that, but she and Claire got up there and most of the team had their best races of the year, even if the times don't reflect that."
After Nicely and Wigglesworth, Talya Lerich finished 13th overall (21:25), Gillian Kimmel was 15th (21:28) and Madelyn Shapiro was 21st (22:05) to close out scoring.
The biggest challenge, Farrar found, was fostering cutthroat competitiveness in who she described as "sweet, kind children."
"It was hard to train them to be aggressive and but let them know that you can be aggressive and still be a nice person," she said.
St. John's, which placed four runners in the top 15, was hobbled from missing last year's runner-up, Cady Hyde, who has been injured on and off throughout the last two years.
The boys' race featured a third consecutive title by Gonzaga and the same top three – all juniors – as last year's championship, but with some reshuffling.
Washington Latin's Luke Tewalt focused on running a competitive, but not necessarily fast, race to win in 16:28. With his season's goal of breaking 16 minutes out of the way weeks before, he felt free to focus on running a tactical race.
"I definitely ran it differently than I did in a lot of races where I'm trying to go after a time," he said. "While I was walking the course, I could feel the patterns with the wind and knew there were a lot of places I didn't want to be out in front."
Gonzaga teammates Gavin McElhennon and Cullen Capuano started at the front with Tewalt and by the time the group started on its second loop, McElhennon covered what he saw as a move by Tewalt.
"That was a mistake, I thought he was going for it and I didn't want to let him get away," he said.
Instead, McElhennon blocked the wind for Tewalt and ran his kick out in the process.
During the first loop, Tewalt noted the 4k mark and planned on starting his kick, with the help of a tailwind, but he ended up starting a little earlier, with Capuano in pursuit.
"I analyzed that race a lot more than I usually do," Tewalt said. "I was always thinking about finding a good place to make my next move."
For Tewalt, the next move will be the Nike Cross Southeast regional at the end of the month. Gonzaga will be there, too, with a stopover in New York for the Jesuit Championships in two weeks.
The Eagles were aided by Patrick Donnelly's 11th place finish in 17:31, Luke Francese in 15th in 17:53 and senior Daniel Roginski in 20th in 18:08 to outdistance Wilson 47-82. Wilson was powered by city champion Dylan Blumenthal's fourth place finish in 16:47.