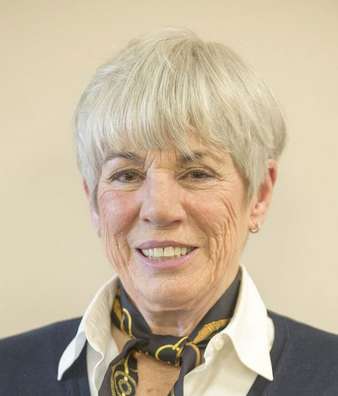 Henley Gabeau, who championed women's running as a founder of the first women's running club in the Washington, D.C. area and the first executive director of the Road Runners Club of America, died Nov. 7 of colon cancer.  She was 74.
Gabeau was a dominant presence in the D.C. and national road running communities for more than 25 years, from the founding of the women's only club, RunHers, in 1976, to her retirement as RRCA executive director in 2001.  During that time, she lobbied for equal access to the sport and was part of the movement that led to the inclusion of women's distance events in the Olympics – the marathon (added in 1984), the 10,000 meters (1988), and the 5,000 meters (1996).
She stood out as a leader and role model at a time when women's participation in the sport wasn't so commonplace, said Jeff Darman, the race director of the local ACLI Capital Challenge race.
"She showed women that she could do it," Darman said.  "She was a lot of firsts. She was the first woman president of the RRCA and the first executive director of the RRCA. All of that stuff has led to so much more."
Gabeau started running during the running boom of the mid-1970s, after watching her daughter, Robin, practice at the track, according to a 1977 Washington Post profile.  In 1976, Gabeau and other local women founded the RunHers to encourage women's participation in road racing.  The club held practices, competed in events, including the Marine Corps Marathon, and organized races.  At one point in the 1980s, according to the club website, the RunHers counted more than 200 women as members. (The group now numbers about 20 and still meets in Arlington and D.C.)
RunHers was a "pivotal milestone in the growth of women's running in the D.C. area", and Gabeau "was a big prime mover in getting that club started,"  Phil Stewart, the Credit Union Cherry Blossom Ten Mile race director, recalled.
As a club leader, Gabeau inspired other women to take up running, but running also seemed to empower her, Darman said.
"You could watch her change over the years and running was an impetus,"  he said.  "She got so much more self confident."
In the late 1970s, Gabeau also started to volunteer with the RRCA and began her work to advocate for women runners on the national and international scenes.  Darman, who served as president of the RRCA from 1976 to 1979, recalled that Gabeau asked him why there weren't more women serving as race directors or in operational roles at races.  He responded that there were plenty of roles for women, if she could help find women to fill them.  Gabeau did.
She went on to serve as the first female president of the RRCA in 1986 and became that organization's first executive director in 1990, a position she served in until her retirement in 2001.  She continued to champion women's running and developed a program on safety for women runners that included information from law enforcement and tips to enhance safety, such as not wearing headphones, running in pairs, and varying your training routes.  The interest in safety was personal – Gabeau once had been attacked while running, recalled RunHers board member Elizabeth Ottaway, who attended several of these safety seminars as a member of RunHers in the late 1990s and early 2000s.
"The thing to this day that sticks in my mind is not wearing headphones and being aware," Ottaway said.  "She was so against wearing headphones."
Gabeau's interest in encouraging and protecting other women runners was a natural outgrowth of her personality.  Stewart, the Cherry Blossom race director, said Gabeau had a rare ability to make everyone she met feel loved and supported, whether she was acting in her capacity as a running advocate or sending handwritten notes to her friends.
"She was generous, open and caring about hundreds of people and really invested herself in their lives,"  Stewart said.  "You always felt Henley's love, however you came in contact with her. And that was a very powerful magnet that drew people to her."
Recent Stories

Both 5K and 1 mile courses are USATF certified. The 5K course has some moderate hills. The 1 mile course is flat making this a perfect PR course. We are really looking to get a broader participation base.
Funds go