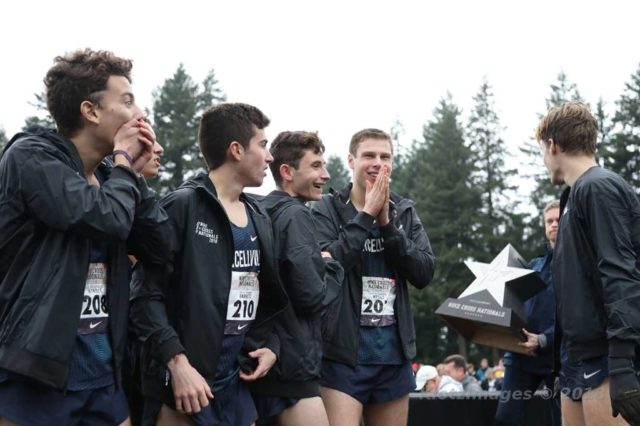 There was panic in the Jungle.
People felt it at home in Purcellville, at the Commonwealth Games, in a University of Virginia dorm and beamed it back to the Gleendover Golf Course in Portland, Ore.
From all indications, Loudoun Valley was all over the standings as they raced Nike Cross Nationals. Second. Third. But definitely not first. A long way from being the first boys team to defend a national title.
"After the second mile, we heard we were in third, and it wasn't even close," Coach Marc Hunter said. "We were probably 30 or 40 points back, and you're not going to make that up in a mile."
Something had to be wrong.
Nike Cross Nationals
Dec. 1, 2018- Glendoveer Golf Course
Portland, Ore.
3.1 miles
30.Carlos Shultz LV 15:32
31. Sam Affolder LV15:33
38. Eldad Mulugeta Northwood 15:38
39. Jacob Hunter LV 15:39
52. Kellen Hasle LV 15:46
63. Connor Wells LV 15:51
112.Obsaa Feda Northwood 16:19
151. Jacob Windle LV 16:38
187. Mateo Barreto LV 17:12
Team results
1.Purcellville (Loudoun Valley) 77
2.Temecula (Great Oak, Calif.) 114
3.Littleton (Dakota Ridge, Colo.) 1115
In the middle of the pack, where the action was, Connor Wells raced confidently, able to see his teammates around him.
To anyone watching the numbers, Wells shouldn't have been there. The senior in the mix to be his class' valedictorian was uncharacteristically paired with a lazy timing chip. It showed him in 202nd place at the mile, coming through in 5:20, roughly 30 seconds behind where he really was. As far as team standings were concerned, he basically wasn't in the race. That threw off the mid-race statistics being broadcast during a livestream of the race. 
Hunter climbed the hill to the finish area, wondering what he was going to tell his boys; they'd be crushed.
But Assistant Coach Jamie McCarty was feeling decidedly better. He saw the runners coming in, not as many as far ahead in the pack as last year, but much tighter – with just 19 seconds between junior Carlos Shultz's 30th place finish in 15:32 and Wells' 63rd in 15:51. What helped was that Wells was 32 places ahead of last year's finish as the Vikings' fifth man. When all was said and done, and the real results came out, the sky hadn't fallen. Loudoun Valley scored 77 points to California's Great Oak in 114 points and Dakota Ridge, from Colorado, with 115 points. It was a 12-point improvement over what had been a record-low score a year before.
"We had no idea we won until they announced (Great Oak) was second," Wells said.
In the end, Loudoun Valley won by running just decently. Of the scoring five, Hunter and his wife and coaching partner Joan agreed that only Schultz had an outstanding race.
"They didn't look good out there," she said. "They didn't look relaxed, and it was hard to see where they were. The front pack was much bigger than last year."
But they managed.
"The goal here is not to fall apart," Marc Hunter said. "You shouldn't count on kids running their best at the end of a long season like this. They're running on fumes, they're out of their routine."
Being out of his routine got to senior Sam Affolder. The Vikings' number one runner all year didn't think the pre-race ceremonies would be a problem until the 40-degree air overwhelmed his adrenaline midway through the race.
"For that weather around here, I'd be wearing gloves and sleeves," he said. "I really started to lock up around mile two."
He had fallen out of the lead pack, back to 17th. Over the last 1.1 miles, he fought while 14 more runners passed him, including Shultz. Fortunately, most of those runners didn't figure into the team scores.
"I wasn't panicking, but I knew I had to grind out two more k (kilometers)," he said. "We were still in this and we needed every point."
He wound up a second and a place behind Shultz – 30th and 31st in 15:32 and 15:33, and behind two Dakota Ridge runners, but then the LV pack rolled in. Senior Jacob Hunter in 39th – 15:39, with Northwood senior Eldad Mulugeta one place ahead in 15:38. Then a Great Oak runner. Junior Kellen Hasle in 52nd – 15:46.  One Dakota Ridge and two Great Oak before Wells slammed the door on team scoring. Senior Jacob Windle finished 151st in 16:38 and junior Mateo Baretto, who previously attended Kettle Run High School, was 187th in 17:12z
Shultz went out faster than usual for him – 4:46 at the mile – but knew that positioning was necessary to avoid getting trapped in the pack.  
"I felt pretty good, even going out fast, but it started to catch up with me at the end," he said.
Not as much as it caught up with others. Consistently 42nd at the first two mile marks, he dropped 12 runners in the last 1.1 mile. A year before, he had finished 21st just among large-school runners while at Phoenixville High School in Pennsylvania. Now he was 30th in the country. Two years before, he and Affolder were nearly a minute apart at their state meet. 
"My coaches were telling me that we were losing," he said. "That gave me motivation," in the last mile.
"I've never had a team around me like this in a race."
Along with Shultz, Hasle was new to the NXN team after making a big jump as a junior into the team's three by the state meet and top four at the southeast region meet. It was a long way from when, as a freshman, his mother dragged him out of bed for cross country practice when he'd rather have slept until 10:30.
By the end of the first week, he warmed to it, getting to make new friends after moving that summer from Alaska and appreciating the system in which the team trained.
"I like knowing the background of the workouts, why we do what we do," he said.
Wells' finish was even better when viewed from late August, when he was aching for a break from running. The Hunters and Assistant Coach Brian Markley, who had coached Wells at Freedom High School, came to his house to talk things over and by the next day, he was back working out with the team.
"I knew when we had team goals like that, there isn't room for a pity party," Wells said. "They helped me get the confidence I needed to get back at it."
For the second straight year, Wells was the best fifth man in the field. Having that runner finish in the 60s at a race this size will typically win a championship.
If it ain't broke…
One thing Loudoun Valley changed this year was their arrival, coming in earlier on Wednesday.
In 2017, they landed late in the evening, already a stretch coming to Pacific Time, and couldn't  find a place to eat.
So, they found a Target and had dinner in a hotel. This year, despite a more favorable schedule the boys still gravitated toward the do-it-yourself meal.
"I told them we were going to an actual restaurant, but about six of them stayed in," Marc Hunter said.
The makeup of this Loudoun Valley nationals team went down to the wire, with Affolder, Hunter and Wells the only returners from last year's team. Throughout a season of college visits, injury precautions and mid-season improvements, the Vikings raced a variety of different lineups.
Affolder liked the change-ups.
"You get to know someone better by racing alongside them than you could any other way," he said. "What we found out is that these guys wanted to race."
Jacob Hunter concurred.
"It was good for the team," he said. "If the senior leaders aren't there, the younger guys aren't shaken, they step up and do some things they didn't know they could. They showed they cared just as much about winning as we did."
But it made things hard for his parents when it came time to select a top seven. So did a razor-thin margin at the Southeast region meet, when Baretto and junior Kevin Carlson finished with identical times. Baretto had the edge in the results, but Marc Hunter asked to see the video to be absolutely sure the team's seventh finisher traveled to Oregon. Carlson had been on last year's nationals team and Windle, out of sorts most of 2017, had been scorer on the 2016 team that fell short of the national meet. At this year's regional meet, the Vikings put eight runners in the top 46, all under 16:00 on a sloppy course in the middle of a deluge. The national course was a dream by comparison.
"We told the boys there wouldn't be any subjective decisions," he said. "Our top seven would go."
Joan Hunter appreciated the team's depth, but said it only made that part of the process harder.
"I wish it had been cut and dry," she said. "I never thought we'd have this much trouble."
Yet perceived troubles ended up working out in the Vikings' favor, though Marc Hunter could have done without it. The suspense from the mid-race score fiasco didn't make the win much sweeter or exciting. Two days later, he still dreaded what he'd have had to say to his team had they not won.
"I'd rather be winning by 100 points at mile two," he said. "That's more fun than a mixup."
Loudoun Valley will carry the momentum into this weekend, when they hope to get some state indoor championships qualifiers out of the way at the Real Deal High School Classic in Hampton before taking a post-season break.
Recent Stories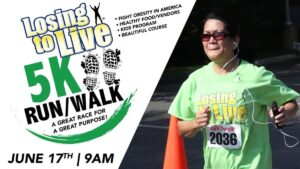 WHEN Saturday, June 17, 2023 at 9:00 am WHERE This convenient location is just minutes from your house located 1/2 mile inside the 1-495 Capital Beltway at exit 51. Spectators are welcome to watch and cheer on the runners. Capital