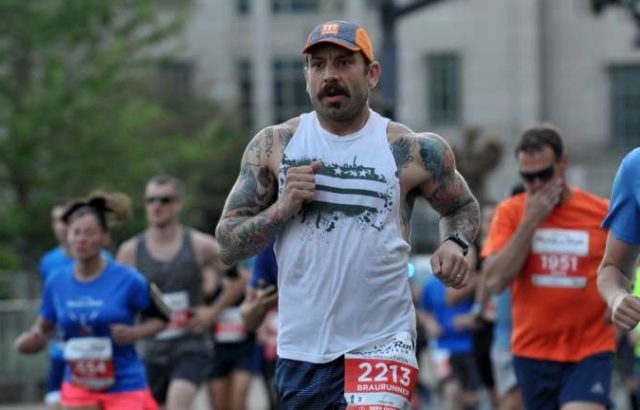 Name: Brandon Skall
Self-described age group: Not quite 40
Residence: Bloomingdale
Occupation: DC Brau CEO/Co-Founder
Volunteer roles in the running world: I am the co-founder of Braurunners (along with Adam Duffy). Every month we do a group run that starts and finishes at a bar serving DC Brau. We always feature a local non-profit and ask our runners to donate something to the charity. We buy everyone's first post run beer. In under two years we have raised over $14,000 and brought attention to some great causes in the D.C. Metro area.
Why you run: To connect my body and mind. To listen to the Grateful Dead while cruising through beautiful D. C. sunrise. To meditate and take inventory of my thoughts and days. For the amazing running community I have found and strength I find in sharing my life with people who motivate me.
When did you get started running: Fall of 2015
Have you taken a break from running: I developed plantar fasciitis and had to stop for a few months back in 2016. It made me quite sad.
Training shoe: Ultra Boost
Coach or training group: The Croissant Club, 15th and P Saturday crew.
The hardest race you've ever run: Leo's Run 5k. 5ks are torture for me. It's an all out push from start to finish and I'm always looking for a PR. Leo's Run is a very hilly course in Silver Spring that goes down into Sligo Creek and the temperature is usually in the teens.
Most adventurous decision you've made with your running: I guess it would be signing up for my first marathon in Chicago but something more unique was deciding (on the fly) to run to my parents house in Northern Virginia. It was about fifteen miles and I told my family to leave about 45 minutes after I left our house in D.C. to meet me there. I remember how shocked my folks were when I showed up all sweaty and in search of bananas and water!
Running mentors: Laurance Frierson, Adam Duffy, Michael Wurzbacher, Sarah Oakman, Marilyn Heymann, Maggie Loyd, Kasey Hayes, Tim Hughes, Mike Mowery and the rest of my running friends. I have learned so much about running form and practice from my morning runs with these incredible and motivating people. I admire them all (also every member of every Ragnar team I've ever been on).
My favorite place to run in the D.C. area is: The mean streets and beautiful monuments. It's so easy to plan a route around any one of the beautiful D.C. landmarks that make our city so aesthetically breathtaking. My favorite route is to cruise from Shaw through Georgetown and go across Key Bridge into Virginia coming back on the 14th Street Bridge. That route never gets old for me and I can usually listen to almost a whole Grateful Dead show 🙂
Favorite local trail:  Soapstone, or where ever Laurance and Wurzbacher are leading us on any particular day.
My best race was: Nashville Half! It was just the perfect race. Weather was amazing and I hit a PR. Afterwards we got to spend the day eating Nashville hot chicken and watching live music on Broadway.
Favorite local race: Pride Run
Ideal post-run meal: All Purpose Pizza and a DC Brau Pils!
Favorite flavor of gel, gu, etc: I don't usually partake.
Pet peeve: When the traffic lights don't sync up with a run.
Goals: To run Chicago (and qualify for Boston)!!!!!!
Your advice for a new runner: Run a Ragnar! I have had so much fun running Ragnar relays. Ragnars really transform running into a team sport. Your van is there to support and cheer for you and when you are not running you are there to support your teammates. It is simply the BEST!
Favorite running book: I haven't read any running books but Born to Run has been on my night stand for several months
Song in your head during a run: Thunderstuck by AC/DC and Hot for Teacher by Van Halen playing on a loop and not just when I'm running. I pretty much go through life constantly hearing these two songs over and over and over in my head constantly. So if you see me staring blankly into the distance, I'm probably just stuck on the drum solo in Hot for Teacher.
Running Quote: "When I had no wings to fly, You flew to me" This is from the song "Attics of my Life" by the Grateful Dead. While this quote isn't about running specifically, it really sums up what running is for me. It is there for me in good times and bad. Therapy when I need it and friendship when I am alone. It helps me to learn about myself and running always sees me through whatever is going on in my life.
Why is the D.C. area a great place to be a runner:  The beauty of the city and the character of the people who run it.
Recent Stories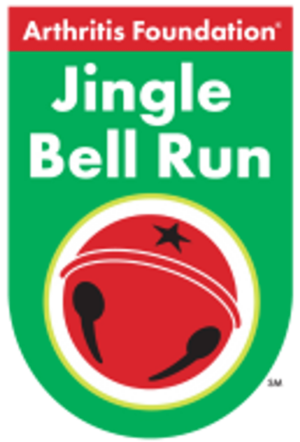 Be part of the original festive race for charity and signature Arthritis Foundation holiday event! Wear your favorite holiday attire and together, we'll jingle all the way to a cure! Register as an individual or bring a team of friends,