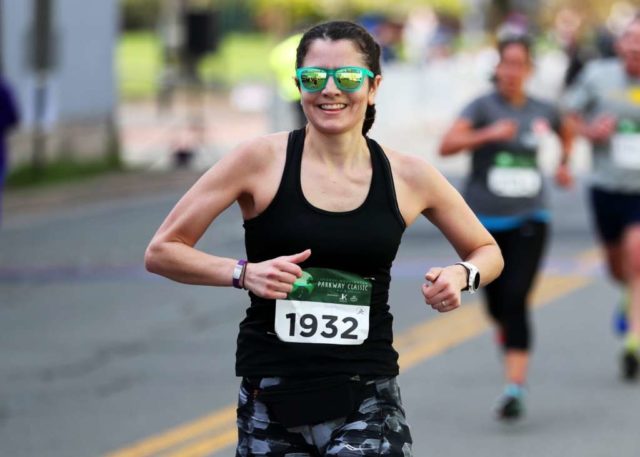 Name: Naomi Warner
Self-described age group: mid-thirties going on 22
Residence: Reston
Occupation: CPA
Volunteer roles in the running world: (as applies) Unofficial and official race pacer – I'll be pacing the 4:15 group at the Disney World marathon this month.
Why you run: I run because it gives me life. Running is my therapist, happy hour, social time with friends, a way to clear my head, a break from the stresses of work and family.

When did you get started running:  Late in college, I started to run as a way to stay in shape.  I started more seriously running in 2011, when my husband convinced me to sign up for my first 10k and then my first half marathon.
Have you taken a break from running:  I took a break for about 4 years between grad school (2007) and when I picked it up in 2011, then again for most of 2012 when I got pregnant and had my daughter.  In 2013 I came back with a renewed passion and have built up more races and mileage each year since.
Training shoe: Hoka One One Clayton 2 for distance (discontinued!), Hoka One One Challenger ATR 4 for trail, Adidas Boston 7s for faster running (5k, 10k, speedwork)
Coach or training group:  I run with friends met through my local MRTT chapter, and currently am coached by my training partner Liz Badley (@coachlizruns).
The hardest race you've ever run: Probably my first 50k – the North Face Endurance Challenge D.C. in 2017.
Most adventurous decision you've made with your running: Making the switch to interval running (run walk/Galloway method).  I was struggling to break 4 hours in the marathon, and it (so far) has gotten me down to a 3:46 marathon, plus training with intervals has made me faster in the shorter distances even when I don't use intervals – 22 min 5k, 46 min 10k, and 1:41 in the half.
Running mentors: Scott Jurek, Jeff Galloway, Mike Wardian
My favorite place to run in the D.C. area is:  Around the D.C. monuments at sunrise, or one-way trips on the W&OD – like running from Reston to D.C. and then take the metro back.
Favorite local trail:  The W&OD.
My best race was: The GW Parkway Classic 2018 – I surprised myself with a 1:14 finish time and enjoyed every minute of the race. I love 10 milers – short enough to push your pace while long enough to not to suffer.
Favorite local race: The Runners Marathon of Reston (I do the half every year)
Ideal post-run meal: Vegan grilled cheese and a smoothie
Favorite flavor of gel, gu, etc: Currently Spring Energy Canaberry
Pet peeve: Getting pushed in a race when switching to walk breaks (with proper signalling). Only happened in Chicago so I guess D.C. runners are just more courteous 😉
Goals: I would love to qualify for Boston and run all 6 Abbott World Majors.
Your advice for a new runner: Take it slow and short, and stick with it – it seems so hard to get started, but after the first few weeks it will get easier. I also highly recommend run/walk – try alternating 30 seconds of running and 30 seconds of walking – it will keep you from getting out of breath.
Favorite running book: Eat & Run by Scott Jurek – I read this book 5 years ago and it inspired me to finally make the jump to veganism
Song in your head during a run: "All The Way Up" – Fat Joe/Remy Ma
Have you dealt with a major injury: Of course! I have been battling high hamstring tendinopathy for the past 3 years on and off.
Running quote: "Once you make the decision that you will not fail, the heart and the body will follow." -Kara Goucher
Why is the D.C. area a great place to be a runner:  The community and the trails.  I feel like we have some of the best networks of running trails – the C&O, Nelly Custis, W&OD, Potomac Heritage Trail; and the best community of runners. There are so many runners and running groups in this area it is easy to find running buddies and mentors.
Recent Stories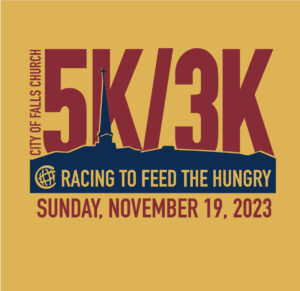 The out and back Falls Church City 5K/3K course is mostly flat on the W&OD Trail starting and finishing at 103 Columbia Street. Overall male and female winners earn free shoes and medals are awarded to all categories. Great family