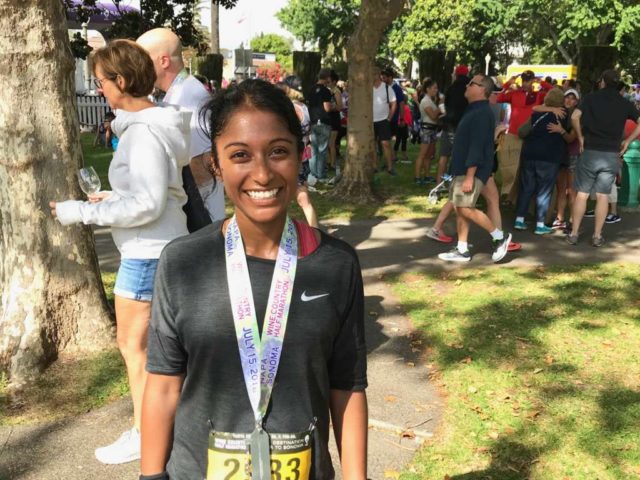 Name: Tanya Senanayake
Self-described age group: F 35-39
Residence: D.C.
Occupation: Attorney specializing in campaign finance litigation
Volunteer roles in the running world: I love mentoring other runners, especially women and those new to running. I also created an Instagram account (@oaktreerunner) to bring attention to mindful running and women's running, and to connect with women of color runners, since a meaningfully diverse representation of runners encourages even more people to try out this great sport. And I assist Coach Wilson Komen with his outreach and community partnerships building.
Why you run: Running makes me feel stronger, builds my resilience, and gives me space to find stillness. There is something about running that makes me really attentive to my surroundings, like the sounds of gravel crunching underfoot and the presence of roots and rocks and frogs, but also lost in a flow state at the same time. This is meditative and healing for me.
When did you get started running: I started running after I turned 30, during my first year in D.C. On a whim I decided to organize a team at work for the Lawyers Have Heart 10K. At the time, I couldn't run more than a few blocks, but I printed a 10-week Hal Higdon plan that I found online. I crossed out Weeks 6 and 8 because there wasn't enough time (mistake!) but ended up loving the feeling of camaraderie and friendship that come with training for a race and the feeling of accomplishment at running a half mile without stopping, then a mile, then two miles, and eventually the race.
Have you taken a break from running: During the first two years that I ran, I took many long breaks because I kept injuring myself. As I developed consistency, strength, and experience, though, I took fewer breaks. Recently, I took a break of a few months to figure out whether I still wanted to run. I was tired from juggling years of marathon training with work and all of life's other commitments, and the break helped me to feel rejuvenated and committed to making the space and time for long distance running again.
Training shoe: Nike Pegasus 35
Coach or training group: I run and train alone for the most part, but local running groups and coaches have repeatedly reinvigorated and redefined my running at certain points: Nike+ Run Club in Georgetown (now, sadly, defunct); Coach Wilson Komen at Coach Kiprunning, who works at the Georgetown Running Company; and Luke Humphrey / the Hansons Marathon Method.
The hardest race you've ever run: My first marathon, Chicago, in 2014. I was nervous and freezing at the start line, and several more experienced marathoners began talking with me. One told me that my only goal for my first marathon was to actually experience it – to see the crowds lining the course, to hear the music and block parties in each neighborhood and all the cheering, to look at the city that I was running through and notice the buildings and skyline. When I was hitting the wall at around Mile 18, this runner was somehow suddenly next to me, cheering me on and telling me to focus. I carry that advice, kindness, and sense of generosity when I run now.
Most adventurous decision you've made with your running: Doing a long run outside on the C&O Canal Towpath for two hours when it was 9 degrees outside and snowing. After the run, I jumped onto the frozen canal (for only 5-10 minutes!) where people were skating, and I ended up with frostbite on all of my toes. Apparently the cold of the ice went right through my running shoes and wet socks and froze my feet within minutes. I couldn't walk for several weeks, the pain was excruciating, and my toes turned black, but all of the tissue ended up coming back (so I didn't lose any toes). I still love winter running but now I wear insole warmers and lots of warming layers once the temps go below freezing.
Running mentors: Frank Tramble (a founder of DC Run Crew) and Mona Lavinia (a lead for The Loft's Marathon Training Series this past year), and the other informative and always welcoming pacers of the Nike+ Run Club in Georgetown, who worked to create an infectiously energetic and inclusive community of all types of runners; and Coach Wilson Komen, who coached me for several years and taught me so much about proper nutrition and hydration, consistency in running, and coming back stronger from injury. I also learn about running from following professionals, such as Desi Linden, Deena Kastor, Meb Keflezighi, and Shalane Flanagan, and especially like the values that American women's distance running has embodied these past few years.
My favorite place to run in the D.C. area is: C&O Canal Towpath
Favorite local trail: The Towpath and Capital Crescent Trail
My best race was: 2018 Vermont City Marathon. I went to a comedy show the night before, and someone sitting in front of me shattered his beer bottle on the floor near my feet. A glass shard went into the bottom of my foot, but it was so small that I didn't notice until I started walking and couldn't put weight on my foot. I ended up getting the shard removed in the hotel room while counting down the hours to the marathon the next morning, but the shard came out, and the marathon was one of the most fun races I have done – locals cheering "Welcome to Vermont" at 7 am, kids handing out popsicles at Mile 18, trees and dirt paths, intermittent hills to keep it interesting, and weaving through the charming streets of Burlington (plus a PR).
Favorite local race: Cherry Blossom Ten Miler
Ideal post-run meal: After long runs, Tailwind Chocolate Recovery blended with ice and milk to a frothy milkshake; after hard runs, Triscuits with a can of sardines.
Favorite flavor of gel, gu, etc: Tailwind Caffeinated Raspberry Buzz
Pet peeve: Litter on the trails and commuters not properly signaling when passing on the trail.
Goals: Sub-4 marathon
Your advice for a new runner: Most importantly, find and sustain your joy in running. Also: Build weekly mileage gradually; tap into the local or online running community; hydrate well the day before your run; notice how types of foods affect how you feel on your run; don't count on there being water fountains on routes (sometimes they're turned off!); experiment with only one thing (food, drink, gear, shoes, terrain) at a time, but do try new things to find what works best for you; and, if you have a bad run (everyone does at some point), take what you can from it, leave it in your past, and look forward.
Favorite running book: Let Your Mind Run by Deena Kastor – The book describes several practices like strategic joy and reframing experiences for empowerment and accountability, and it has transformed how I approach and experience running.
Song in your head during a run: I prefer the sounds of the outdoors but often get a catchy, annoying pop song refrain in my head for miles on my long runs.
Have you dealt with a major injury: IT band syndrome, which I've addressed with strength training, hill work, and more consistency in training.
Running quote: "All I do is keep on running in my own cozy, homemade void, my own nostalgic silence. And this is a pretty wonderful thing." – Haruki Murakami
Why is the D.C. area a great place to be a runner: The running trails and, within the city, long tracks of uninterrupted running; so many free running groups with informative, encouraging runners and pacers; and the feeling that running and being active outdoors are part of the fabric of the area.