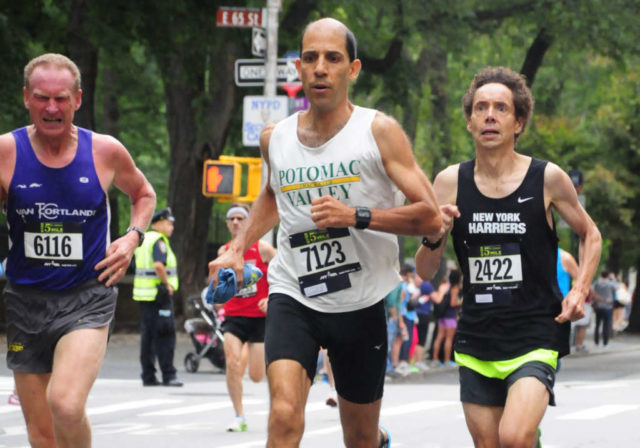 "I love the mile," said D.C.'s Henry Wigglesworth, who considers it his favorite race distance. The 61-year-old has fallen in love with the mile after years as a distance runner.
Wigglesworth took up running after college when he moved to New York City and his friends encouraged him to run the New York City Marathon. He did not take the race too seriously but enjoyed it enough to run it again a few years later. During his second New York City Marathon, Wigglesworth even stopped in Central Park for a beer with his friends toward the end of the race.
"I didn't really think of myself as a very serious runner," he recalls.
But Wigglesworth started to take running more seriously when he moved to Albuquerque a few years later. He ran the Duke City Marathon in under three hours and qualified for the Boston Marathon, which he ran fast enough to qualify for again. But during his second Boston Marathon, Wigglesworth found himself unable to finish. "I pulled out fairly late in the race," he said.
"And that was basically it. I sort of fell out of marathoning then." Wigglesworth's break from running after that was long. Following his DNF in Boston, he did not run from the age 35 to 45.
It was not until he moved to Seattle when he began to run again. It was there that he joined a group that did regular track workouts. He also discovered the book The Perfect Mile, a book about breaking the four-minute mark. Inspired by both his new running group and the book, Wigglesworth decided to try his hand at the one-mile distance.
"The Perfect Mile inspired me to try to run a five-minute mile," he said. And so Wigglesworth trained to break the five-minute time. In his first meet to break it, he ran 4:53.
From there, he was hooked.
"I had a really good stretch of being fit and being healthy in my 50s. I'm pretty sure I broke five minutes every year from age 50 to 58," he recalls. "It was a cool goal to have in mind. That's why I like the mile so much. It just lends itself to strategy and endless analysis. It's four laps and you have your split times and you know exactly what you need to hit."
Wigglesworth said that part of what he loves about the mile is that it forces the runner to focus.
"Longer races, you have time to daydream and your mind can wander, but [in] the mile you know you have to go fast the whole time," he said. "It's like a four-part play or something. In the final act, you try to summon all your energy and manage a kick. Every second and every lap you get your split time and you know exactly how you're doing. It requires you to stay totally focused and absorbed in what you're doing."
"Plus you can recover from it so quickly whereas the marathon wipes you out for a couple of months. And if you have a bad race in a marathon, you have to suffer with that until you can run another one in six months but if you run a mile, you just suck it up and go do it."
But not everyone shares his excitement for the one-mile distance. The D.C. area is home to runners of many longer distances, whether it be half marathons, marathons, or the increasingly popular ultramarathons. Yet the one mile distance remains an afterthought for most runners who seek to push themselves farther and farther.
"People don't travel to cities that offer mile races very often if at all. I can't even name any cities that have one except for New York," Wigglesworth said. And that New York race is the 5th Avenue Mile, a race which Wigglesworth has run multiple times and considers his favorite race.
"D.C.'s Navy mile might become that eventually, but right now it's not in the category of the 5th Avenue Mile."
One reason the mile may not have the same appeal as the marathon distance is the lack of a scenic or destination feel. "Obviously you won't get a tour of the city like a marathon offers," said Tom Brumlik, founder of the District Track Club.
Ryan Lamppa, founder of Bring Back the Mile, has more theories on why the one-mile distance is not as popular as longer distance races.
For one thing, he said getting the initial interest in the event is a major factor. "Unless you have a lot of marketing dollars, that first year of setting up a mile race, you'll probably get 200 to 500 people."
"Here in America, a large mile road race is 1000+ participants and there are less than 20 races like that. For other distances like the 5K or 10K or up, their large events can get 30,000 participants or more."
Another factor is the prestige that goes with it. "People think it's not as 'worthy' as doing a 5k or a 10k road race or a marathon. People think, 'It's only a mile.' That's a barrier."
That "barrier" is something Lamppa's Bring Back the Mile campaign is working to overcome. The campaign's main purpose is to promote and celebrate the mile distance. For Lamppa, preserving this distance is a way of celebrating a uniquely American brand. Hence Bring Back the Mile's tagline: "America's Distance."
"We know what a mile is," Lamppa said. "If you told someone, 'I broke five minutes in the mile,' they understand that so much more than, 'I ran a 10K in 38 minutes.'"
The familiarity of the distance also makes it an easy standard to follow. "Going around a track four times and going 60 seconds each time gets you under four minutes. Even to this day, that's considered a benchmark achievement for any male athlete."
Lamppa said that for him, his fascination in the one-mile distance began with Roger Bannister. "The key iconic moment in the mile was when Roger Bannister broke four minutes for the first time in May 1954. Up until that time there was a big buildup. Could man break sub-four in the mile? They'd tried for decades and they came close. That moment really cemented the mile and that standard of breaking four minutes as something important."
"One of the reasons I started thinking about bringing back the mile is because in doing searches for the mile, I kept seeing Roger Bannister's name. In 2011 I'm doing these searches and I realize this is well over 50 years ago and people are still talking about Roger Bannister breaking sub-four. It still resonates to this day. If you did a search of Roger Bannister, you would see pages and pages and articles about the achievement itself and the human ability to do the so-called impossible. That was the catalyst where I thought there is something here."
Lamppa said his interest in the mile was elevated even further when later, high-school student Jim Ryan, broke the four-minute mark. "Back in the mid-60s, Jim Ryan was a huge deal. Here was this kid from Kansas not only breaking four minutes, but breaking world records. He was a rock star before that phrase was even being used."
When it comes to mile races in the area, Brumlik said there are two main races to look at, both featuring very different styles of racing.
The first of D.C.'s major one-mile races is part of a track event called the D.C. Road Runners Track Championships. The event is put on by the D.C. Road Runners and is held annually on a Saturday in July.
"They have basically a mile race for anybody and everybody from 10-years-old up to masters. They'll put you in levels of competition depending on what you're looking for," Brumlik said.
In fact, Brumlik said that if someone were interested in competing in the D.C. Road Runners Track Championships, that starting the training around February would be the ideal starting time. "You could start training for that now and use that as your end race."
As far as training is concerned, Wigglesworth prefers the training involved for one-mile races over the training for longer distance. He cites the lower volume and more opportunities to cross train. For instance, as part of his training, Wigglesworth rides his ElliptiGO every day to work.
"It's very low mileage but high quality," he said.
He also said the mile may be a better option for people the older they get. "[When you get older], you get slower and lose speed, but you gain wisdom and you have other things in your life to do. The older I get, the shorter the distance I like to run.  A lot of these guys in my group feel the same way. A lot of them are former marathoners."
Brumlik said the D.C. area offers a perfect place to train for a one-mile race. The area is suited for a variety of training on both the speed and endurance sides. For the speed side of things, Brumlik highlights the many public tracks in Arlington and D.C. For the long runs, he highlights areas like the C&O Canal Towpath, Rock Creek Park, Roosevelt Island, and Burke Lake.
"Training for a mile, you get all sides of the spectrum. You train for speed and train for endurance. If you miss either side, you're not going to do as well."
Brumlik's philosophy is to mix terrain. "D.C. is good for that because you have different surfaces to train on. For example, the hills in Rock Creek are uneven, great for building ankle stability. And there are enough grass fields in the area."
D.C.'s second big one-mile race is a road event called the Navy Mile. "That's a pretty cool event in itself just because it's on Pennsylvania Avenue and you're running toward the Capitol Building," Brumlik said, though he also notes that the turnaround at the half-way point can make the race a bit tougher.
Like the D.C. Road Runners Track Championships, the race is open to anyone wanting to participate. Runners are split up by age group or ability level. "In the Navy Mile you have people trying to break four and people trying to break six," Brumlik said.
The Navy Mile has been a partner with the Bring Back the Mile campaign since its first year. For the past three years, it has even been the final event of Bring Back the Mile's Grand Prix Tour.
Lamppa is proud of the Navy Mile's strong presence in D.C and its appeal to elite racers and general runners alike. "It's great to see events like the Navy Mile stepping up and starting an event and also having a top end component with prize money of 15+ thousand dollars and not only at the elite end, but also with the age groups," Lamppa said.
The race's prominent D.C. presence is also part of what makes it truly unique. "The actual atmosphere is really cool," Brumlik said.
In addition to the D.C. Road Runners Track Championships and the Navy Mile, there are numerous less high-profile all-comers meets throughout the year. For instance, the Potomac Valley Track club hosts a number of pop-up meets throughout the summer.
"[Pop-up meets are] something you can put in there if you want to train for one of those bigger events like D.C. Road Runners [Championships] or the Navy Mile," Brumlik said. "You can do a lot of stuff without traveling."
Despite lower popularity of one-mile events compared to longer distances, in the end, Lamppa doesn't believe the mile will go away anytime soon.  He knows this from experience.
"Back in the mid-70s there was a big push to get this country to go metric. The basic goal was by the year 2000, our country would be fully metric. Towards the end of the 70s, if you drove on the interstate, they had put up signs for distances between cities and they then started to list two distances – miles and kilometers, so the goal was that down the road when that sign was replaced, it would then say kilometers. Jump ahead 20 years later, when that sign was replaced, guess what that sign said? Miles."
Recent Stories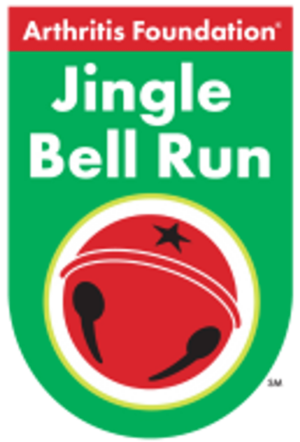 Be part of the original festive race for charity and signature Arthritis Foundation holiday event! Wear your favorite holiday attire and together, we'll jingle all the way to a cure! Register as an individual or bring a team of friends,