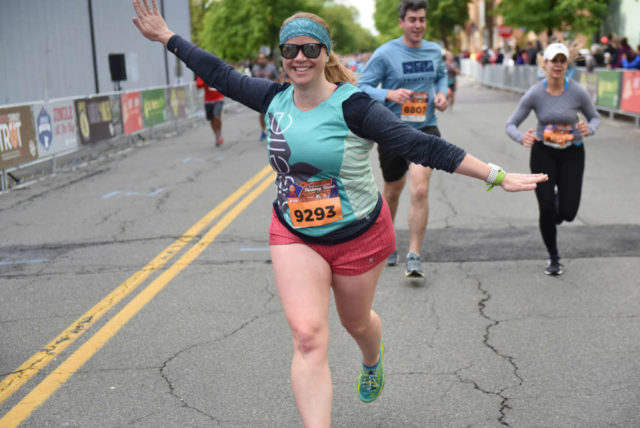 Name: Caitlin Kovalkoski
Self-described age group: 30-39 F
Residence: D.C.
Occupation: Federal Policy Director, Corporation for Supportive Housing
Volunteer roles in the running world: One of six DC/MD/VA Oiselle Volee leaders
Why you run: Stress relief
When did you get started running: I hated running growing up, since it was for conditioning and punishment for soccer and softball. But as I got older, I needed a physical outlet for work-related stress, so I started distance running in late 2013 leading up to my first half marathon in 2014.
Have you taken a break from running: Only due to stupid injuries.
Training shoe: Hoka One One Huaka – it was discontinued for several years, but returned around the holidays!
Coach or training group: Informal groups of Volee teammates around Capitol Hill and Summit to Soul's Wednesday Night Hill Runner group
The hardest race you've ever run: Virginia Beach Rock 'n' Roll Half Marathon. Not because of the course, but because 1. I stupidly ran the "Mile on the Beach" the day before for an extra challenge medal, which my calves hated me for; and 2. the heat and humidity there on Labor Day weekend is horrible. I only survived because of the kid that gave me a freezepop at mile 11. I walked right into the ocean after crossing the finish line.
Most adventurous decision you've made with your running: More like stubborn, but running the Scranton Half Marathon easy on a mild sprained ankle from another women slide-tackling me during a soccer game. Shout-out to the fine doctors at Foot and Ankle Specialists of the Mid-Atlantic that have dealt with all my foot and ankle injuries over the years.
Running mentors: My Volee teammates and dear friends Courtney and Jackie
My favorite place to run in the D.C. area is: National Arboretum
Favorite local trail: Anacostia River Trail
My best race was: 2016 Capitol Hill Classic 10K. I set a lot of new PRs that spring, but everything really clicked that day for a 6 min PR.
Favorite local race: Courage to Run 5K – it's a sweet spot for my interests of running and civic engagement!
Ideal post-run meal: Egg over easy on top of a buttermilk pancake with a side of bacon.
Favorite flavor of gel, gu, etc: Tailwind – Caffeinated Raspberry Buzz
Pet peeve: Runners too serious to smile or wave as you pass each other.
Goals: Presently training for the National Women's Half in May, and if I can successfully register in March, running Marathon Du Medoc as my first marathon this September in France with two Volee teammates.
Your advice for a new runner: Don't compare yourself to others – in paces, in miles, in days that you run. Find what works for you, and be consistent.
Favorite running book: Confessions of an Unlikely Runner by Dana Ayers
Song in your head during a run: Probably something by Sia, or something Disney-related to keep smiling.
Have you dealt with a major injury: Haven't most runners? Metatarsal stress fracture of 2017 is probably the most significant.
Running quote: "Make your race a playground, not a proving ground." – Lauren Fleshman
Why is the D.C. area a great place to be a runner:  Because it's always exciting to add on the additional stress of government shutdowns into taper-crazies and race-day-weather-stalking!
Recent Stories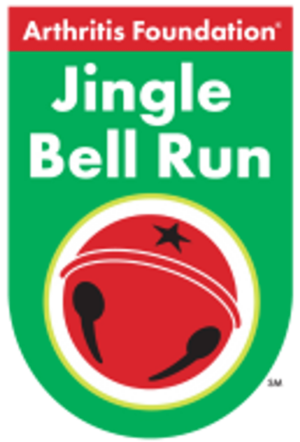 Be part of the original festive race for charity and signature Arthritis Foundation holiday event! Wear your favorite holiday attire and together, we'll jingle all the way to a cure! Register as an individual or bring a team of friends,