The top spot in the 2018 runner rankings probably came down to distance.
On Sept. 16, both Paul Thistle and Jeff Stein topped the podium near the Washington Monument. Thistle won the Navy 5-Miler, running 25:19 to score 1001.2 points in the RunWashington runner rankings system, which figures in race pace versus historical high-water marks for the same race. At the same time, Stein was winning the Navy-Air Force Half Marathon, running 1:10:21. The effects of a warm, humid day probably compounded over 13 miles, and although Stein recorded a 35-second margin of victory in his race, he scored only 992.79. In the end, Thistle's average wound up 1.32 points higher than Stein's, giving him the edge for the year.
This of course, omits what was likely Stein's best race of the year, winning the Marine Corps Marathon. But a marathon is too long of a race to compare to a 5k.
Both had excellent years, with Thistle winning the Four Courts Four Miler and Clarendon Day 5k in addition to his Navy win. Stein added victories at the Reston 10 Miler, Firecracker 5k, Crystal City Twilighter 5k and Annapolis 10 Miler. He also edged Thistle in their only head-to-head race, the Cherry Blossom Ten Miler, by a 50:19-50:32 margin.
On the face of their scores for each race, Thistle's best was his 14:59 win at Clarendon Day, while Stein's was his 15:21 Firecracker win, also on a brutally humid morning. Gaithersburg's Chris Sloane, who obliterated the brutal Riley's Rumble Half Marathon course record in 1:12:56, was third. Fairfax's Matt Deters topped out with a 25:14 for five miles at the Alexandria Turkey Trot, and D.C.'s Tom Kelly won the Parkway Classic 5k in 16:13.
Fairfax's Rochelle Sceats-Basil, on the other had, breezed through with a comfortable lead over runner-up Caitlyn Tateishi of D.C. for the women's rankings. Their only matchup come at Cherry Blossom, where Basil prevailed, 59:53-1:00:35. Basil's best ranked race came at the Leesburg 5k, where she ran 17:55, but win at her Perfect 10 Miler, 1:00:07, wasn't bad either.  Tateishi ran 18:12 for second place at the Love the Run You're With 5k in February before running 2:43:39 at Grandma's Marathon to qualify for the Olympic Marathon Trials. Basil, meanwhile, was selected to run on the New Zealand national cross country team in the world championships in March.
Top 2017 runner Kerry Allen, of D.C., also an Olympic Trials qualifier, was third this year, on the strength of a 1:20:52 win in the Parks Half Marathon deluge. Fourth place Natalie Patterson, of D.C. ran Alexandria Turkey Trot, running 29:45 and Hannah Pearson, of Fairfax, rounded out the top five with an 18:19 at the first Crystal City Friday 5k.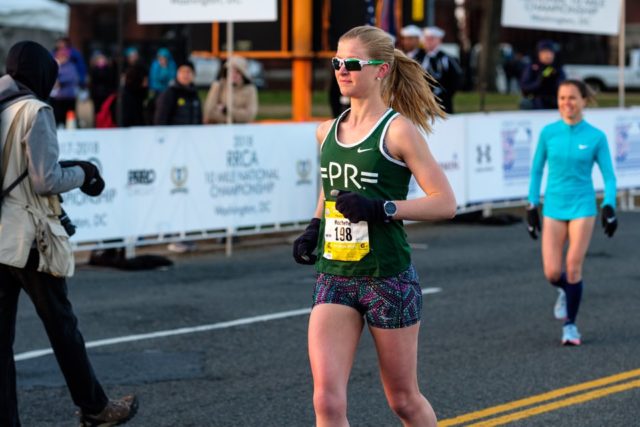 A total of 720 runners qualified for a year-end ranking, completing at least six ranked races, with the average runner running eight ranked races. Arlington's Robert Auchter took the cake, running 23 ranked races.
Peruse the compete rankings at your leisure, taking advantage of the feature that lets you compare your races to another runner's.
The rankings system was developed and maintained by Chris Farley, Kris Utt and Justin Azoff. Charlie Ban developed the list of ranked races, all of which are run on USATF-certified courses (we gave a pass to the Gar Williams Half this year, which was disrupted by a detour, given how late in the year it was).