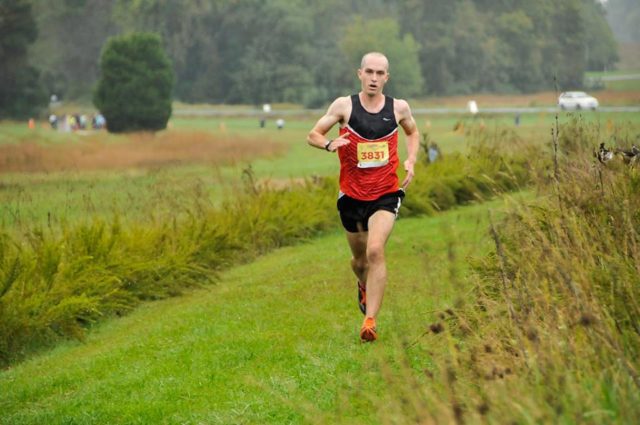 Name: Nick Reed
Self-described age group: 25 – 30
Residence: Fairfax, Va.
Occupation: Substitute teacher with Fairfax County Public Schools, Pacers (Fairfax) employee and assistant coach for cross country, indoor and outdoor track at Robinson Secondary School
Volunteer roles in the running world: The Robinson team volunteers at Potomac River Running races as a fundraiser where we course marshal the courses for specific races in the area, generally races held at Fairfax Corner.
Why you run: I run for the pure joy I get from it and more importantly for the competitive spirit I get from running races and having the chance to go out a beat the runner that you used to be and see improvements in yourself.
When did you get started running: In 2003, when we lived in Connecticut, I was in 5th grade and my gym teacher was the middle school cross country coach and she saw me run the mile in class and she said you should run with the middle schoolers.  So twice a week she would take me and few other kids out of class 20 minutes early and we would walk over to the middle school (which was only a 3 min walk from our school) and practice with the middle school team and I haven't stopped running since then.
Have you taken a break from running:  The only breaks I've taken from running have been breaks at the end of the season (ex. cross country and track) when I was in high school and college they would generally be two weeks to get healthy and recover from the past season.
Training shoe: anything New Balance generally the 880 or 1080 and race in the 1400 or Hanzo
Coach or training group: I am self-coached and I race for Pacers/New Balance but the vast majority of my training is done alone.
The hardest race you've ever run: 2018 Richmond Marathon at this point, its my PR in the marathon 2:33 the last 6 miles were one of the most painful/hard moments running that I have had in recent memory I remember hitting mile 20 and knowing that I was already in the hurt locker I knew I had to dig down deep and push myself to a PR.
Most adventurous decision you've made with your running: For me, it was going up to race longer distances. After college I did a lot of local 5ks and 10ks and was doing well.  Then a friend convinced me to do a half marathon I had done runs that far and farther but I had never raced that far and I'm glad I did that because that was my introduction into marathon and half marathon racing, which I really enjoy
Running mentors:  Mainly my coaches especially my college coach Coach Hanson she's the one that I base my train philosophy off of and I pull alot of my workouts from her training plans. I still also stay in touch with her and reach out to her if I hit a plateau in my training
 My favorite place to run in the D.C. area is:  The Glover Archbold Trail — I have run out there a few times it is so nice a peaceful I can hear myself think and you can get away from all the hustle and bustle of life in Northern Virginia.
Favorite local trail: Lake Royal Park — it's a small lake in my neighborhood that's about a little less than two miles around but its a soft surface and a good place to log some miles
 My best race was: the 2018 Richmond Marathon because my goal was sub 2:40 and I beat that by a lot running, 2:33. I negative split the whole race by a decent amount and finished 10th overall which was way better than I thought I would do.
Favorite local race: Historic Half in Fredricksburg (first half marathon) or if your looking for more local Firecracker 5k in Reston
Ideal post-run meal: Pasta with vodka sauce mixed with clams or chicken, a side of some fruit or vegtables and then some NUNN generally lemon lime.
Favorite flavor of gel, gu, etc: favorite nutritionals are the Clif shot blocks either margarita or salted watermelon
Pet peeve: people not moving over on a trail even when you say "on your left" or something like that and they just keep on doing what they are doing
Goals: sub 2:30 in the marathon and seeing how much farther below that I can go
Your advice for a new runner: Always keep in mind why you are running and find the real reason you run and make sure you are doing it for yourself and not for anyone else and find the joy in it
Favorite running book: Running with the Buffaloes
Song in your head during a run: whatever is on the radio when I drive to my run it could be anything from D to the A by Tee Grizzly and lil yachty to Rocket Man by Elton John or anything in between
Have you dealt with a major injury: No the most major injury I've had is 3-4 different bouts with a strained hip never anything to serious it generally cleared up with a week or two off of running and rehabbing and strengthening it 3-4 times a day
 Running quote: It's cliched because it's a Pre quote but this quote has always spoke to me "A race is a work of art that people can look at and be affected in as many ways they're capable of understanding." Steve Prefontaine
Why is the D.C. area a great place to be a runner: There's so many different types of places to run one second you can be in the heart of the nations capital and then in a half mile you will be on a secluded trail, there are only a few places in the world where you can do that. Plus there's so many races and so my different runners and everyone has there own reason for running.
Recent Stories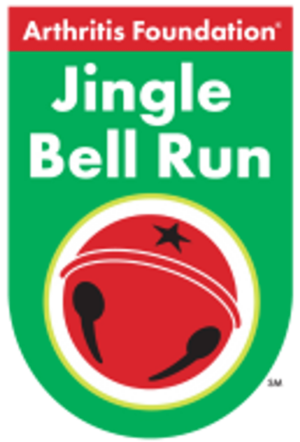 Be part of the original festive race for charity and signature Arthritis Foundation holiday event! Wear your favorite holiday attire and together, we'll jingle all the way to a cure! Register as an individual or bring a team of friends,