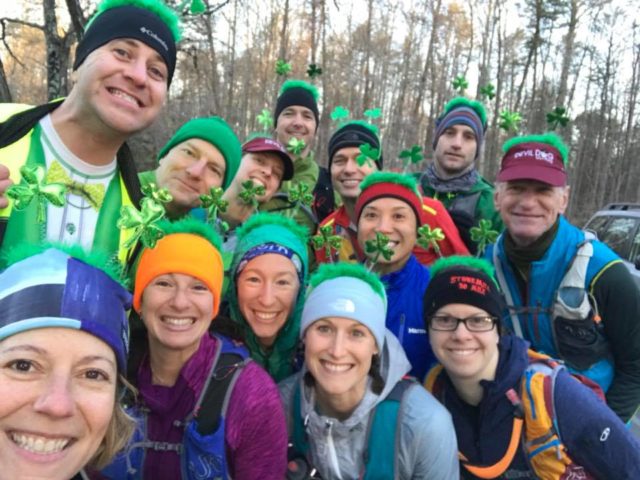 I get asked a lot how I can run for so many hours and hours … and hours. My answer is always the same: I love my trail running friends. So much.
They are the reason I drag myself out of bed before dawn to shiver through freezing temperatures, pouring rain or miserable heat. Sometimes we run extra long because we need a little more time to catch up. Sometime we cut it short because the post-run parking lot party is just too tempting.
If there's one thing I've learned in my decade of trail running, it's that crazy travels in packs, and there's nothing like mutual suffering to forever bond you with a bunch of stinky weirdos.
Running — on the road or on the trail — with a group is scientifically proven to make the miles 47% more fun.* Besides the great company, running with faster friends can be a beneficial push, while running with slower-paced friends can force you to respect your easy pace. On the safety side, group runs mean you don't have to worry (as much) about getting lost on new trails, and as long as you can outrun at least one person you don't have to worry about getting eaten by bears.**
(*I made this up, but it's true. **While technically true, not a high-level concern.)
D.C. is ripe with all kinds of runner weirdos you can call your own, you just have to know how to find them.
Racing
Trail races — especially longer ones like ultras — always seem a little bit like speed dating for training partners. The laid-back vibe, smaller field size, and the fact that no one is there to qualify for Boston can make everyone feel more approachable.
Lately I've been running a lot of races alone or away from home, but I'm rarely ever lonely. In most races, once the pack thins out, everyone gravitates toward others around the same pace, and I find myself easily stumbling into casual conversation while trying not to stumble over tree roots. Throughout the race these groups inevitably change as someone speeds up or drops back and I'm always happy to find myself in an entirely new group of people. There's nothing as delightful as realizing you've just spent a surprisingly long time chatting with a fascinating stranger and that you're now closer to the finish line than you thought.
Just make sure to exchange contact info at the finish line, once everyone has showered or changed it gets hard to recognize which person in black shorts and grey top was behind you for all those hours.
Volunteering
You don't have to pin on a bib to meet awesome people at races. Volunteering at a trail event can be a great way to meet other outdoorsy people or learn more about the sport. Some the best race memories can come from the other side of the aid table chatting up other volunteers or crew members. I get to see this first hand as an aid station captain at the Devil Dog Ultras each December. I love having new faces mixed in with our core group of volunteer regulars. This last year we had one volunteer come a little early — 24 hours early — for his 0600 Sunday shift because he wanted to soak in the complete ultra experience. He went home a little smelly, and lot tired, and with a phone full of ultra runner contact info. He's jumped all in on trail racing and for 2019 is registered for a 50K, 50-miler, and 100-miler.
Running Clubs
Clubs are a great way to meet other trail runners. Several in the area have free and casual trail meetups, and others have inexpensive but more-structured training programs. Here's a sampling of area groups and their trail offerings.
(Who'd we miss? If you want to list your group or club, leave the details in the comments).
Virginia Happy Trails Running Club
VHTRC members are scattered throughout the DMV from Charlottesville to Baltimore and points farther away. The club hosts several "fat ass"-style (free and low key) longer runs throughout the year and shorter "Sundays in the Park" runs each week in Rock Creek Park.  The club's "Furbutt's Favorites"  list is a great place to start when looking for new routes. I've been a Happy Trails member for almost a decade and can attest that this group is just as serious about trail running as they are about the post-run party.
Membership: $15 per year
Website: www.vhtrc.org 
Montgomery County Road Runners Club
They may have "Road Runners" right there in the name, but this is the group that brings the D.C. area the Seneca Creek 50K and Marathon (March) and Stone Mill 50 Miler (November), both on or around Seneca Creek State Park trails. Members get free entry to a ton of MCRRC fun races and are eligible to signup for (with an additional cost) seasonal trail running training programs.
Membership: $40 per year
Website: https://mcrrc.org
My Muddy Shoes
This informal group meets for regular weeknight trail runs in and around Montgomery County.
Membership: Free!
Website: https://mymuddyshoes.org/sample-page/
D.C. Capital Striders
DCCS has several regular weekday group runs that are free and open to everyone. Their Wednesday night run in Great Falls National Park is a partnership with VHTRC and usually draws a big crowd. You can find DCCS members volunteering at other races and aid stations throughout the year or donning their holiday blinkey-light finest at the annual Holiday Lights run around the Mall.
Membership: $25 per year
Website: www.dccapitalstriders.com
Annapolis Striders
Our friends outside the Beltway are the ones who host the annual Eternal Winter (January) and  Endless Summer (July) 6-Hour runs and the Rosaryville Veteran's Day 50K (November). There's no official trail training program in the works, but the group meets for occasional group runs at Rosaryville State Park. Check their Facebook page for upcoming group runs.
Membership: $25 per year
Website: www.annapolisstriders.org
November Project (D.C. and Baltimore)
You can find this free fitness (and super fun) group sweating (and swearing) Mondays, Wednesday and Fridays on the Mall and across D.C., and Mondays and Wednesday in Baltimore. The weekday workouts aren't dirt focused, but you can find the group's "grassroots gear" in mass at almost any larger local event, both as participants and at giant cheer stations. Look for the group at the North Face Endurance Challenge, April 27-28 in Algonkian Regional Park in Sterling, Va.
Membership: Free! F*** Yeah.
Website: D.C. https://november-project.com/washington-dc/
Baltimore https://november-project.com/baltimore-md/
Recent Stories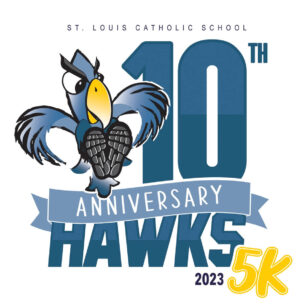 2023 will be the 10 year anniversary of the St. Louis Hawks 5K and Fun Run for Health & Wellness. The USATF certified course runs through the historic Hollin Hills neighborhood in Alexandria, VA.
The Hawks 5K goal, in conjunction