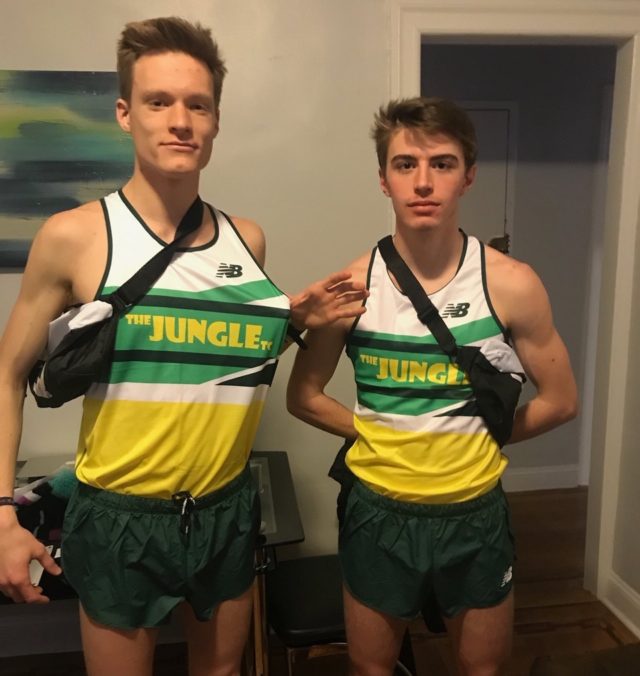 Three Loudoun Valley relay teams won national championships over the weekend, with two setting national indoor records.

Distance Medley Relay: 9:54.41 (national record): Jacob Hunter (1200 in 3:01.331) Akere Simms (400 in 50.908) Connor Wells (800 in 1:55.96) and Sam Affolder (1600 in 4:06.205)
4xMile: 17:01.81 (national record): Kevin Carlson (4:22.26),  Connor Wells (4L21.456), Sam Affolder (4:06.192) and Jacob Hunter (4:11.901). Loudoun Valley also had two other relay teams in the top eight.
4×800 7:40.49: Jacob Windle (1:57.453), Connor Wells (1:57.046), Sam Affolder (1:51.368) and Jacob Hunter (1:54.619).

At the NCAA Division I Indoor Track and Field Championships, Heritage alumna Weini Kelati (New Mexico) finished second in the 5,000 meters and third in the 3,000 meters, the Georgetown distance medley relay team of Jack Salisbury, Lawrence Leake, Ruach Padhal and Nick Wareham finished third; Patriot alumna Rachel McArthur ran on the Villanova distance medley relay team that finished fourth and Georgetown's Joe White finished fifth in the 800 meters.
Montgomery County Parks Natural Surface Trail Manager Bob Turnbull was named "Trail Builder of the Year" by Mid-Atlantic Off Road Enthusiasts, a mountain bike riding and trail building organization.