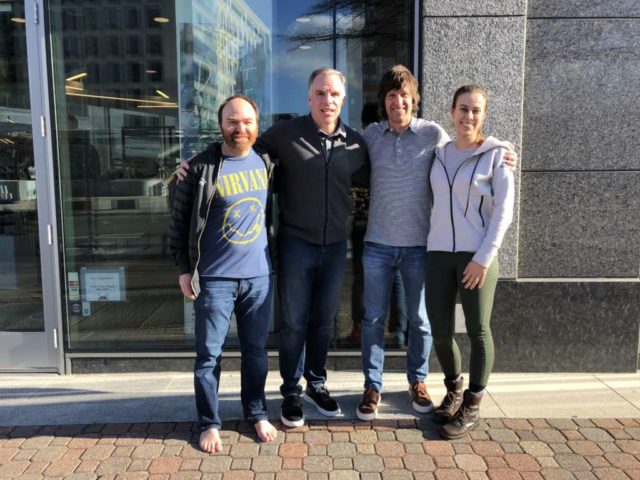 Dan Sullivan, the national sales manager for men's performance at Skechers, takes us through his career from college football player and coach to running retail enthusiast and career at Saucony to his latest stop in the industry.
After a quick intro, at (5:38) they find out where Docs has been, and then at (10:26) they throw some family members under the bus, but it's ok.
At (12:50) theyare joined by Skechers National Sales Manager of Mens performance Dan Sullivan, who starts the interview off with some fond old school Patriots memories.
At (18:29) Dan tells us about making the jump from football to make his start in the running industry.
At (22:21) Dan tells us about his new role at Skechers and how he fits into the direction of the company.
At (25:49) Chris asks Dan about the state of the running industry and what runners want to wear.
At (30:27) they get to the good stuff, as Dan tells us fun story from a Red Sox playoff game.
At (37:52) Farley is unsuccesful in another attempt to get a Bostonian to agree with his Boston play list.
At (41:40) they circle back to running talk and discuss the Just Blew It Skechers ad.
They are back at (45:00) to wrap up the interview, then at (47:43) Farley comes clean on a mistake on a list at the Pacers annual staff meeting.
At (50:34) they discuss the Bre Tiesi-Manzel half marathon cheating story.
At (1:00:13) they get the long anticipated update on the status of the door story from Episode 182.
At (1:05:39) Chris gives us an update on some upcoming races including the Four Courts Four Miler and the St. Pats 5k, 10k & Double.
At (1:06:24) PTN marvels at the victory of Drew Hutner at indoor nationals and other race updates from across the nation.
At (1:12:49) they mention the Amy Cragg victory at the 2020 Marathon Trials test event and casually mention that they are open to sponsorship for the actual trials.
At (1:14:00) they close out another great episode and they will see you next week.