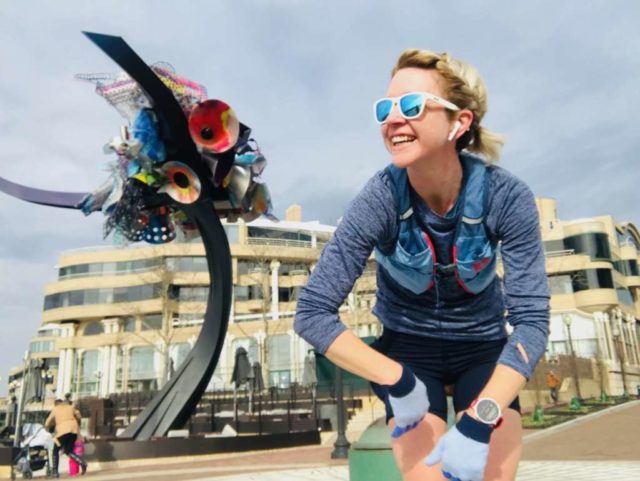 Name: Meg Ryan
Self-described age group: F 35-39
Residence: Takoma Park
Occupation:  Designer at darbstudio, mother, creative maven
Volunteer roles in the running world: I started a local running club – Takoma Park Road Runners – this past fall to bridge a connection to many of my fellow neighbors I would pass along our footpaths and trails. Since my return to running last spring, I was excited to grow my running community all over again and feel a sense of camaraderie in numbers. I also co-captain the spring running club at my daughters' elementary school which aims to get kids ready to participate in the TKPK Safe Routes to School race in early May. We work on the basic FUNdamentals of running but most of all its exciting to see them enjoy racing each other down the field.
Why you run: I believe the majority of the reasons remain the same but now as a mother of two little energetic girls, it's added new meaning. I run as meditation (never been a sit down "ohm" type). I run to reclaim my time and embrace the power of me. I run to be a stronger, more positive and supportive member of my family. I run to challenge the extent of my capabilities and of course, we all love the fact that here in the district the journey is sometimes best done on foot.
When did you get started running: Me, a scrappy little, not-so-good-at-softball player in middle school decided to join her cross country team after she asked, "what's that?" Ball sports weren't my thing so naturally the best use for my boundless energy was to just take off running. It took a year or two of "picking daisies" to finally sense I had the abilities to compete at it. My freshman year at conference I finally decided to race and took out the junior varsity field, winning and knocking five minutes off my 5k time earning a place as  number three on the varsity team. I remember the surprised (and perplexed) look on my coach's face when I darted to the front of the pack and won. When asked what happened, I remember casually responding that I "ate my Wheaties." I continued to become one of the top runners on the team, an All-State runner and part of a Michigan team that made it to the Junior Olympics National Cross Country Championships.
Have you taken a break from running: Most certainly, isn't that life? There was a break from high school to college until I ran my first marathon, Chicago, as a sophomore in 1999. Another pause, and then I returned in 2006 to run the Dublin marathon with my later to become Father-in-law. Running it out of pleasure for the return, my second marathon, I ended up hitting the BQ qualifying time on the head, a 40-minute PR.  I carried my training through the winter to run Boston in 2007 (in that dang Nor'easter) months before heading off to West Africa to serve as a Peace Corps Volunteer in Togo. While in Togo, a group of us ran the Accra Ghana International Marathon in 2008. Upon my return I ran the 2010 Pittsburgh Marathon, qualified for Boston but marriage, honeymoon travels and then two kids later created another long pause. Excited by a friends training for Boston 2017, I slipped the sneakers back on in 2018 and ran both the Erie Marathon and Marine Corps last fall with another major PR and BQ at Erie and haven't stopped since. Next step: Boston 2019.
Training shoe: Adidas Boston 7 (formerly a Mizuno and Brooks loyal)
Coach or training group: All my running in the past had been self-guided; I'm a die hard do-it-yourself'er. When I ran some training runs last summer with a friend guided by the expertise of a coach, I began to see the benefit they provide. The workouts were more focused and there was a clear intent to distinguish that not all days are run at the same effort. So when some of that shadow training led me to a BQ and 10 min PR at Erie, I decided I would hire a coach for Boston. I wanted to make my comeback a big one, and a smart one. I reached out to a fellow local runner, and upon recommendation I met Jerry Greenlaw. I was new to the scene of D.C. runners and he was regarded among some as a real "student" of the marathon. I took a chance and he has been a crucial factor in my improvements. I have PR'd beyond my expectations and by linking up with other fast footed runners he coaches, pushed myself into a bracket I may never have edged into alone. Coaches are important for looking at the big picture and keeping you on course. They are your support and encouragement and calculated expert in the journey and D.C. has some of the best.
The hardest race you've ever run: Accra Ghana International Marathon, Ghana in September 2008. Late start. Running on the Equator. Poorly organized. Long road to the finish dodging Tro-Tros, speeding Peugeots, market vendors and goats all while poorly fueled and under hydrated. Red faced and victorious I claimed, "You would have to PAY me to run that again!" My wishes were granted with the prize of the cost of registration by placing in the top 10.
Most adventurous decision you've made with your running: Not sure. I like to believe that it has yet to come. Running that race in Ghana without a fuel belt (or copious amounts of sunscreen) was pretty adventurous. Afterwards, I vowed to run a marathon in all 7 continents, 3 down 4 to go. I'm just getting started all over again.
Running mentors: My high school coach, Ross Donley. He was my first coach and a lifelong mentor. To this day, I'll repeat his mantras after workouts or races… "Well, we'll take it," and "Make it count."  My older sister Sarah, who never would have believed she would become a runner, yet has at her own pace and can claim more half marathon victories than I. My local running squad of mama's and friends all out there vying to be the best versions of themselves. Of the current inspirations, I would have to say Des Linden and Eulid Kipchoge. I love their humble nature and down to earth passion for the sport.
My favorite place to run in the D.C. area is: Capital Crescent Trail, W&OD, Sligo Creek and Rock Creek Park   I love that I can leave my house and stream down into town along a continuous path to grace the steps of the Lincoln Memorial via the Capital Crescent trail. It's my favorite way to dip into the city for many of my long runs.
Favorite local trail: Sligo Creek Park trails
My best race was: Rock 'n' Roll Half DC 2019 – Just ran my first half in over a decade and surprised myself by doing exactly as my coach projected even when I had doubt. He projected me running a 90-minute half as a bold plan, but proven given my running, and if I ran those tangents right 🙂 Proven it was, as I slipped under the clock at 1:30:04, the fastest sustained pace I've ever run for that long and a 10-minute half marathon PR.
Favorite local race: I loved the Parkway Classic, a big fan of point to point courses, but there are many others I have yet to try.
Ideal post-run meal: Mmm. Anything and everything. My daily go-tos are rice bowls with chopped salad, tofu, and a fried egg on top, cupcakes and a latte.
Favorite flavor of gel, gu, etc: Gu Espresso Love (almost next best thing to the real deal), Maurten Gel 100 (like snot but proven), Muir Cacao Almond Peppermint (slow burning and oh so good)
Pet peeve: When runners don't believe they are runners just because they aren't "fast."
Goals: Sub-3 marathon, new PRs in all distances. Long term: seven marathons on each of the seven continents. Would love to return to cross country running and try a few trail races/sprint triathlons.
Your advice for a new runner: Find the thing about it that makes you happy and embrace it in all forms. Start slow, with simple expectations, find your herd and don't be afraid to shoot for the big top and you might just surprise yourself.
Favorite running book: I'm currently reading The Happy Runner by David and Megan Roche and loving it. Of course, Let Your Mind Run by Deena Kastor – helps you focus on the non-moving parts of running and how important having a good positive outlook can do to increase your performance. A great adaptive training book is Brad Hudson and Mike Fitzgerald's Run Faster and Anatomy of Runners by Jay Dicharry is a must have reference for ensuring you have all your parts in good order to remain injury free.
Song in your head during a run: "Shake it Out" Florence & The Machine…among many many, many others
Have you dealt with a major injury: None major, but after having kids there are areas that remind me they need a bit of strengthening. There are also parts that shout back when you just go a bit too hard one week. I have had a few but none too major. At most, I treated my genetically gifted varicose veins two years ago and have felt a dramatic improvement in my comfort and fitness.
Running quote: "If you want to go fast, go alone; but if you want to go far, go together." ~African Proverb (I feel that my community makes me a stronger runner.)
Why is the D.C. area a great place to be a runner: I believe it's the trifecta of awesomeness, from Maryland to DC to Virginia there are troves of trails, running groups and an ever-abundant source of races and meet-ups. The weather is pretty mild too, compared to my heartland of the mid-west (Michigan). There is such a vibrant and inclusive community of runners and tons of possibilities to compete among some of the highly regarded athletes in the sport. From foot tours running through our nation's capital to getting lost on the back trails surrounding us, you can never run out of places to explore (history and all) with folks who love running as much as you.
Recent Stories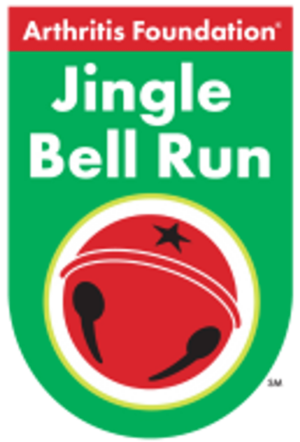 Be part of the original festive race for charity and signature Arthritis Foundation holiday event! Wear your favorite holiday attire and together, we'll jingle all the way to a cure! Register as an individual or bring a team of friends,