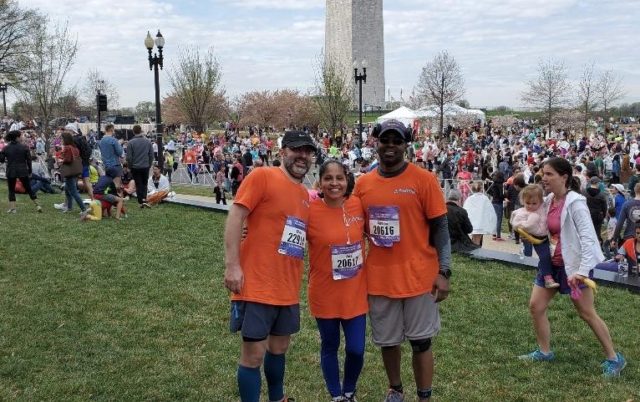 A little more than a year ago, Chris Neblett underwent a kidney transplant. This month he ran the Credit Union Cherry Blossom Ten Mile race with his kidney donor in an effort to bring awareness to the importance of organ donation.
Neblett and Ana Knott share a special bond: they are longtime friends, Knott donated her kidney to Neblett, and now they are running buddies, too. Neblett, Knott and her husband all ran the 10-mile race this past weekend, during which Neblett achieved his personal best; Knott and her husband both ran their longest distances ever.
But for them, the race was about so much more than just running. The trio all wore T-shirts with the name and phone number of a person who desperately needs an organ donation in hopes of encouraging others to get tested and donate to someone in need. Neblett said Knott's sacrifice is immeasurable, and he hopes others come to know that feeling.
"I was inspired [during the run] by the gift that Ana gave me; she gave me the gift of getting back to running and being healthy," he said.
Neblett, a 41-year-old from Springfield, found out he had chronic kidney disease in college, but his condition deteriorated in 2016. By December of that year, he found out was Stage 4 and had 20 percent functionality in his kidneys. A transplant was necessary.
"For the last year before the transplant, I was faking it. I was putting on a good show," he said. "I was so tired, and I didn't realize how tired I was until I got the transplant."
As he struggled, he kept his friends updated on his condition. Among those friends were Knott and her husband Cursten, whom Neblett met through mutual friends during visits to James Madison University where the Knotts were students.
"I've always known that he has had medical issues — [I] knew that in college he was in and out of hospital and kept us up to date. But I guess I didn't really realize how serious it was — and maybe he didn't until he needed a kidney," said Knott, a 41-year-old Gaithersburg resident who has know Neblett for about 20 years.
"It wasn't until he sent a long email all of us that this is where he was at and needed a new kidney and was … asking people to get tested and that a living organ donation was the best. We all spread the email and I guess I didn't realize I would be a match — I was just trying to get the word out," she added.
Neblett wasn't feeling well when Fourth of July rolled around, but he wanted to see his friends at a barbeque. His choice to go and talk with Knott proved to be a decision that may have saved his life.
Knott said she asked Neblett and his wife how he was doing and they mentioned his rapid decline. They also mentioned a concern that Neblett may not find someone to donate a kidney — especially after a previously scheduled kidney donor fell through days before scheduled surgery.
Knott said she learned they shared the same blood type. Without telling Neblett, she got tested and found out she was a match — a perfect candidate to donate her kidney to her friend in need.
The pair scheduled surgery for January 2018. Neblett was excited to get his life started with a functional kidney; Knott said she was "really calm" on surgery day and looking forward to seeing Neblett back to his old self.
"I was really ready. I was excited for him," she said. "Looking at it for him, this is his whole new life. He is going to be able to wake up and not feel bad. He can feel really good … and healthy enough to get up and go back to work and be with his family."
The surgery was a success and Neblett said he felt almost an immediate improvement.
"Kidney disease is gradual, so I didn't know how bad I was until I got kidney," he said. "…I'm a better part of the family and as a whole very lucky. I have more energy."
Knott noticed an immediate change in Neblett after surgery: "You could tell a difference about what he looked like before and what he looked like with a healthy kidney."
A runner since high school, Neblett said he wanted to ensure he took care of his new kidney, and planned to make running part of that plan. His recovery progressed well: he ran a 10k race in November 2018, and set his sights on the Cherry Blossom in April 2019.
Knott, whose recovery went smoothly too, committed to run the next race with Neblett. Also a runner, she's used to about two shorter runs a week. The Cherry Blossom was her longest run yet.
Neblett, Knott and her husband entered the lottery for the spring race thinking there would be no way all three of them would get in — but they all made it. While the trio wasn't able to train together for the race, they encouraged each other via text and emails and checked in on each other's progress.
As race day approached, Neblett said he knew he wanted to promote a specific cause through his racing — helping connect potential organ donors with those in need.
"Any race I enter in, I want to help someone who is trying to find a kidney or another organ," Neblett said. "I want to try to do something to pay it forward."
To assist in that cause, Neblett wore a T-shirt with contact information for Carlos Wallace, a man on the waitlist for a kidney at Johns Hopkins. The Knotts wore a shirt with the phone number of Kristen Fenton, who is facing an eight-year waitlist for an organ in South Carolina.
The shirts got the attention of some people at the race, but no one has reached out about donating organs to the people on their shirts yet — at least that Neblett is aware of.
Ultimately, Neblett said he hopes that running with Knott and promoting organ donation shows others that there is a life — a healthy one at that — after organ donation.
"I hope this communicates to those that receive organ donations, it does change you life," he said. "You can go out and run, and you can go out and live life … it's something that says 'I can go out and do it,' whether I receive a transplant or I'm thinking about giving one."
Knott is hoping her involvement in the Cherry Blossom race run inspires others to consider organ donation. Her decision not only fulfilled her, but led to a lifestyle of healthier choices including improved diet and exercise.
"I think [my decision] was really just to give someone a chance for a better life — I wanted to do something that would make a difference. It's all about giving back — not just because I know [Neblett], but more like if I could do something to make someone's life better — why not do it?"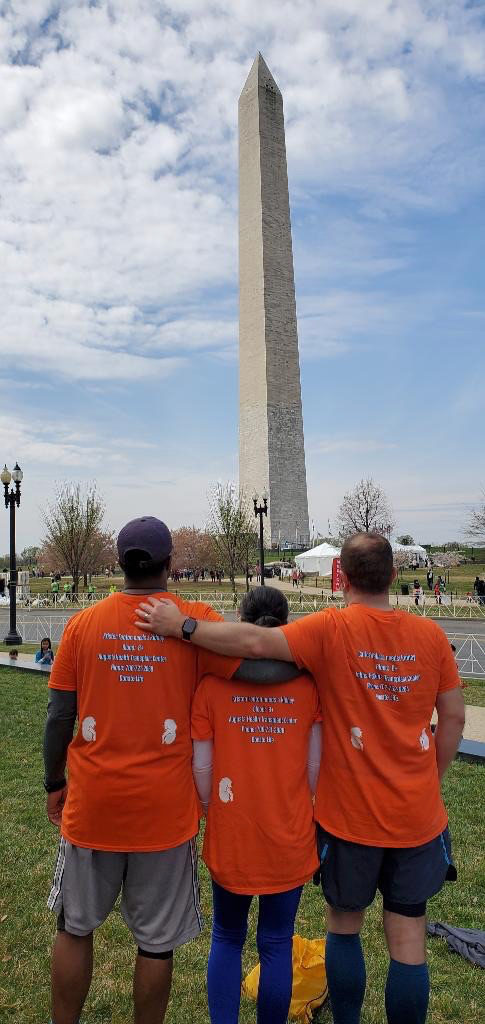 Recent Stories

Both 5K and 1 mile courses are USATF certified. The 5K course has some moderate hills. The 1 mile course is flat making this a perfect PR course. We are really looking to get a broader participation base.
Funds go