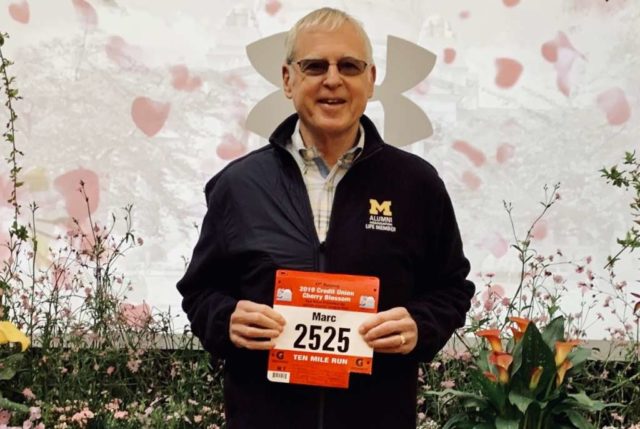 Name: Marc Wolfson
Self-described age group: Men 65-69 (and looking forward to "aging up" to the 70-74 age group in November!)
Residence: Olney
Occupation: Retired Coast Guard Officer and civil servant for a total of 42 years of federal government service
Volunteer roles in the running world: I've volunteered for numerous MCRRC races at water stops, course marshal, and finish line announcer. I have also served as a pace group leader for the Baltimore Marathon several times
Why you run: I love the way running makes me feel physically, mentally and emotionally. My training runs are often an exercise in what I like to call "moving meditation." Racing is the icing on the cake. Its an opportunity to gather with fellow runners and celebrate the sport that brings us together.
When did you get started running: I started running in October 1973 when I quit smoking. My first runs were on a banked track on the roof of the DOT HQ building. It was 17 laps to a mile. I moved from that to running over to and around the Tidal Basin, then the Hains Point loop and by then, I was hooked.
Have you taken a break from running: No but I did stop racing and running on the weekends while my two sons were young. I continued to do training runs during the week, but my weekends were family time. Then one day I realized they were both teenagers and didn't really care what I did on weekend mornings. Once again, I could go for a long run or a race on a Saturday or Sunday. The funny part was I could get home before my teens had crawled out of bed.
Training shoe: I actually started running in Converse "blue tip" sneakers. My first real running shoes were Nike Waffle trainers. I still wear Nikes and have always liked their Air Pegasus shoes.
Coach or training group: I've run with various MCRRC training groups over the years but never had a formal coach.
The hardest race you've ever run: The JFK 50 Miler
Most adventurous decision you've made with your running: To do the JFK 50 Miler the month that I turned 50 – without ever having run on the Appalachian Trail.
Running mentors:  Bill Law, the man who talked me into doing my first marathon in 1975.
My favorite place to run in the D.C. area is:  The C&O Canal Towpath from Carderock north.
Favorite local trail:  Rock Creek Trail from Lake Needwood south.
My best race was: The Marine Corps Marathon in 1978 when I almost broke three hours. I ran it in 3:02. I was on track to break 3 hours when I took an orange slice from a spectator around mile 17. It made me nauseous and I threw up. I got some water, rinsed out my mouth and kept running. I often tell runners that story as a reminder and a lesson to never do something in a race that you haven't tried in a training run.
Also of note, my birthday is Nov. 7, 1949. In 2004 when I turned 55, I won my new age group on my birthday at the Veterans Day 10K in DC. In 2009 when I turned 60, I won my new age group at the Gynecologic Cancer Foundation Half Marathon in DC on Nov. 8. And in 2014 when I turned 65, I won my new age group at the Across the Bay 10K on Nov. 9.
Favorite local race: The Credit Union Cherry Blossom Ten Miler – which I've done 25 times. First time was in 1975.
Ideal post-run meal: My stomach is usually a little sensitive after a big race so I'm happy with a post race banana and a bottle of water.
Goals: To keep running for as many more years as I can and gracefully accept the changes that come with the aging process.
Your advice for a new runner:  Replace your running shoes often.
Favorite running book: All of George Sheehan's books.
Have you dealt with a major injury: While out on an early morning training run, I broke my ankle in 1996 when I stepped into a pothole one month before the Marine Corps Marathon. I couldn't run for 2 months and gained nearly 15 pounds!
Running quote: "My ideal run is one hour long – 30 minutes for the body and 30 minutes for the soul." Dr. George Sheehan
Why is the D.C. area a great place to be a runner:  There are so many great places to go running, so many racing opportunities and so many terrific running clubs and groups.
Recent Stories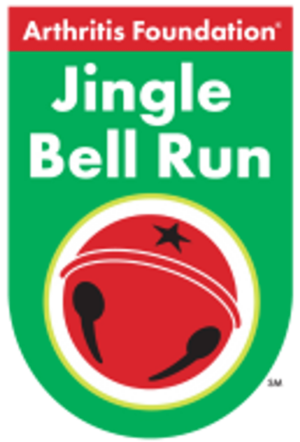 Be part of the original festive race for charity and signature Arthritis Foundation holiday event! Wear your favorite holiday attire and together, we'll jingle all the way to a cure! Register as an individual or bring a team of friends,