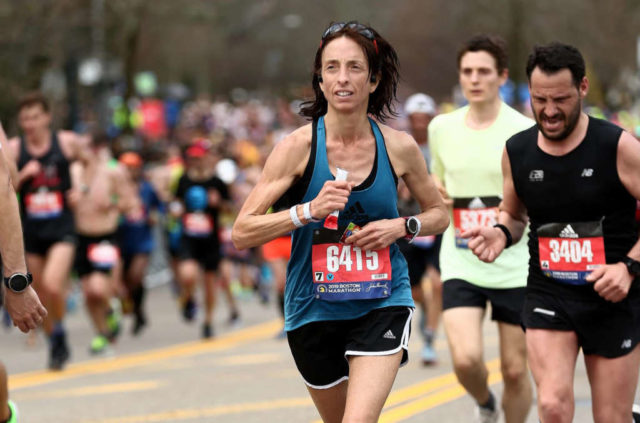 Christine Westcott started out the Boston Marathon with a 2:59:59 pace band on her left wrist and a 3:03:16 pace band on her right wrist. She wanted to break three hours at the race, but a secondary goal was to set a personal record.
She was about five seconds off for the first mile, and it felt like she was running a little too hard, she said. Around the five-mile mark, she made an adjustment.
"I actually literally took the 2:59:59 band, swapped it onto my right wrist, took the 3:03:16, put it onto my wrist with my watch on the left wrist, and settled in and said, you know what, I'm just going to try to PR," said Westcott, 49, who lives in Chantilly.
And then, she just decided to run, checking her watch every so often, but not focusing on a pace band.  
Westcott finished in 2:58:48.
In addition to earning a new personal record and her first sub-3:00 time, Westcott was the fastest Washington-area woman to finish the race on April 15. She also earned third place in the female 45-49 age group at Boston.
She's still setting personal records as a masters runner, even setting one at the B.A.A. 5K two days before the Boston Marathon, where she ran a 19:24. It was her first time running a 5K under 20 minutes.
She said she is known for being a marathon specialist rather than a 5K one.
"I'm older, but I've continued to get faster as I've worked at the marathon," she said.
It hasn't been an easy road to get to that point.  
Westcott ran track and cross country in high school and ran her first marathon when she was 30. She missed the Boston qualifying time by about five minutes, she said.
Four years later, she ran her next marathon. She ran the Marine Corps Marathon a few times with not very intense training, and she was also busy raising her son, she said.
Westcott realized she might be able to qualify for Boston in 2010, and she was able to get a bib for the Steamtown Marathon. But two weeks beforehand, she started having terrible knee pain, she said.
"It took almost six months for me to finally get a diagnosis," she said.
She had MRIs done, and professionals couldn't find anything wrong in her knee, back or hip, she said. Dr. Andrew Parker of OrthoVirginia was able to figure it out.
There were two potential options for surgery to fix the problem, and Westcott said she gave him permission to find out which one it was while he operated rather than the chance of having to go through two surgeries.  
"I didn't know until I woke up from my surgery which way he went," she said.
It turned out that the procedure Westcott ended up needing on her hip was FAI, or femoroacetabular impingement, surgery. She would later have this surgery on the other hip, as well as two surgeries to clean up scar tissue, she said.
After that first surgery, she made a plan to run three marathons from September 2012 through January 2013 — the Erie Marathon, the Philadelphia Marathon and the Houston Marathon, she said. Her plan was to run Erie, then get a little faster at Philadelphia and then faster at Houston to be able to qualify for Boston there.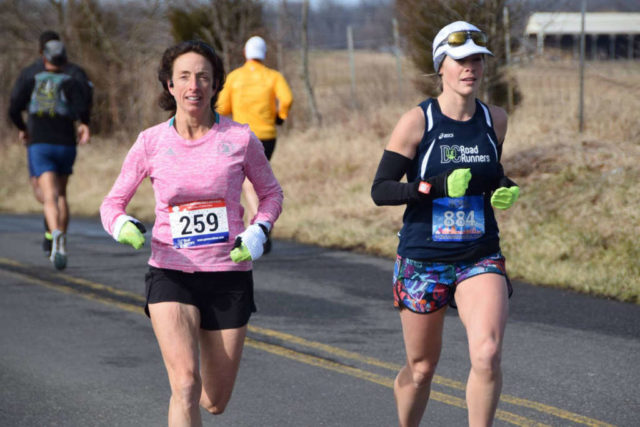 However, she ended up getting her first Boston qualifying time at the Erie Marathon, she said. Her time was 3:43:11.
Westcott then continued to improve her personal record for the marathon. After her last hip surgery in January 2017, she said, she got her PR down to 3:17:01 at the Boston Marathon.
However, she wasn't completely through with injury. A foot injury impacted the training she was able to do for the St. George Marathon in 2017, and she wasn't able to get near the sub-3:00 she'd hoped for, she said. She signed up for that race after she and her husband, Paul, realized she was really strong on downhills.
Although she struggled with some GI issues during recent marathons — although not at the latest Boston — she was still able to run a new personal record of 3:03:17 at the Huntsville Marathon, a downhill race in Utah, in 2018 and win the George Washington's Birthday Marathon this February in 3:19:19. She actually ran the George Washington's Birthday Marathon as a training run, she said.
Paul serves in a coaching capacity for Christine, planning out her training. He first started out with a D.C. Road Runners plan and has made changes over time.
"I'm an engineer by trade, so for me, the marathon is kind of an engineering problem," he said.
There are also some added benefits to having a spouse as a coach.
Paul bikes alongside Christine as she runs, which means he can pay attention to how she is doing on the run.
"It's gotten to the point now where I know what her stride should sound like," he said.
Christine also mentioned that since they live together, he can see how tired she is after she does her workouts.
"He's the brains behind it; I'm the racehorse," she said.
Recently, she's had to do her runs by herself, as she was in Texas for about a month prior to the Boston Marathon for a family medical situation. She flew to Boston from Texas and returned to Texas afterward.
There were some challenges when it came to training in rural Sealy, Texas, which is outside of Houston, Christine said. She would get up at 3 a.m. to do her workouts, and there were times she had to use pepper spray on loose dogs that attacked. She was able to find a park with a path, but it was one she had to drive to — in a different city, closer to Houston.
During Christine's latest training cycle, she was able to get up to three training weeks of more than 100 miles: 101, 102 and 103 miles, she said. She also focused on tempo runs and track workouts and did two long runs a week, she said.
One long run was the day after a tempo or speed day, so the pace didn't have to be fast. The other long run was a greater-effort run.
"Really, truly, I think just the key is I was healthy," she said.  
When working on Christine's training plans, Paul takes into account her strengths and weaknesses. Her top-end speed isn't as fast as the typical marathoner at the same level, for example, Paul said.
"What she does have is a unique ability to take her top-end speed and hold it for a really long time," he said.
Paul said his wife is goal-oriented and kept setting faster goals for herself. A couple years ago, he doesn't think either of them would have predicted she'd run a sub-3:00 marathon.
In a separate interview, Christine said basically the same thing about when she told Paul this past winter that she was going to break 3:00 at Boston.
"At the time, neither one of us believed it," she said.
Both Paul and Christine are members of the D.C. Road Runners and have served on the board. Christine was also part of the D.C. Road Runners' women's masters team at this year's Boston, and the team took second place.
Christine recognized both Paul and her fellow runners and friends from D.C. Road Runners, along with Dr. Andrew Parker, who did her hip surgeries; her strength trainer, Austin Johns; and her nutritionist, Katie Rhodes.
With this goal behind her, Christine plans to run the Kettle Moraine 100, a 100-miler in Wisconsin, this June. That will be her second ultramarathon; she ran the JFK 50 Mile in 2018.
She does realize that the body generally starts to slow down with age.  
"I'm trying to take it when it comes and do the best I can in the moment, because I don't know tomorrow if it's going to be there," Christine said.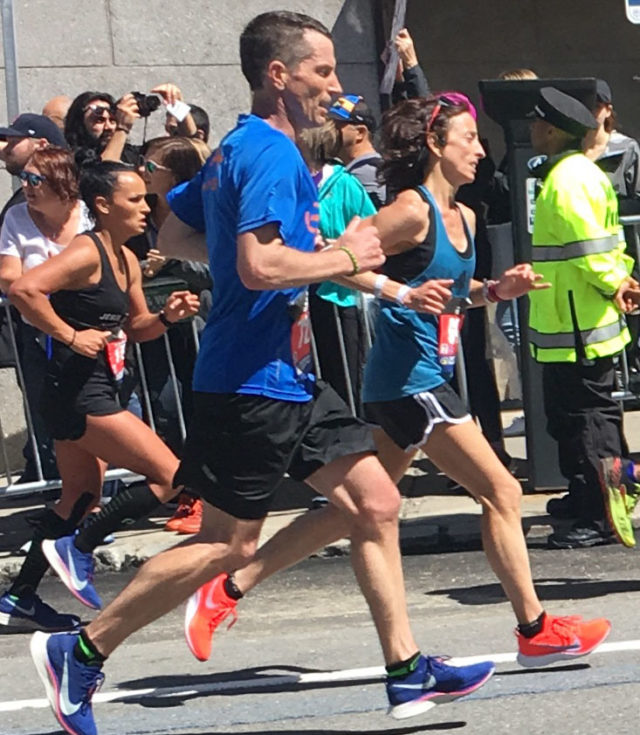 Recent Stories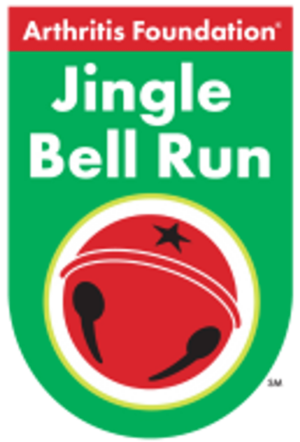 Be part of the original festive race for charity and signature Arthritis Foundation holiday event! Wear your favorite holiday attire and together, we'll jingle all the way to a cure! Register as an individual or bring a team of friends,