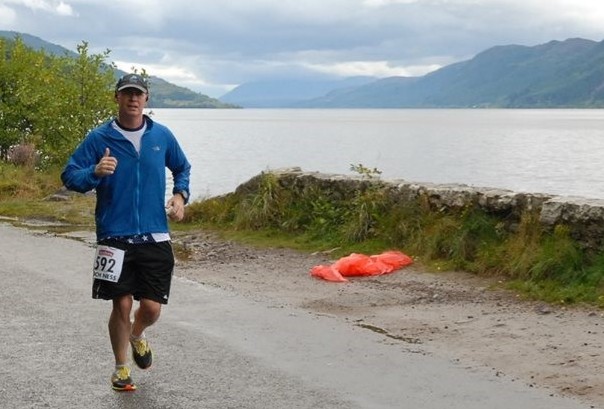 Name: Dave Beltz
Self-described age group: 50
Residence: Arlington, Va.
Occupation: Federal Government Manager
Why you run: I run because I love it.  It is a great stress reliever, easy to do almost any time of year, and if you don't enter races, a cheap form of exercise.  I also really like the running community – at races, online, and just out on the local running trails.  We're all in it together, and I like that feeling.
When did you get started running:  I started running when I was 14.  A neighborhood friend convinced me to run a July 4th 10K in my hometown of Wheeling, WV.  I had fun training for the race, and did pretty well considering I didn't have proper running shoes and no idea how to train.  I ended up finishing around 54 minutes, and had no idea if that was good or not!
Have you taken a break from running:  In the late 1990's I stopped running or exercising for a while.  I had a stressful, extremely time consuming job, a long commute and a new son.  I put on about 30 pounds, and I looked and felt not great.  One nice day in the fall of 2000 I decided to get some exercise and go for a run; I couldn't even finish a mile.  That was the point I realized what terrible shape I was in and needed to fix me.  Running and eating better knocked off the 30 pounds in three months, and had me feeling better than I had in years.
Training shoe: I wear Saucony Triumph Series – they feel broken in almost right out of the box.
Coach or training group:  Just me!  I am a member of the Marathon Maniacs running club.
The hardest race you've ever run: My hardest race was actually this year.  I traveled to Cookeville, Tenn. for the Cummins Falls Marathon.  At race time it was about 45 degrees and pouring down rain and it never stopped raining.  The race course had been adjusted the night before because sections of the course were flooded.  The course had two hills that gained 1000 feet in elevation over a mile.  My calves were like rocks for five days after the race.
Most adventurous decision you've made with your running: I don't think I'm particularly adventurous when it comes to running; however, I did manage to carry a run streak that lasted from June of 2017 to June of 2018.  That was not easy, as I travel a fair amount for work, which led to many 11 p.m. hotel treadmill runs to keep the streak alive!
Running mentors: I have no mentor.  I do admire the endurance ability of Mike Wardian, a not well known enough running world record holder, and fellow Arlington resident.
My favorite place to run in the D.C. area is:  I always enjoy a run up to Teddy Roosevelt Island, and around the statue of the great man. I haven't done that enough in recent memory, and now it's back on the list of runs I need to do again.
Favorite local trail:  The Washington & Old Dominion Trail and the Custis Trail are my favorites.  I started training for my first marathon on the W&OD, and it just feels like home when I head out to burn some stress.
My best race was: The Loch Ness, Scotland Marathon.  The race started in the highlands, and the course followed along the banks of the loch for the bulk of the race.  The course was beautiful, and my fellow runners were super nice.  I smile whenever I think about that run.
Favorite local race:  Hands down, the Marine Corps Marathon.  I've run it four times, and I'm doing the inaugural Marine Corps 50K in October.  It's professionally organized and operated, the crowds are the best, and it's just so patriotic.
Ideal post-run meal: I think it's almost always pizza for me. Nothing better than guilt-free pizza eating!
Favorite flavor of gel, gu, etc: I like Gu Strawberry-Banana and the Vanilla.  I used to take the Jelly Belly Sport Beans to races, but I nearly choked to death trying to eat a couple while I was actually running, so I switched to Gu – much safer!
Pet peeve:  Runners who fail to wave back or even provide a simple head nod.
Goals: My big running goal for this year is to run the JFK 50 Miler in November.  A longer term goal is to get certified as a running coach – I just have to find the time to commit to the training.
Your advice for a new runner:  Have a goal such as a race to train for.  I always have a race coming up, and I know that I can't accomplish my goal unless I put in the work (the training miles).  Also, make sure to do strength training in addition to the running.  The strength training will improve your running and cut down on injuries.
Favorite running book: While I am an avid reader, and I do read lots of books, I've never read a book on running.  I definitely enjoy the documentary on the Barkley Marathons, and I highly recommend it.
Song in your head during a run: Runnin' Down a Dream by Tom Petty
Have you dealt with a major injury:  No, thank goodness.
Running quote: "Some run is better than no run."
Why is the D.C. area a great place to be a runner:  The D.C. area is filled with a large number of running trails (paved and not), that traverse city and country environments.  We have a very active running community, lots and lots of races to choose from, and amazing scenery, including world famous landmarks, to run past.
Recent Stories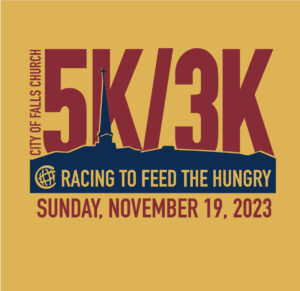 The out and back Falls Church City 5K/3K course is mostly flat on the W&OD Trail starting and finishing at 103 Columbia Street. Overall male and female winners earn free shoes and medals are awarded to all categories. Great family