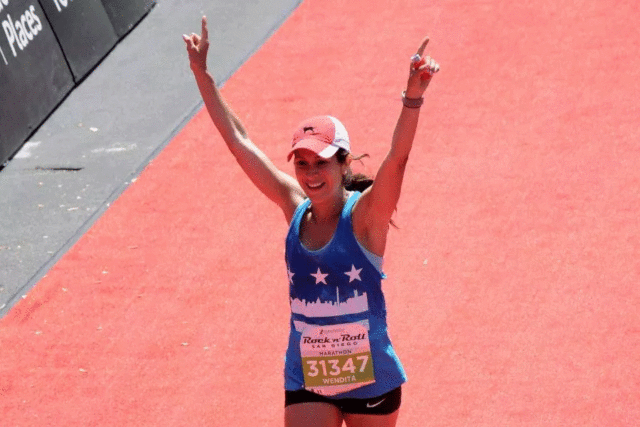 Everyone knew Wendy Martinez as a runner. It was a huge part of her identity. So much so that when she wanted to meet her friends at a trendy brunch spot in D.C., she would run to the restaurant "and show up all sweaty. She didn't want to miss a run," said her best friend Kristina Moore.
"I think through running she found power and strength and serenity — it showed her dedication and mental strength, and so it was an integral core of her life," Moore said.
Running fulfilled Martinez; she also died while running. Last September, a stranger fatally stabbed the 35-year-old while she was out for a run in D.C.'s Logan Circle neighborhood. It was a tragic act of violence that rocked her friends, family and the running community.
After her death, her friends and family founded the Wendy Martinez Legacy Project — an initiative that invests in the causes Wendy cared about most: empowering women in technology, supporting women's entrepreneurship and connecting with others through running.
"In the middle of all of this grief, there was universal recognition among her closest friends and family — Wendy was very clear about what she wanted to accomplish in life … We were all of one mind about the direction she was going and what her trajectory was going to be. We wanted to make sure her dreams would still come true," said Moore, Martinez's best friend of five years turned director of communication for the Wendy Martinez Legacy Project.
"There were very specific conversation around not letting her light be snuffed out."
Martinez was chief of staff at the D.C.-based technology firm FiscalNote where "technology really piqued her curiosity," Moore said. Also, through her career, she sought out mentors and served as a mentor to other women, becoming a leader in the field in the process.
Martinez took Erica Chicola under her wing when they worked together at Inter-American Development Bank. She not only inspired Chicola at the workplace, but also encouraged her to give running a shot.
"She was always empowering me and pushing me to do more and broaden my vision of what I was able to achieve. She always believed so much in me and my capacity to do things," Chicola said of her friend.
When Chicola decided to run her first half marathon in the D.C. area in 2015, Martinez was there. Not only did Martinez help coach her friend through the training, she also ran the race step-for-step with Chicola, who admitted the pace was much slower than Martinez was accustomed to.
"To me that was such a big accomplishment. I'm not someone who loves to run, and it was a big deal for me. And she introduced me to all the beautiful things about running. How healing it can be and meditative," said Chicola, who is now on the Wendy Martinez Legacy Project's board.
Martinez's infectious love for running is something the project is working to pass along to future generations. Last month, it awarded its first-ever grant to Girls on the Run – DC — an organization that focuses on character-building, goal-setting and building a foundation for a healthy lifestyle for girls in grades 3-8. The Girls On The Run – DC program culminates in its participants running a 5K.
The $6,000 grant will pay for 30 girls to take part in Girls On The Run – DC this spring, said Girls on the Run – DC Development Director Kelly Makimaa. Girls on the Run – DC serves more than 2,100 girls a year across all eight wards of D.C. and in Prince George's County.
Girls on the Run would not be able to provide opportunities to its participants without funders like the Wendy Martinez Legacy Project, Makimaa said.
"Empowering young girls through running is a wonderful testament to Wendy and to the entire legacy project and what they're trying to accomplish," she said.
There is a new generation of young female runners who can learn from Martinez, Makimaa said. Martinez's friends said she had confidence in spades, cared about her job, her impact on others' lives and the running community — all traits that show young women the potential they hold and the wealth of possibilities ahead of them.
And the grant money for Girls on the Run — DC is about so much more than just running.
"Hopefully it will introduce them to sport and also values and tools they can use to be successful and happy and fulfilled," Chicola said. "That sense of accomplishment is one thing, but there's also this feeling of being healthy and being part of a team and setting goals and meeting them."
The Wendy Martinez Legacy Project has big plans for the D.C.-area running community. Martinez's fiance, Daniel Hincapie ran the Boston Marathon in her honor, raising around $14,000 in the process. That money will be earmarked for another running-centered community event, Moore said.
The project is also working toward holding a run in her honor. The timing and the specifics of such a run are still in the early development phases.
The friends and family involved in the project are ambitious, Moore said, and are working hard every day to make Martinez proud.
"To see how you take something incredibly negative and incredibly painful and you capture that energy you and turn that into something positive — that's magic," Moore said. "We would like to think she would be pretty happy now seeing how her family and friends have come together and see how much we love her, and how much her value has resonated."
"Love wins" has become a mantra for the project. Her friends and family push on through the pain of loss knowing what Martinez loved is not lost, and their love for her will not dwindle.
"I think she was very humble and I don't think she realized the impact she had," said Moore, emotional and teary talking about her friend.
"So I think if she were able to see how much people care — not just about her, but about her dreams and how they have manifested through her passion in running, we think it would have meant a lot."
Recent Stories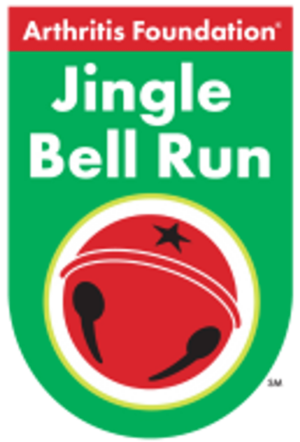 Be part of the original festive race for charity and signature Arthritis Foundation holiday event! Wear your favorite holiday attire and together, we'll jingle all the way to a cure! Register as an individual or bring a team of friends,