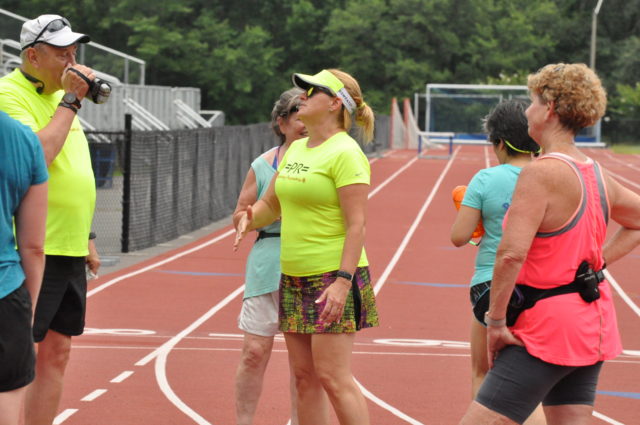 Her athletes are not making headlines or standing on any podiums, but that doesn't stop Burke's Kareen Lawson from coaching. With dozens of athletes in the Potomac River Running "Burke Beasts" group under her wing, Lawson is making a difference for athletes of all ages and abilities, with an affinity for the over-40 crowd.
Unlike a lot of runners who started running in high school, Lawson started running as a way to meet friends in her 30s. Until that point, she knew most of her friends through her kids. But when her youngest kid left for college in 2012, she found herself wondering how to make new friends. When a Facebook connection referred her to a training program, Lawson decided that joining the program was a perfect way to make new friends while also losing some weight at the same time.
As a participant in Potomac River Running's training program in 2012, Lawson quickly realized that she loved running, something she never expected.
"I jokingly refer to myself as 'an AOR', an adult onset runner," Lawson said. "When I started running, I didn't race at all. It didn't occur to me. I did my first race on Jan. 1, 2012. [It was] the New Year's Day 5K in Reston. Now I've run over 150 races."
She fell in love with the sport in no time. Eager to do more in the running community, she eventually decided to try her hand at coaching.
Lawson took on a volunteer role with RunFit Kidz, a youth running program for 1-8 graders. As a pre-kindergarten teacher, Lawson was no stranger to working with children and the role seemed like a perfect fit. Her work with RunFit Kidz inspired her to get her coaching certification from Road Runners Club of America in February of 2014.
"The owner of Run Fit Kidz said, 'If you get the certification, you can come work for me,' so that's what I did. That March right away I got my first group of kids that I coached," she said.
"When you're working with kids, I think it's very important that you keep it fun because they've got a long possible career of running ahead of them so you don't want them to be burnt out. Yes, you want to teach them the fundamentals of running but you also want them to have fun so they keep at it," she said.
Lawson expanded her coaching to a program for adults called Run Walk Fit, part of West Springfield Running LLC. The program, which met out of Metro Run & Walk Springfield, was Lawson's first time coaching adults. Shortly later, PR Training Programs had a need for a new assistant coach. Chris Jakubek, the manager at Potomac River Running's Burke store, reached out to Lawson. She has been coaching adults through PR Training Programs and kids through RunFit Kidz since fall 2014, in addition to offering personal one-on-one training.
Lawson's athletes come from a variety of backgrounds, from brand new runners, to runners trying to make a comeback after taking a long time off or coming back from injury, to very focused runners with a specific goal.
"Or sometimes people [are] running just for fitness, not interested in racing, which is what I was when I first started," she said,
Lawson says that a lot is the same when it comes to coaching kids and adults, though there are certainly differences across the various age groups. She has now coached athletes from ages 4 to 74.
"There's a lot that's the same across different age groups from 4 to 74 in that to keep them coming back, there has to be an aspect of fun and you have to recognize that everybody who comes in is going to have a little bit of a different focus," she said "You're always going to have those who are super committed to a goal and will hang on to every word you say as written and then there are those who for them, it's more social and they're just looking to have fun. And of course, there's the combination of both those things, who are the people I think tend to be the most successful."
As a runner who didn't find the sport until she was in her 50s, Lawson sees a lot of herself in the people she coaches, which is part of what drives her.
"I like helping people achieve their goals and it's also a way to give back because I had some great coaches help me early on and I was grateful for that … I like to show people who think they can't do something to realize that they can with the patience and the time and the training."
"Sunday evenings are my favorite because those are the days I get texts and emails from my runners with pictures of big metals and a smile or a race report."
Lawson has running goals of her own. She recently PRed in the marathon and plans to run her first 50K in December. She says striving for new times or distances is an important way to motivate her athletes.
"I'd like to keep improving just as an example to show people that you can still improve even when you're over 50, especially when you're not haunted by the ghosts of times' past," she said.
Those "ghosts" can be difficult, Lawson notes.
"With the adults that have prior running careers and are haunted by the ghosts of times' past, you have to take a step away and look at where you are now."
Lawson says many adult runners tend to compare their times to times they hit earlier in their youth, which can be a major frustration for runners who may have had strong running careers when they were younger. "For most of us, it's probably not going to happen. We just don't have the lifestyle anymore to focus and probably our bodies have changed."
Lawson's goals extend beyond just running. As a coach, she says it is her goal to keep learning and educating herself so that she can earn her athletes' trust.
When coaching with older runners, trust is a key component.
"Working with older runners, you have to have a trusting relationship so that they are willing to share what's going on with them. I've had runners with numerous orthopedic issues and issues with knees and backs and ankles who have had numerous surgeries or heart issues. I've had runners with a variety of health issues that I need to know about and if they can't trust me with that information, I can't be the best coach for them."
"[With older runners], you have to tread lightly because there's pride involved too. Sometimes you have to say, 'This isn't the best choice for you right now,' or 'Your body needs rest,' or 'You need to go to the doctor.'"
But for Lawson, she says the most important thing in coaching is making sure the athletes feel like part of a community. Many of her athletes tend to come back to the program year after year for that very reason.
"I think people keep coming back because we've created a family here. We have people who have been in this group since it started 7 ½ years ago and they keep coming back because of the people," she said.
That community atmosphere also creates motivation for other athletes. Lawson knows this from personal experience back when she was just a program participant.
"[Back in 2012,] Katherine (another member of this group) asked me, 'Would you consider running a marathon for this charity?' and I said, 'A marathon? No. That's way too long for me,' but then all these people said, 'Oh you can run a marathon,' and I believed them and the next thing I know, I'm signed up for a marathon."
"Constantly people are realizing that they can do this," Lawson said. "I had someone who when they first came to me, they said, 'I just want to run 30 minutes three times a week,' and that person has run two marathons now."
Lawson says the best way to describe her athletes is as a family.
"We've had people who've had surgeries and members of the group have brought meals to help. When people fundraise, the group comes to help. One of the members broke her foot a few years ago and people volunteered to go walk her dog. It is running, but it's a supportive social family and community. That's what I would want people to know most about this group."
"You see it when we're all together. There's a lot of laughing, but they're focused too. It's not like it's a joke. People really get to know each other," Lawson said. "I'm lucky I get to do this. I consider this my next chapter."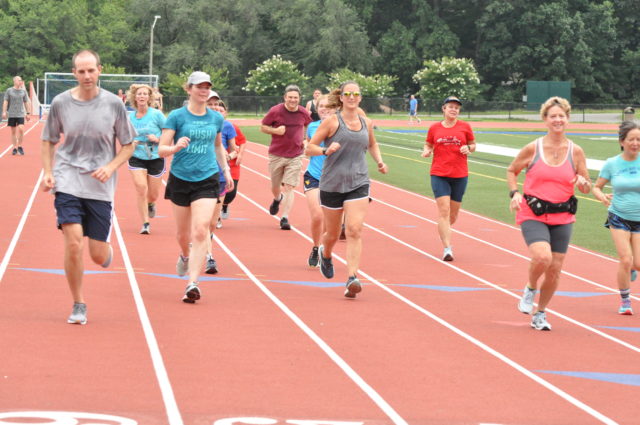 Recent Stories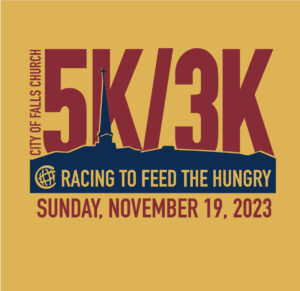 The out and back Falls Church City 5K/3K course is mostly flat on the W&OD Trail starting and finishing at 103 Columbia Street. Overall male and female winners earn free shoes and medals are awarded to all categories. Great family