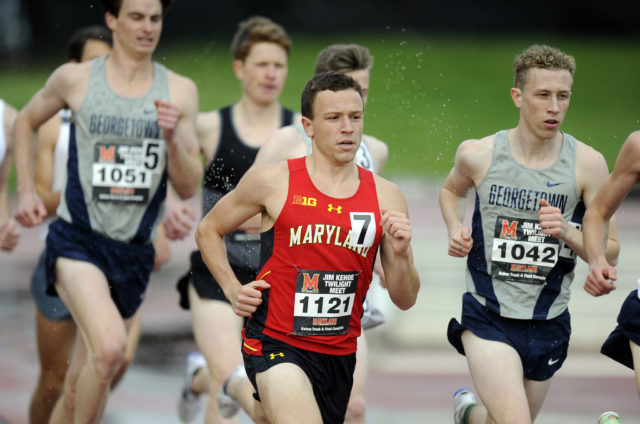 Name: Daniel Trettel
Self-described age group: M 25-29
Residence: Adelphi, Md.
Occupation: Grad student, PhD – Biochemistry
Why you run: I run to be the best me I can be. That applies directly to athleticism and indirectly to my academic/professional life. I don't think I could excel in my studies without a physical output balancing it out.
When did you get started running: I started running track as a freshman in high school to get in better shape for soccer, but ended up quickly quitting due to some bronchitis. I returned the next year and it stuck. Next thing you know, I started doing soccer to get in better shape for track! I just found myself innately having a more competitive mindset for running. 
Have you taken a break from running: Yes, for about six months after college. I found myself rather disillusioned by the sport, and myself, so I just stopped. It was not a happy period for me. Eventually, however, the voice inside my head started nagging me "That's it? You're going to waste your efforts, all that training, what potential you have left?" so I started up slowly. Shed some (a lot of) weight, made a plan, and stuck to it training myself completely alone for over a year. In hindsight, that process is what I needed to become a much healthier athlete today.
Training shoe: I used to be a big Hoka Napali fiend but recently have switched to the New Balance Beacons. I don't think I'm switching back soon!
Coach or training group: I'm a member of the Georgetown Running Club coached by the one and only Jerry Alexander. In reality, I mostly train solo due to time constraints. Coach Jerry and I both come up with workouts for me. Compared to college, I love of how much say I have in my training. It's also a huge benefit to have an incredibly supportive and talented group to train with when I can make it out to a workout.
The hardest race you've ever run: My first ever 8k in college hosted by George Mason. I never did XC in high school, so I learned the hard way how much longer an 8k is compared to a 1500 meter! I clocked in just over a very painful 30 minutes. I made some friends along the way, and that's what it's all about, right?
Most adventurous decision you've made with your running: Walking up to Coach Valmon and Jelley of UMD, as a very terrified little freshman Terp, and asking for a chance to try out for the team. I wasn't recruited anywhere out of high school but felt I still need to compete, even if it meant starting at the bottom of the totem pole. Several months later I got a call from Coach Jelley; I was allowed to try out!
Running mentors: The closest I have/had to a mentor would be my college coach, Matthew Jelley. That man made me the athlete I am today. 
My favorite place to run in the D.C. area is: The Tidal Basin area. I don't get to do it often, but I love to park my car on the National Mall and then just run around. No itinerary, just letting my feet carry be wherever I want.
Favorite local trail: The entire Anacostia Tributary Trail system. I wish I had access to soft surfaces more often, but this system is sprawling enough to keeps things interesting. 
My best race was: My last indoor college race, an 800 meters at the Spire. I had no expectations. After all, I wasn't sure if I'd ever step foot on an indoor track again after this, so why worry? I rarely gave myself the chance to enjoy racing in college. Turns out that's the mindset I needed. A zero expectations race turned into a 1:50.17 PR and college record!
Favorite local race: The Clarendon Day 5k, is there any doubt?
Ideal post-run meal: Since it's summer, literally anything with enough salt to make my doctor worry.
Pet peeve: People who run on the roads when there's a side walk right next to you. Come on!
Goals: However lofty, I'm aiming for <1:50.00 in the 800m and <4:00.00 in the mile.
Your advice for a new runner: Don't get caught up worrying about how others are doing. We all have different paths, different starting lines. Worry about where you've been and where you want to go. At the risk of sounding cheesy, the path you run on is your choice.
Favorite running book: The nerd in me says the Science of Running by Steve Magness. The average Joe, however, liked The Incomplete Book of Running by Peter Sagal.
Song in your head during a run: Old Town Road – Lil Nas X
Have you dealt with a major injury: I had to take practically the whole summer after my freshman year of college off due to runner's knee. It took several doctors to diagnose it correctly as being caused from a leg-length discrepancy; basically one side of my hips is hiked up relative to the other.  I still have it to this day, but I guess I'm just adapted and keep it in check. 
Running quote: "MOOOOOVVVEEE" – people at literally any track meet ever
Why is the D.C. area a great place to be a runner: It's great because there's actually an infrastructure and community for it. If I go running on the canal up in Frederick (where I'm from) I won't see many others, I'll even get odd looks because of my shorts/tights! But here in D.C., it just feels right. 
Recent Stories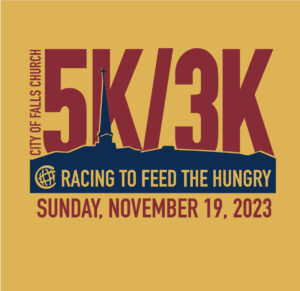 The out and back Falls Church City 5K/3K course is mostly flat on the W&OD Trail starting and finishing at 103 Columbia Street. Overall male and female winners earn free shoes and medals are awarded to all categories. Great family