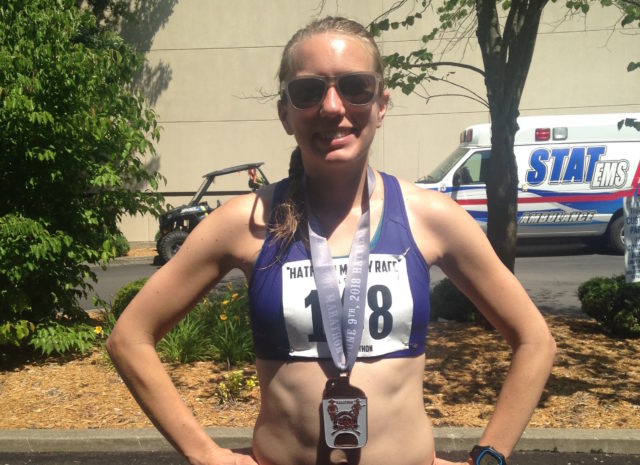 Name: Abby McIntyre
Self-described age group: F30-35
Residence: Washington, D.C.
Occupation: Assistant managing editor for Slate magazine
Why you run: Running makes me feel strong and reminds me that I can do things I never thought I could.
When did you get started running: My first year out of college back in 2011, a few months after I moved to D.C. I had never been athletic growing up, but I've always loved being outdoors. I lived in Dupont Circle at the time, and there were always so many runners everywhere, so I thought I should try it. I started a walk-to-run plan, taking advantage of the Rock Creek Trail off of P Street and things just … escalated from there.
Have you taken a break from running: I took three weeks off in 2017 so I could better enjoy hiking and traveling while on vacation in New Zealand, but that's literally it!
Training shoe: Saucony Kinvara
Coach or training group: I've recently started running with the VHTRC Sundays in the Park group, but I'm self-coached and mostly train solo.
The hardest race you've ever run: Huntsville Marathon 2018. It was 40 degrees and pouring, biting rain. I was so wet and miserable for the final miles.
Most adventurous decision you've made with your running: Taking a chance on a group of (mostly) strangers four years ago to join a team for the Great Lakes Relay. It's a totally bonkers 270-mile run through Northern Michigan that's unlike anything else I've ever done, and I'm so glad I get to do it every year now.
Running mentors: My OG running buddy Emily Drash, who got me to sign up for my first half-marathon when I thought all I could do was a 5-miler. And I love following and looking up to Des Linden, Kara Goucher, and Shalane Flanagan.
My favorite place to run in the D.C. area is: Around Hains Point, connecting to the Capital Crescent Trail, and then maybe up the Glover Archbold Trail over into Rock Creek Park. It's an amazing loop.
Favorite local trail: The Valley Trail in Rock Creek Park
My best race was: New Jersey Marathon 2019. Perfect weather. Everything went to plan. My goal was to get in under 3:25, so that I'd feel pretty safe to snag a spot for the Boston Marathon this fall. I nailed it (3:24:20).
Favorite local race: Navy-Air Force Half Marathon (I hope it comes back!)
Ideal post-run meal: Vegan peanut butter pancakes
Favorite flavor of gel, gu, etc: Honey Stinger Fruit Smoothie
Pet peeve: So many! Litterers. Runners who line up in corrals way ahead of their actual pace. Tourists who don't pay attention to their surroundings. Bandits. Social media braggarts.
Goals: My main one is to run 50 marathons in 50 states. I'm at 14 so far, so I have a ways to go, but I hope to keep chipping away. I'd also love to run an ultra-distance race soon.
Your advice for a new runner: Just keep running. Some days you won't want to do it, but you'll always feel better when you do. (I still have to tell myself this A LOT.)
Favorite running book: What I Talk About When I Talk About Running by Haruki Murakami
Song in your head during a run: "Tempo" by Lizzo feat. Missy Elliott (mostly on tempos, duh)
Have you dealt with a major injury: Luckily no! Hoping to keep it that way.
Running quote: "Pain is inevitable. Suffering is optional." (Murakami)
Why is the D.C. area a great place to be a runner: Because sweaty, humid summer training delivers fast fall marathon times. Also, running the monuments nearly every day will always be cool.
Recent Stories

Both 5K and 1 mile courses are USATF certified. The 5K course has some moderate hills. The 1 mile course is flat making this a perfect PR course. We are really looking to get a broader participation base.
Funds go