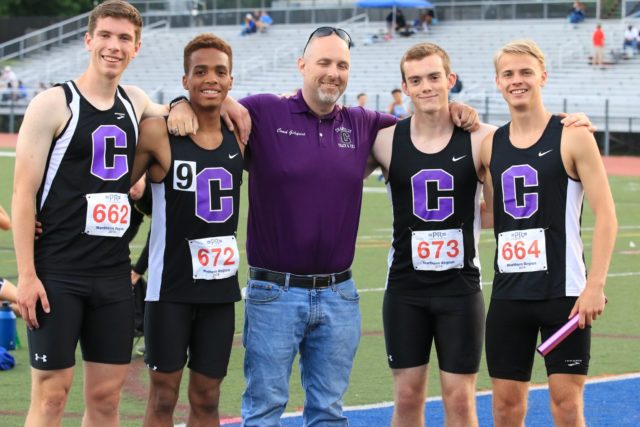 In 2012, Chantilly High School track and cross country coach Matt Gilchrist wanted to run a mile with one of his graduating seniors, state champion Sean McGorty. But the weight Gilchrist had gained over the years of putting his coaching before his own health stopped him in his tracks.
"I remember getting about 600 meters around the track and I was done. I couldn't do it," said Gilchrist, who previously ran at Gettysburg College. "At the time, I was 40 years old and couldn't run a mile."
But this past May, 162 pounds lighter, Gilchrist cruised around the track alongside one of his graduating runners, Nicole Re, who called the four laps together "a memory that will stick with me."
Gilchrist's journey to get back in shape wasn't easy. The 45-year-old runner, who started running in high school and continued logging miles fairly regularly until about 2003, began coaching track and cross country at George Marshall High School, his alma mater, in 1995. He moved to coach at Chantilly in 2000, and other priorities started coming before his own health and fitness. As he attempted to balance graduate school, his day job as a teacher and coaching three seasons of running, his fitness and nutrition habits began to suffer.
While the team excelled — he's coached the Chantilly boys cross country team to back-to-back state titles in 2012 and 2013 and, more recently, the girls track and cross country teams have won the district the last four consecutive seasons in a row — Gilchrist's health paid the price.
"I put my coaching ahead of my own health. I know that," he said. "The competition junkie in me started getting satisfied through seeing my kids do well, individually or as a team. … That filled that void."
The Fairfax resident started seeing the effects of his weight gain. He developed back issues and sleep apnea and struggled to do his job. During one cross country meet Gilchrist was coaching, he said he could barely walk the course to coach his athletes, he was in so much pain.
Gilchrist, who weighed in at 180 when he was an active 30-year-old, had reached 354 pounds in September 2017, when a friend provided a wake up call, saying that he could see Gilchrist "slipping" and was worried.
"I wasn't interested in dying in my sleep of a heart attack," Gilchrist said.
So he took aggressive action to get back in shape, including undergoing bariatric surgery, which surgically shrinks the size of the stomach, in July 2018. Even though the surgery reduces the amount someone can eat, it is still possible to gain the weight back after, Gilchrist said. To avoid that, he had to take a series of nutrition classes and prove he could lose a little weight before he went under the knife.
He did the surgery during the summer so he could take time to recover without it impacting the cross country or track season.
The weight loss has involved a lot of hard work and personal dedication, but Gilchrist also credits his network of friends with helping him stay accountable.
"It did help to be able to share it with some other people that I knew and trusted," he said. "On social occasions, when you're reaching for that extra slice of pizza, to have that support system helps you stay the course."
Just like any runner tracking their mile splits or personal records down to the second, Gilchrist said he is driven by his metrics, tracking his weight as it decreases. He's currently 192 pounds and said he'll need to focus more on exercise to reach his goal of 180 pounds.
He is also motivated by setting a better example of his athletes because, "when you're 350 pounds, you lose a little credibility there."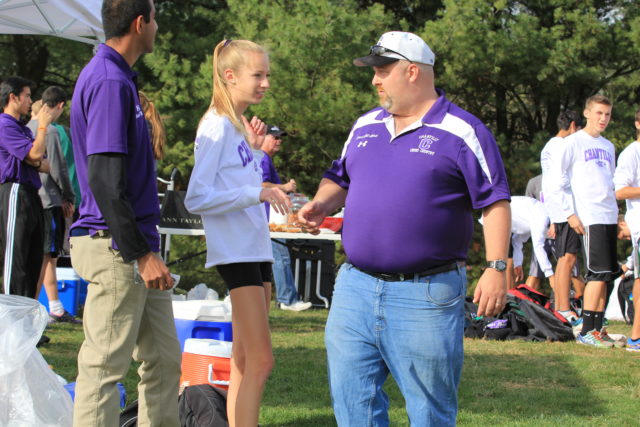 His athletes have already seen a difference. Re, the former Chantilly athlete who will continue running at Virginia Tech in the fall, said Gilchrist was always supportive as a coach, helping her find the joy in running when she was taking one particular race outcome too seriously.
"I was really impressed with his transition. I'm really happy for him," she said. "Everyone is like, 'Who is this new Coach G?' Everyone loves his energy."
Gilchrist is gradually getting more active, including biking, walking and sometimes running. While he has no desire to race competitively or come close to the times he used to run, he is enjoying running for fun again and did a 5k in December. On his upcoming calendar is his alma mater's Gettysburg College Alumni 5k later this month.
"There are times that I've felt like a runner again," he said. "On a day to day basis, I don't go around and say, 'I'm a runner.' But there are runs where I get in a zone and say, 'I remember how this felt.'"