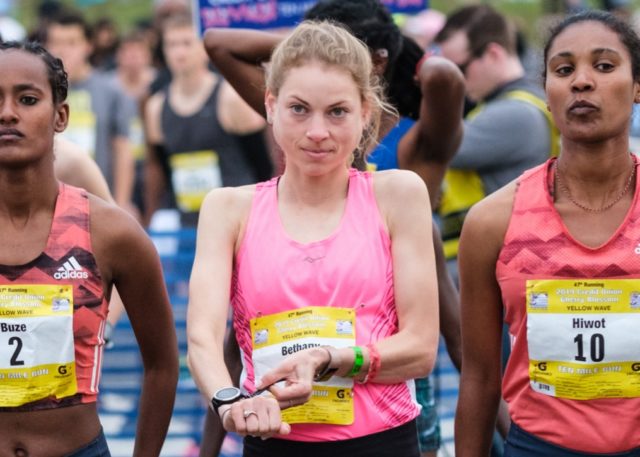 Spot her two letters and Fairfax's Bethany Sachtleben can rearrange her name to spell "schedule."
Her daily routine dictates how she fits in her 100+ mile weeks around her full-time work and coaching, but even farther removed from that, she was trying to figure out where all those miles were going. Yes, the 2020 Olympic Marathon Trials Feb. 29, but more immediately, she was supposed to race a marathon on July 27. For Team USA.
But less than a week before she was due in Lima, Peru, she wasn't so sure. Told in early June that she was on the Pan American Games team, she was now apparently off. She found out on Friday; Her flight was the next Wednesday.
"I heard, 'we're offering your spot to everyone on the 2019 (performance) list,'" Sachtleben said. Her last marathon was a month before 2019 started. Everyone else would have to decline, including runners whose times were slower. "Then I started getting calls from friends saying they had been offered my spot and they turned it down. I felt awkward and uncomfortable for everybody because it's a huge opportunity, but nobody is going to decide to jump into a marathon the week before."
USA Track and Field contradicted its published selection process for the Pan Am Games by initially picking athletes from the 2018-2019 performance list for track events, the method it announced to athletes in 2018. The USATF policy explained that the June Pan Am entry deadline and the late outdoor championships would preclude the team selection from being based on head-to-head performances and the organization would choose athletes from top posted times in 2019. The document was unclear, saying both that the marathon, racewalk and relay teams were subject to and were an exception to the track event selection policy. One detail standing in the way of selecting a strong team – the marathon calendar isn't exactly bountiful between Jan. 1 – April 21, with the national championships run a month before that window.
"Six months to run the qualifier and then race again? It makes sense for a track race but not a marathon," Sachtleben, 27, said. "After dealing with this for a while, I didn't even want to go anymore."
Her coach, Andrew Gerard, told her that was ridiculous and she should keep running through the weekend. 
"You never know what's going to happen," he told her.  
"She was a mess, that was not ideal for her mental preparation," Gerard said. "She kept training through that uncertainty." 
At 4 p.m. Sunday, a little more than five days before she was due to race, she got the call: she was back on the team. USATF shipped her uniform and she was on her way.
"I wanted to prove to everyone I belonged there," she said.
---
From January 2014
---
The race itself kicked off with a four mile stretch without a sub-6 mile. The chilly mist was a far cry from the 70 degree temperatures Sachtleben and her father, Doug, packed for, but during the race it was perfect, even as the pace lagged. 
Sam Roecker, Sachtleben's U.S. teammate, turned to her and said, "If they want to turn this into a half marathon, fine; We'll just beat them all."
The two joked about that for about a half hour of the race.
"We had faster half PRs and everybody else there," Sachtleben said. "This is the way I want to run a marathon."
The course featured four 1-kilometer loops before heading south for four 6-kilometer loops. 
"People were cheering so loudly," Sachtleben said. "It felt like weird track race." 
Doug, on a scooter, relayed reassurances from Gerard when he saw her on each loop, and he marveled at the locals who were glued to TV sets inside businesses to watch the race unfold elsewhere in the city.
After 13 miles, Brazil's two runners look off with Peruvian Gladys Tejada, the 2015 Pan Am Games marathon gold medalist whose victory was invalidated after she tested positive for a diuretic that may have masked performance enhancing drugs. She received a six-month competition ban but was back on the roads in time for the 2016 Olympics, where she finished 15th in the marathon.
The U.S. runners gave chase, and Sachtleben shed the two Brazilians and Roecker, a Georgetown masters alumna who finished fifth, and bore down on a fading Tejada.
"(During the race) We acted like Gladys wasn't even in the race," Sachtleben said. "Who knows how long she'll be in the results."
The Peruvian fans didn't share that sentiment. They yelled at Sachtleben to slow down, least she catch their hometown favorite. 
"They announced her as a previous Pan Am champion, but that's the race title she had stripped," Sachtleben said. 
With another lap, that might have been moot. While Sachtleben's last two hilly 5k loops figured out to 17:14 and 18:12, Tejada's slowed, to 17:29 and 18:26.
"Gladys was coming apart pretty hard," Gerard said. "We wanted Bethany to crank down the last two laps. They weren't her fastest, but while everyone else was falling apart, she was still attacking." 
He didn't second guess the strategy, which saw her finish second in 2:31:20 to Tejada's 2:30:55. 
"We didn't want to go much earlier than she did," he said.
It was the exact same time that she ran at the California International Marathon in December 2018, which underscored the pace at which she ran the last 22 miles. It all came from training tacked on to her initial goal of the Garry Bjorklund Half Marathon five weeks before, where she finished sixth in 1:10:43.
"I was proud of the time," she said. "Once I crossed the mat, I thought if we had run a normal race the first few miles, I could have run under 2:30."
It was her first championship-style marathon, and it gave her a firsthand look at the kind of racing she'll be doing at the Olympic Trials.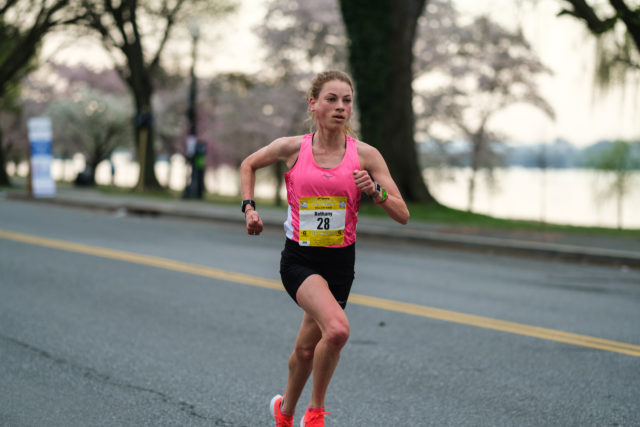 Sachtleben has the 20th fastest marathon of 2020 trials qualifiers, so far, and likely won't climb the rankings before the trials, with no marathon on her calendar. It doesn't matter, anyway. Gerard, who has been Sachlteben's coach since her short stint with the Hansons-Brooks Project in 2015, tells her not to think about time when training for a marathon, and she shouldn't be thinking of that anyway.
"He trains me to race the other women, and whenever I bring up times, he tells me to forget that."
Their coaching relationship, first born of her novel collegiate running experience at George Mason, where she won three conference championships despite taking up running informally as a teenager, resumed once she realized that the monastic lifestyle in Michigan was not for her. 
"I can't just watch Netflix in between my runs and have that be it," she said. "I missed the structure of home."
Frankly, she likes to work, with a resume dating back to her job at Chick-fil-A as a teenager in Manassas, where she was homeschooled by her mother, Robyn. She also worked as an emergency dispatcher before enrolling at George Mason.
"If I was grounded as a kid, my punishment was that I wasn't allowed to go to work," she said. "I loved it."
Even now, with her heavy training load, she would rather put in a solid week at the office. Aside from a stint in the now-defunct Saucony Hurricanes program, she has not been sponsored.
"It's a lot harder than I thought it would be," Sachtleben said. "I usually don't hear back from people I basically haven't gotten responses. I don't know what it would take, maybe just an amazing performance at the trials." 
Trends in professional running point toward her needing to join a training group, but she likes where she is, where she works and who she works with, professionally and athletically, so barring a major breakthrough, her only sponsor may be her employer, which has asked to brand what has become her signature pink running top.
"I don't need a sponsorship, but it would be nice," she said. "I still want to work all the time, but it would be nice to work out in the morning instead of 3 p.m. I could grow my social media presence, but what am I going to post about? My running again?" Nobody cares anymore."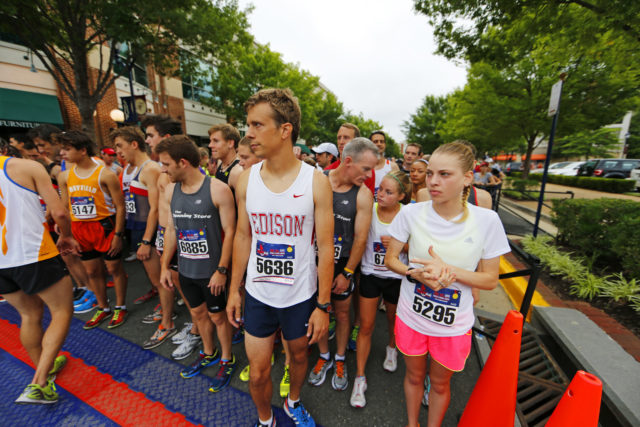 After coming home from Michigan, she felt unmoored, and Gerard helped her reset her perspective. 
"I needed something where I wouldn't worry about time," she said. 
He introduced her to mountain running through the Collegiate Running Association. With an eye toward preparing runners for competitive life after college, the CRA holds a variety of championship races throughout the year in non-track events, including a 6.6-mile race up 3,200 feet. Prize purses, now allowed by a recent NCAA rule change, sweeten the deal, even for students in post-graduate classes.
"It was the hardest thing I had ever done," Sachtleben said of her second place finish, which put her on the U.S. team for what would then displace it as the hardest thing she had ever done – the World Mountain Running Championships.
"You're basically scrambling up on your hands and maybe you get to run sometimes," she said. "I cried when I finished (18th) and I'm not sure if it was because I was hurting so much or because I was glad it was over."
The CRA has been good to her, naming her athlete of the year in 2016 and 2018. She won the CRA's 10k championship in April, besting fellow Trials Fever patient Keira D'Amato at the Monument Avenue 10k in Richmond.
She returned from the World Mountain Running Championships in Bulgaria refreshed and focused on what she needed to do to regain her running form.
When she started planning for the 2020 Trials, Sachtleben figured she would just run the half marathon qualifying time at the 2017 Richmond Marathon. A few weeks before, she realized the time frame to do that wouldn't open for a while, so she figured why not run the marathon instead.
She won in 2:39:00.

"I felt like it was the easiest race I've ever done," she said of Richmond, which was her first marathon since finishing second at the 2012 Rock 'n' Roll USA Marathon, which she ran on a whim. "I felt, when I was running, that I was meant to do this. I knew I was a marathoner. I finished the race feeling great."
Her qualifier out of the way and her path as a marathoner set, she turned to other high-profile races including some finishes as second American at the Credit Union Cherry Blossom Ten Mile in 2018 and 2019 and the U.S. 15k championships in 2019. 
She's gone up against Samantha Palmer at several national-level races.
"She's one of those athletes that you can consistently plan on being there in the final miles, ready to push, no matter how she is feeling," Palmer said. "It doesn't matter who she's racing, she's going to put her nose in the pack and give it everything she has."
It would then surprise Palmer that Sachtleben has worked for the last two years to overcome impostor syndrome, feeling as though she doesn't belong in the top echelon of American distance running. Though she made steady progress beforehand, her finish at the Pan Am Games was a big step.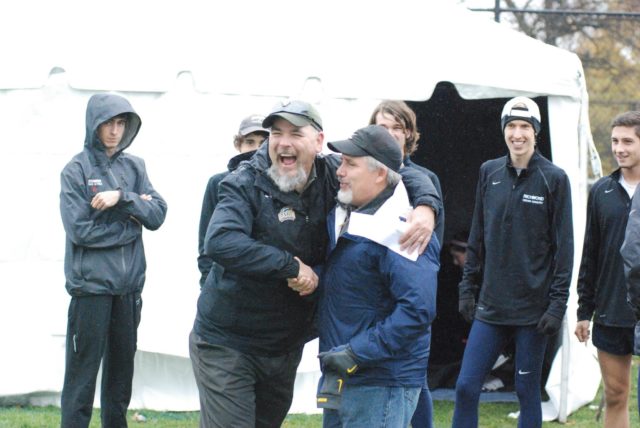 Her improvement hasn't been a surprise to Gerard, who just wrapped up his 14th year at George Mason after coaching at William and Mary and Stanford, where his men's cross country team won the 2003 NCAA title in the sport's largest margin of victory.
"She's had a good, steady buildup without any significant injury downtime," he said. "It's no secret that if you can train without any injury setbacks, you're going to progress."
He attributes her resiliency to her attention to detail outside of the actual running, willingness to put time into taking care of herself and her training consistency. 
"We haven't had any abrupt zigs or zags, changes, no huge diversions," he said. "Some is luck with genetics and bio-mechanics, but there's no real magic formula to get where she is today."
Her training volume has grown in the last seven years to where her mileage peaks around 115 miles a week.
"All of the increases have been gradual and her timing has worked well to build her cardiovascular base," he said. "Even at 115 miles, all the indicators said she wasn't at her ceiling, yet."
If she has a weakness, it's that she doesn't have tremendous turnover. That was a killer in soccer, where Doug said her lack of breakaway speed doomed her. Gerard feels fortunate that while she may top out at 66 seconds for an all-out 400 meters, she is more than comfortable running 5:00 pace for 40 repetitions with 30 seconds rest.
"The aerobic side works, so build that up and factor in the anaerobic stuff where it works," he said. "She's not that fast, but she can operate on very little rest and stay close to the edge of how fast she can run for a long period of time."
The pair has capitalized on her aerobic ability and worked on that, along with her mental strength.
"The training is so much harder than the race," she said. "It's so overwhelming to come to the workouts where I'm going to be running hard for 12 or 18 miles."
She runs most workouts alone, though Doug has accompanied her on a bike to offer support and water.
Gerard is seeing improvement in Sachtleben's head, in addition to her lungs and legs.
"She is recognizing her negative self talk and shutting it down," he said. "When she's slogging through eight miles in the rain, she changes the narrative. 'It's not horrible.' She does that for everyone else but she does that for herself."
He is also working to help temper her expectations for her running, especially outside of her primary racing focus.
"There's always another road race out there and they're always enticing, but I have no idea how you peak for these races six or eight times a year," he said. "She skates by on being 80 percent ready, she'll probably line up for the Dulles Day 10k in a few weeks, I tell her she won't be ready for that and that's something she has a hard time with. 
"She shouldn't go in thinking she is going to PR. The phrase I always use that I think confuses people is 'pigs get fat and hogs get slaughtered,' the meaning of that – what's the difference between a pig and a hog? There is no difference, you need to know where the gray line is. You can be greedy, but you can only be so greedy with where that line is. I think we've done a pretty good job of figuring out where that is with her over the years. She is learning to trust that and listen to it."
---
Hear more about her brush with a truck while running, a mysterious woman who talked her out of quitting her college team and her beer mile exploits.
---
By serving as a volunteer assistant coach for the Patriots, Sachtleben has access to George Mason's training room and facilities and team practices. Though her competitive schedule doesn't often meet the collegiate athletes' enough to run workouts with them, her presence makes a difference, Gerard said. 
"She's a walking example of doing things right," he said. "They can look at her and see that even if you didn't run incredible times in high school, you can work hard and make progress like she has. She was our first Atlantic 10 champion, and that has set the stage for our program in the last few years."
Sachtleben fits in practices at George Mason by getting to work at Microstrategy in Tysons, where she is a financial analyst, at 7 a.m., after a 10 mile morning run. 
"It's the best possible full-time position I could have for my situation now," she said. "They've been incredibly flexible, letting me work remotely from a hotel room if I have a race so I don't have to take vacation days. And besides that, there are really good opportunities for my growth there."
The broadcast of the Pan Am Games on ESPN2 brought her training to life for her coworkers.
"They knew I ran, but they're always shocked that I earn prize money doing this," she said.
Two days after her silver medal performance in Peru, she was back at the office, where her colleagues threw her a celebratory happy hour. She had a seltzer water, stayed for a while and went home to sleep.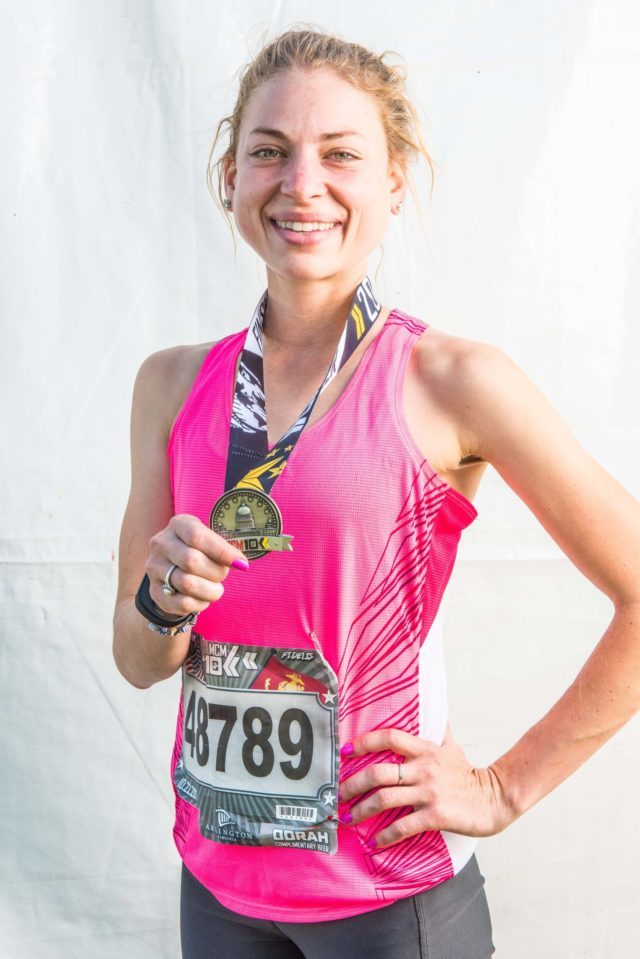 Recent Stories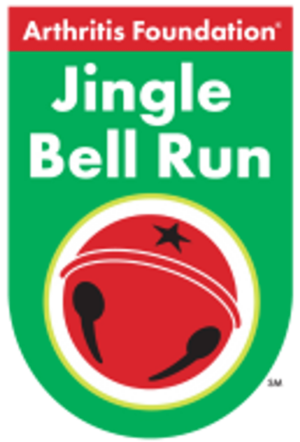 Be part of the original festive race for charity and signature Arthritis Foundation holiday event! Wear your favorite holiday attire and together, we'll jingle all the way to a cure! Register as an individual or bring a team of friends,