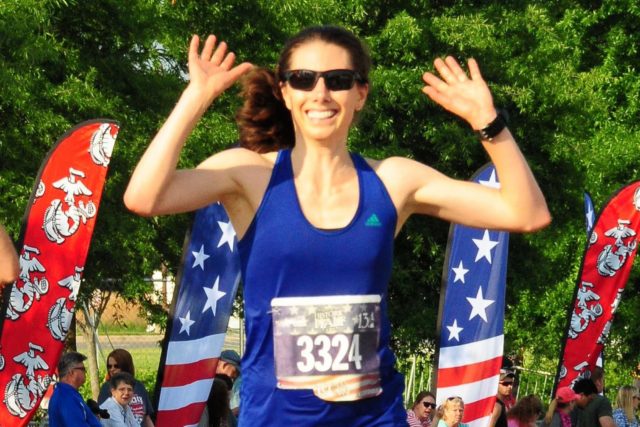 For Shauneen Werlinger, a trip to the 2020 Olympic Marathon Trials figured to be the culmination of a long development that started at Thomas Jefferson High School, continued through a spectacular collegiate career and evolved to include her career and family.
But instead of competing in Atlanta, she'll be following the race alongside her husband and children. Instead of growing the Trials field by one, she's growing her family by one, with a son due in January.
The decision to pass on the race is one Werlinger, 34, said she did not take lightly.
"Once I had qualified (in 2018), I figured maybe we could have a kid now and then get another year to try to get ready for trials — but it took a year longer to have a successful pregnancy," Werlinger said. "My main goal was to have another kid, so it was like one of those things where I had to make a decision."
Some runners may be disappointed by a roadblock to the country's most exclusive marathon and a chance to compete in a race on the world stage. Werlinger isn't one of those runners; she is hopeful and sees this as an opportunity to relish family life, cut back on training and "allow more time to focus on family needs first," she said. Running will always be a part of her life.
Her former coach, Isaya Okwiya says Werlinger's passion and drive shine through in all she does — and this decision is one that is best for her and for her family.
"There's no heartbreak there; it's joy," he said. Okwiya worked with her for years and helped her train for the Eugene Marathon, her first 26.2-mile race in which she qualified for the Olympic trials.
"She gets it — she understands and she's incredibly mature," Okwiya added. "We went for a short shuffle last week; she's still a runner, she's still running, she'll be a runner for the rest of her life."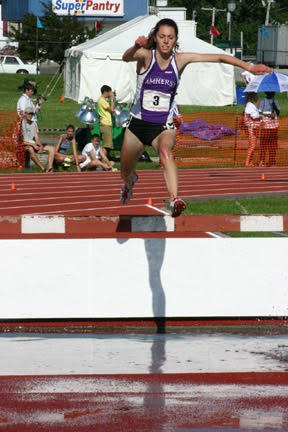 Running wasn't always a part of Werlinger's world. Shauneed Garrahan grew up in Fairfax Station playing tennis, basketball and soccer. She tried track her junior year at Thomas Jefferson High School for Science and Technology in Alexandria as a way to stay in shape for soccer alongside many of her teammates. What began as a way to stay in shape transformed into a new passion — and one she was quite good at.
"At first I did it to social aspect, but after my first race I was hooked," she said.
From there, Werlinger wanted to get involved in other running sports: cross country and indoor track were added to the mix during her remaining time at Thomas Jefferson. She focused her college search on running — seeking a school where she could run and pursue her academic interests in studying law.
She found Amherst College. During her time there, she was a four-time Division III National Champion and 16-time All-American. During her senior year, she won the 3k steeplechase, 5k and 10k at the 2007 outdoor championships.
When she hit the Olympic trial standards for the steeple, she decided to spend the year after she graduated training for it. She lived near Amherst's campus, served as the assistant cross country and track coach, worked for the school's political science department and did other side jobs to be able to stay near the school and train for the trials with her college coach.
Unfortunately injuries and some mental hurdles in her preparations led her to fall short in advancing.
"That year was a learning experience," she said. "I had too much time to think about running and overanalyzing it — it wasn't good to have it as my main focus … it wasn't anything that my coach did — it was just not listening to my body and mentally overthinking everything."
Werlinger moved back to the D.C. area in 2008, where she met Okwiya, who coached her as she continued to compete and excel in the steeple. While running was important, Werlinger knew it was time to focus on her future as an attorney. She went on to law school at the University of Texas and running took a back seat to her studies.
"I ran a little bit, but decided it was better to focus on law school and enjoy more of the social aspects of going to school and not to worry about running or training. I barely ran for about two-and-a-half years," Werlinger said.
After graduating law school and working in Texas for a year, she moved back to the D.C.-area. She got married to her husband Eric and by winter 2014, they were expecting their first child. Still, running wasn't at the top of her mind. It wasn't until her first son, Benjamin — now 5, was born that Werlinger said she started thinking about her old hobby again.
She joined Georgetown Running Club as a way to summon her competitive side and feel the team energy she had cherished over her running career's development. Her involvement with GRC got her thinking about incorporating more distance running into her skill set. She ran her first 10-mile event in 2015 and entertained the idea of training for and running a marathon … some day.
In early 2016, Werlinger and her husband decided it was time for the family to grow again. She got pregnant with her second child — this time incorporating running through almost the entire pregnancy, she said.
She bounced back after her son Andrew's birth, hungry for her next running goal: the marathon.
While out on a run one day in 2017, she had a serendipitous encounter when she ran into her old coach Okwiya.
"We kept in touch but hadn't really talked in a while," she said. "He asked if I was interested in training again — I said, 'Sure,' and I had missed training really hard."
Okwiya coached Werlinger as she worked toward her first half marathon. By the spring of 2018 she was prepared to run a marathon and the pair decided the Eugene Marathon would be the best race for her.
During her training, Okwiya told her not to focus on hitting the qualifying time for the Olympic trials — instead, to train based on effort. Werlinger admitted that sometimes she wasn't sure how fast she was running during her training runs.
"My goal was to run smart and run as fast as I could," Werlinger said.
"She was already familiar with my training and philosophy," Okwiya said. "And she had the base she needed to progress into a marathon runner."
She had a strong race, finishing fourth among the women in 2:44:35. She needed a time of 2:45 or under to qualify for the Olympic trials.
"It exceeded my expectations — but it was not entirely surprising knowing Shauneen … She is a mature runner. She knows her body and she executed it perfectly," Okwiya said.
"Of all the athletes I've coached, the girl can work hard. She can push herself hard, beyond what I can expect and what she can expect. She's tough. She's incredibly tough."
After this remarkable accomplishment, Werlinger and her husband were thinking about timing and what their family might look like with one more addition. It wasn't an easy road there, taking about a year longer than expected to get pregnant, she said.
After trying to get pregnant within the timeline to run the trials, one race experience solidified Werlinger's decision to put her family ahead of running.
In January 2019, she figured since she wasn't pregnant yet, she would run the Houston Half Marathon — and run it really fast. The morning of the race, she woke up with food poisoning and couldn't run for the half marathon she had trained so hard for. The unfortunate experience gave her clarity, she said.
"Do I really want to hold off on having another kid and then I get sick or I twist an ankle and I can't run the trials? I don't want to live with regrets," she said.
So Werlinger cut back on running. She pulled back from her full-time job as an attorney. She put her family first. And she got pregnant. The timing, however, meant ramping up and training for an incredibly competitive race was increasingly difficult. But that's OK, she said.
"I'm enjoying family life more," she said.
And that's telling of Werlinger's heart and her family's backing, Okwiya said. 
"Family is everything — family comes first; family has always been first. That goes without saying," he said. "And her family supports her immensely in her training, too. For an athlete to do that and execute that — without sacrifices from her children and her husband … being exhausted, being gone for four to five hours running. That support was there. If her family wasn't supportive, she wouldn't have made the trails in the first place."
Is another competitive marathon in Werlinger's horizon? And is it important for her to qualify for the Olympics again?
Her coach knows while running is important to her, it may not be everything.
"Whatever makes her happy, whatever matters to her, that's what I hope for her," Okwiya said. "And she'll always run."
Werlinger said she will play it by ear when it comes to her future running endeavors and what feels right to her and her family.
"I don't want to set any expectations until I see how birth is and I recover," said Werlinger, who added her postpartum running journeys were different for her two children. "People compare childbirth to a marathon, and I would agree with that. Sometimes (child birth is) ever harder."
"I want to focus my attention on the needs of the kids we have — then see where running fits in."
Werlinger said that doesn't mean she's done running. She plans to always make running a part of her social life. She's involved in the Springfield branch of Moms RUN This Town and values that comradery and support that drew her to running in the first place. She also enjoys catching up with old teammates over much slower runs that their earlier days.
"Even if it's not setting PRs and getting qualifiers I'll set goals because it's nice to have something to chase after," she said.
Being a mom of two boys has already made Werlinger a better runner, she said.
"Even during my toughest workouts and races, it's so much easier than the hardest moments in parenting," she said.
"In marathons, you know it's going to end. But when you wake up with screaming kids you don't know how many more hours it's going to be."
During Werlinger's running career she has seen success, failure, new friendships and an appreciation for what her body is capable of doing. And she said she hopes her passion for running and perseverance in the sport rubs off on her children.
"I'd love it if they find running interesting, but I'd be happy if they find something else more interesting — some kind of activity that you have that you can show you have goals and push yourself beyond what you think you're capable of. And being a good friend and teammate is important as well."
The boys may truly be taking after mom though. She said they do laps around their house carrying water bottles, competing and giggling along the way. Her 5-year-old has done two kids races already — both of which left him a gleaming toddler proud of his performance, Werlinger said.
"Regardless of their physical talent or ability, I want them to see running as something that's fun."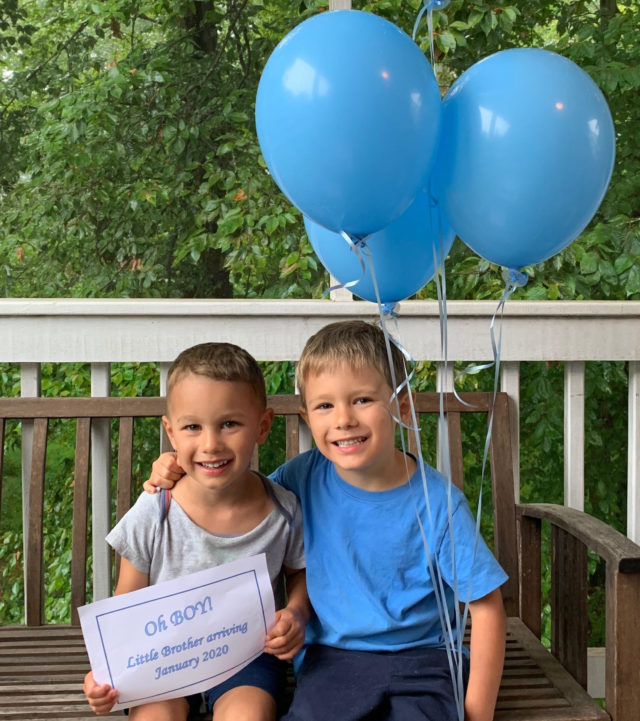 Recent Stories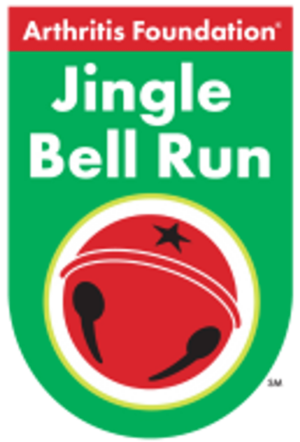 Be part of the original festive race for charity and signature Arthritis Foundation holiday event! Wear your favorite holiday attire and together, we'll jingle all the way to a cure! Register as an individual or bring a team of friends,