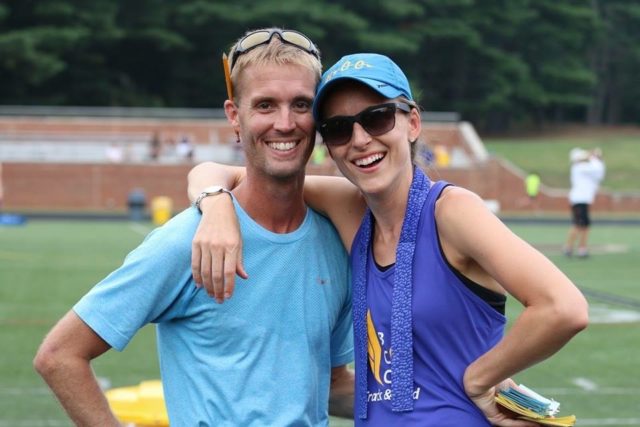 Name: Chad Young
Self-described age group: 38
Residence: Bethesda, Md.
Occupation: High School Math Teacher at Bethesda-Chevy Chase HS
Volunteer roles in the running world: Head Coach for Cross Country, Indoor and Outdoor Track and Field for the last 15 years – all at Bethesda-Chevy Chase HS; Maryland District 2 Representative to the State Committee for Cross Country; MCPS Cross Country Sport Director. Member of the RunWashington coaches panel
Why you run: Running is fun!  I enjoy getting outside and being active.  I don't run to train for races, I just like to run.  If a race comes up and I'm feeling like racing, then I'll do it.  I just enjoy running for my own enjoyment and as a routine for good health.
When did you get started running: I got started running on the cross country team as a sophomore at Cheltenham high school in Pennsylvania.  When I was a freshman, a member of the xc team told me I was fast when I was doing the mile in gym class and that was all the motivation I needed to join the team.  It turns I found something I was good at but something I also really enjoyed doing as well.  The team atmosphere on cross country was amazing.  I went on to run track in high school after that.  I then continued to run in college at American University, graduating in 2003.  That positive experience running cross country sophomore year is what led me to becoming a teacher.  I wanted to teach so that I could also be a cross country coach and pass down some of the experiences I was lucky enough to have and I wanted to pass down the knowledge too.
Have you taken a break from running:  I've had many breaks from running.  Some, like after college running, where I just needed a break and to do anything but running.  I've had some off an on due to injuries as well.  Running is still my go-to form of exercise!
Training shoe: It varies. Somehow I have not yet found my forever shoe.
Coach or training group:I just run on my own for the most part or jump in with the B-CC XC/TF team when I can.
The hardest race you've ever run: Sea Isle City 10-Miler.  Running 10 miles on the beach in the sun with the ocean wind is tough.
Running mentors: Cheltenham High School Cross Country Coach Tom Sexton.  He is someone I like to model my own coaching after. He always stressed the importance of being a TEAM and how that was more important than anything else.  He always emphasized positivity and inclusion on our team and always had high expectations for us.  He taught us that in order to be any good we had to want it ourselves and put in the work even when no one was looking.
American University Coach Matt Centrowitz. He always challenged me and our teams at American and always had high expectations for us even we doubted ourselves.  I regularly needed to get my butt in gear with my own training and he was always a good motivator.
I have many other coaching mentors from all over the DMV.  I feel lucky to be part of such an encouraging collective group of outstanding coaches who are always willing to share and help each other get better.
My favorite place to run in the D.C. area is:  I love the C&O Canal, especially in the fall.
Favorite local trail:  I live next to the Capital Crescent trail so that is my go to, but when I can, I enjoy the Valley Trail and Western Ridge trails in Rock Creek Park.
My best race was: In college I dislocated and broke my elbow (playing basketball – oops!).  I race an indoor 5k with the cast on and WON.  It wasn't very fast but it was one of the more memorable races and the only collegiate race I ever won.
Favorite local race: Credit Union Cherry Blossom Ten Mile – when the weather is nice.
Goals: My only real goal is to stay as healthy as possible so I can continue running for as long as possible.  Everything else is just gravy.
Your advice for a new runner:  Find someone to run with.  Running is much more fun with others.  And we all need the motivation and encouragement that others can provide.
Favorite running book: Once A Runner, John L. Parker Jr.
Song in your head during a run: Whatever my 3-year-old Oliver is singing over and over at home – for a while it was "I'm Still Standing" by Elton John – he liked the movie Sing.
Have you dealt with a major injury:Nothing too major, just some nagging injuries over the years.  It's hard to do all of the prehab needed to avoid injuries in the first place – but the extra time spent doing those things is worth it.  I need to practice more of what I preach to my teams!
Running quote: This is one I like to share with my teams when championship season comes around:
"It is not the critic who counts; not the man who points out how the strong man stumbles, or where the doer of deeds could have done them better. The credit belongs to the man who is actually in the arena, whose face is marred by dust and sweat and blood; who strives valiantly; who errs, who comes short again and again, because there is no effort without error and shortcoming; but who does actually strive to do the deeds; who knows great enthusiasms, the great devotions; who spends himself in a worthy cause; who at the best knows in the end the triumph of high achievement, and who at the worst, if he fails, at least fails while daring greatly, so that his place shall never be with those cold and timid souls who neither know victory nor defeat."
-Theodore Roosevelt
Why is the D.C. area a great place to be a runner:  There are tons of great groups to run with, places to run, and races to run.  It's an active community.  The backdrops of the National Mall, Potomac River, C&O Canal, Rock Creek Park and Great Falls etc. are unmatchable.
Recent Stories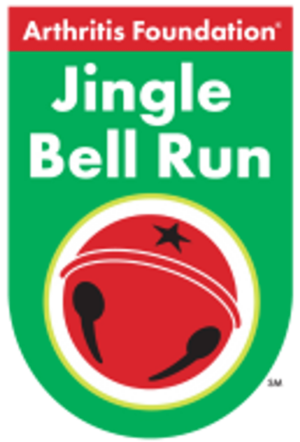 Be part of the original festive race for charity and signature Arthritis Foundation holiday event! Wear your favorite holiday attire and together, we'll jingle all the way to a cure! Register as an individual or bring a team of friends,