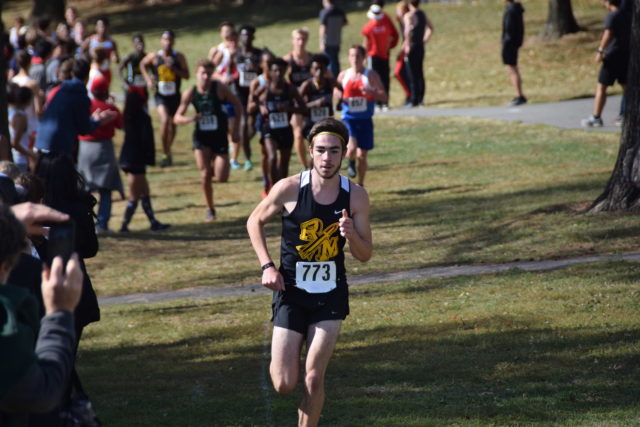 With a dry course and a solid set of races, Richard Montgomery senior Garrett Suhr went out, gunning for the course record at Bohrer Park. In the attempt, he nearly lost the Montgomery County Championships. Had he been more patient, like Walter Johnson senior Jenna Goldberg, he might have had both. 
A little more than two miles into the race, after taking a long, sweeping turn, Suhr looked back and saw three guys, Northwood's Ayalew Fantaw and Henok Eshetu and Springbrook's Surafel Mengist, right on his tail. 
"When we crossed the (paved) paths, I'd hear the click-clacking from their spikes but they didn't seem like they were that close," Suhr said. "I thought I was way ahead."
Montgomery County Championships
Oct. 19, 2019
Bohrer Park, Gaithersburg, Md.
5k
Photos
Results
Records compiled by Kevin Milsted
1.Jenna Goldberg WJ 17:28
2.Charlotte Turesson RM 17:51
3.Ella Gaul WJ 18:55
1.Whitman 50
2.Walter Johnson 75
3.T.S Wootton 103
1.Garrett Suhr RM 15:35
2.Ayalew Fantaw Northwood 15:36
3.Surafel Mengist Springbrook 15:37
1.Northwood 88
2.Montgomery Blair 102
3.Walter Johnson 105
After a while, he hoped someone would pass him for a little bit. 
"Leading a race sucks," he said.
With about a kilometer to go, Mengist obliged him.
"If we went out slow, I was going to take it from the mile, but Garrett started out fast," Mengist said. "In mile three, I saw his form breaking down, but nobody else (in the chase pack) was going after him, so I took over."
Mengist passed Suhr, and tried to surprise him enough to open up a gap that, if Suhr had worn himself out from leading, would be enough for Mengist to win. "I wanted to give it all I had," Mengist said.
It backfired. Being passed gave Suhr the jolt he needed.
"I thought he was just doing a little surge and he'd slow down, but he kept going, so I knew it was going to be a race," Suhr said.
Richard Montgomery did 600 meter repeats on the last mile of the course a week before, and Suhr capped that workout off with a quarter-mile sprint.
"I knew once I started kicking that I'd be okay," he said.
Suhr has verbally committed to the University of Alabama, where Walt Whitman alumnus Will Palmer is an assistant coach.
He didn't end up getting Chase Weaverling's 15:24 record from 2012, but with a one-second margin over Fantaw, he won the meet in 15:35. Mengist was a second behind Fantaw in third. 
"I have a stronger kick than I thought and I found that out today," Fantaw said. "I just have to have more confidence. Maybe I should have started kicking earlier."

Along with Tim Boyce (sixth in 15:55) and Lamine Fofana (14th in 16:21), the Warriors had enough power up front to withstand the gap back to Johan Deyanou (62nd in 17:22). Eschetu and Fofana were the only varsity runners back from Northwood's first-ever county championship the year before, but this year's top four all finished higher in the standings that Northwood's third man in 2018.
"We knew we had to do whatever we could to carry the load," Eschetu said.
Seven teams had fifth men ahead of Northwood's, but having four in the top 14 was enough for an 88-102 win over Montgomery Blair, which scored its highest county meet finish. Walter Johnson was three points back.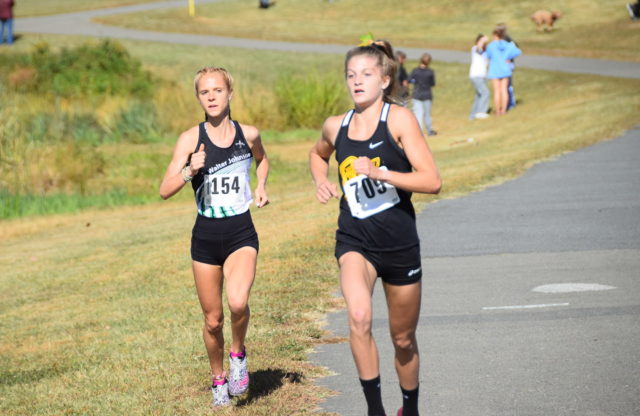 The girls' race matched up Richard Montgomery junior and defending county champion Charlotte Turesson with Walter Johnson senior Jenna Goldberg, both of whom have run very well this season. Goldberg edged Turesson by a few seconds a month prior at the Oatlands Invitational, and Turesson finished seventh at the Great American Cross Country Festival two weeks ago, a few seconds ahead of Goldberg's time winning a different race. 
Sure enough, the two jumped ahead of the rest of the pack early. 
"I was scared of going out too fast," Walter Johnson junior Ella Gaul said. "I separated myself mentally. I know my boundaries. I go out fast on this course."
Barring a collapse by two runners who didn't see to have that in their vocabulary, the rest were racing for third place.
"My whole goal was to stay with Katie (Kaneko, a Sherwood sophomore)," Gaul said. "I just wanted to get as few points for my team as I could."
Goldberg had a step on Turesson most of the first two miles. Goldberg said she just wanted to race.
"I knew that we'd be neck-and-neck for the first two miles, and if something happened, it would be in the third mile," Goldberg said. "I wanted to be loose and ready to react."
Turesson was indeed eyeing a spot about 1200 meters from the finish.
"I wanted to burn her out there," Turesson said. "She reacted to my move, and I thought I gapped her."
She did, initially. Goldberg was taken aback, but played around with a new strategy.
"I didn't want the gap to grow," she said. "After a while, she wasn't getting any farther away, so I started thinking about shrinking the gap. When she started pulling away, I was really mentally defeated, but I wasn't going to give up. I didn't want to give her anything for free."
With about a quarter mile to go, the same point where Suhr started his kick, Goldberg retook the lead.
"I was gassed," Turesson said. "I tried to match her, but I just couldn't."
Goldberg's 17:28 broke former teammate's Abbey Green's 17:46 course record from 2016. She has verbally committed to Wake Forest University.
That said, Turesson has been thrilled with her season, particularly that race at Great American.
"To be on the same podium as (multiple national record-holder) Katelyn Tuohy was amazing."
She trains primarily with the Richard Montgomery boys, who have accepted her as part of their team.
"My social life is kind of down the drain (so that's it for her), but that's not a huge priority for me," she said. Despite the academic and athletic challenges of her junior year, "I'm sleeping much more than I did last year. I'm making running my priority – I come home from practice, eat dinner, do my homework as soon as I can and then get to sleep. That's the way I like to do it."
Walt Whitman defended its team title, with  Emmersen Weinberg (sixth, 19:12) , Madeleine Blaisdell (seventh, 19:19),  Elizabeth Sklaire (11th, 19:40), Alicia Lauwers (12th, 19:40) and Emilie Gros-Slovinska (14th, 19:49) scoring for the Vikings, putting them 25 points ahead of Walter Johnson. T.S. Wootton was third with 103 points.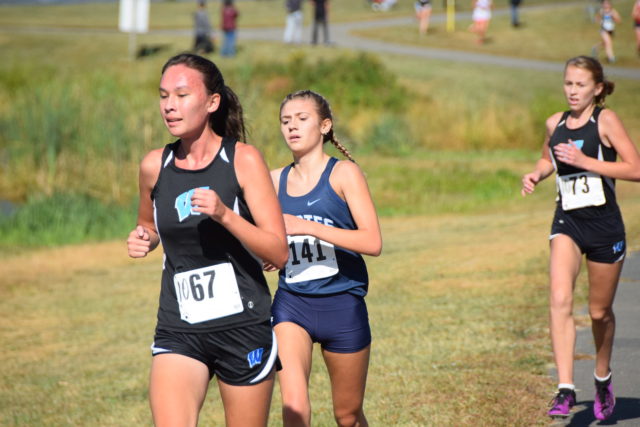 Recent Stories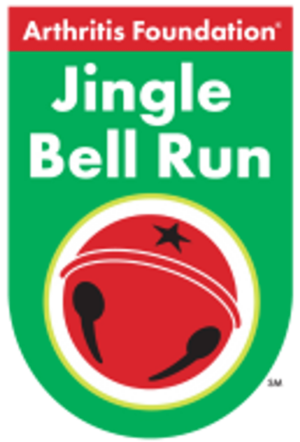 Be part of the original festive race for charity and signature Arthritis Foundation holiday event! Wear your favorite holiday attire and together, we'll jingle all the way to a cure! Register as an individual or bring a team of friends,