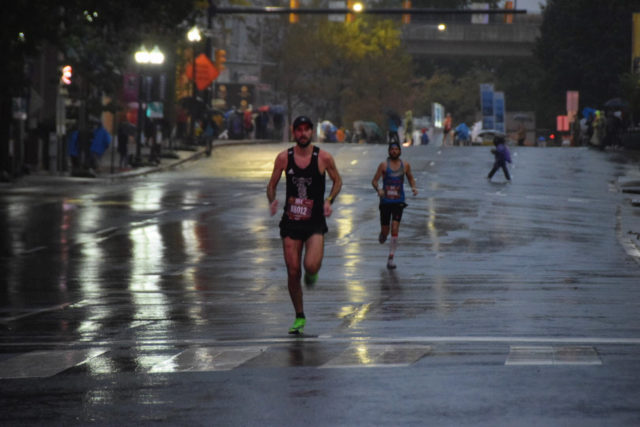 Liz Ozeki told people that she would retire when she broke 3:00 for the marathon.
She lied. 
Two weeks after setting a big marathon PR in Chicago, she ran, and won, the inaugural Marine Corps Marathon 50k.
Ozeki, of Rockville, ran 3:42:04 to outpace Judy Doldorf, of Manassas, who ran 3:52:00. Lisa Reichmann, of Gaithersburg, ran 4:15:10 for third. 
But in case you were worried about accountability, she got her penance.
"Everything hurts," she said between sobs. "After 15, my hamstrings and my calves were cramping. I was like, I just have to make it to the finish line. I was so scared I was going to DNF. I just started counting down the miles."
Gauging her competitiveness was difficult. The 50k started 25 minutes ahead of the marathon, but the extra distance, 4.86 miles, came on an out-and back trip to the west on Canal Road. When ultra runners rejoined the marathon course for their 10th mile, marathon runners were finishing their fifth mile, and were pretty well spread out across M Street NW.
"I could see second and third place on the out and back, but after that I had no idea where I was in relation to them," Ozeki said. 
Reichmann was a few minutes back and felt the merge affect her race.
"It was a problem until well after Rock Creek Parkway," roughly six miles later, she said. "We had to wave around a lot of people, and some runners would just stop in the middle of the road. It was hard to find a clear lane to run your own pace."
An ultra runner would have to maintain a 5:08 pace for the extra distance to stay ahead of the lead marathon runners, and roughly 7:12 pace to stay ahead of the mass of marathon runners. Only four ulta runners maintained that pace throughout the 50k.
Ozeki had been intrigued when the marathon announced the addition of a 50k, but when it sold out, she figured it was better to just focus on Chicago. Then a friend of a friend had a bib, and after sleeping on the idea, she bought it.
"I figured at the very least, it would be an expensive, long fun run," she said. "I didn't do any special ultra-specific training, and Chicago was my longest run beforehand."
Ozeki started running as a freshman at Fairfax High School despite feeling like her first cross country practice nearby killed her. After a hiatus in college, she came back to training in 2016 and joined the D.C. Road Runners. Now an operating room nurse, she does Saturday Long Runs and Thursday morning track workouts with DCRRR and Sunday runs at Ken-Gar Park with the Montgomery County Road Runners Club. She had set the Algonquin 50k record in February, running 4:23:22 for the trail race in Worcester County, Md.
Doldorf used the 50k to prepare for the JFK 50 Mile in four weeks, which she expects to feel easier. 
"It started out great, but after running through ankle-deep puddles for a while, I was spent," she said. "The last five miles were brutal, but once I got down to two miles left, I knew I could do it."
Doldorf, 46, has run two prior 50k races, including a brutally hot July Rosaryville 50k. She works in GIS for Fairfax County. Along with third place man Patrick Early, she runs with Prince William County's Dairy Queen Track Club.
Reichmann woke up with fears that Marine Corps would mimic the 2018 Boston Marathon.
"I was so relieved when it was warmer," she said. 
The attorney and Run Farther and Faster coach, 45, had run a 50k before, but not competitively, and not on ideal terrain.
"It was the North Face Challenge, and I'm not great on trails," she said. "I fell a lot. I don't mind running this much on the roads.
"This was a nice blend because we still had a great vibe from the ultra runners. Everyone was really supportive and we felt like we were all in it together."
The men's race had a little more competitive clarity. Alexandria's Dustin Whitlow, 33, took the early lead, running ahead of Arlington's Mike Wardian, 45. Only a hamstring pull at mile 15 slowed him down, but didn't finish him.  
"I just figured he dropped out," Wardian, a shipping broker, said. "When I saw him later on the out-and-back near Lincoln, I was a little surprised and stayed focused."
Wardian said before the race that after failing to win the overall marathon title at Marine Corps, this was his best chance to break the tape. It didn't start out well, after Whitlow left him on the Key Bridge, he felt flat on the Canal Road section. By the time he reached West Potomac Park, at the end of the 16th mile, Whitlow had a 90-second lead.
"I felt so mooth early on," Whitlow said. "I didn't feel like I was in over my head at all. I kept thinking back to my 24-miler – I averaged just over 6:00 pace, so the confidence from that was paying off."
The hamstring pull was unfortunate, but Whitlow, who works in IT, didn't think about dropping out.
"It's happened before, I've dealt with it and I can keep going,' he said. "I kept fighting and it got better, then I just tried to bring my pace back down and make some progress."
He stepped into a small open pipe in Crystal City at mile 28, but even that didn't stop him.
"I just told myself I can run three more miles," Whitlow said. "It was my longest run ever. It was easier than running through 60 90-degree days like we had this summer. If I could do that, I could do anything."
Wardian meted out his effort to save something for the latter parts of the race. 
"I was running with about all I had," he said. "I was where I was going to be and I didn't want to go deeper, having that experience and knowing what could happen later in a 50k."
He was able to cruise to a 3:11:52 win, ahead of Whitlow's 3:21:36. 
"It's all I imagined," he said, through chattering teeth.
Like Ozeki, Patrick Early, of Montclair in Prince William County, was also coming off of a Chicago Marathon PR two weeks prior. He spent most of the first 10 miles in 10th place, but when the races merged, he stopped trying to count as he passed people.
He finished third in 3:40:50.
He has seen his marathon times improve since starting to run ultramarathons two years ago. Along with Doldorf, Early, 40, trains with the Dairy Queen Track Club, which meets at 4:30 a.m. at a Montclair Dairy Queen. He is an assistant cross country coach at Osborn Park High School.
"My hammies started tightening up on the Mall, but I'd just stop and stretch for a second or two and that helped."
He also got a boost from seeing his wife and children in Crystal City.
"My son said 'make it hurt the last three miles,'" he said. "I won't have any sympathy from them."
He also wouldn't have sympathy from other Nationals fans, after he spend Friday night with a standing room ticket to game three.
"I definitely felt that in my legs today," he said.
Recent Stories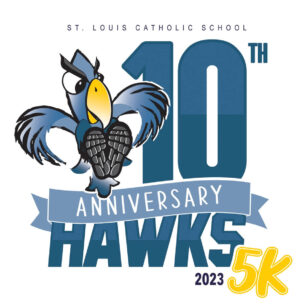 2023 will be the 10 year anniversary of the St. Louis Hawks 5K and Fun Run for Health & Wellness. The USATF certified course runs through the historic Hollin Hills neighborhood in Alexandria, VA.
The Hawks 5K goal, in conjunction