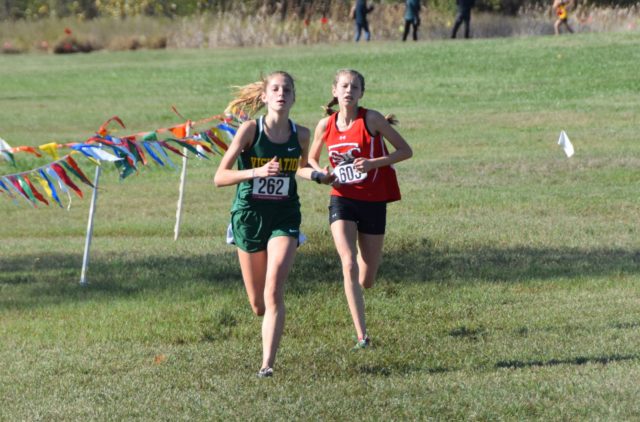 Two years ago, the D.C. state meet looked like the fertile mud of Kenilworth Park was growing something special.  With sophomores sweeping the first three spots on the boys' side, it was natural to ask what a race among Gavin McElhennon, Luke Tewalt and Cullen Capuano would look like with two more years of growth and experience. 
In the end, Capuano ran alone in front from the very start to win, running 16:35 for what several coaches felt to be longer than 5k. McElhennon finished ninth, easing his way back into racing following a long injury while Tewalt, hobbled with tendinitis in his knee, watched from the sidelines, having suited up just for the DCXC Invitational. 
DCSAA Championships
Nov. 2, 2019
Kenilworth Park, Washington, D.C.
5k+
1.Cullen Capuano Gonzaga 16:35
2. Damian Hackett St. Albans 16:47
3.Patrick Donnelly Gonzaga 16:51
1. Lili Grant Georgetown Visitation 19:18
2.Meredith Gotzman St. John's 19:22
3.Claire Wigglesworth Wilson 19:54
Instead, the fiercest action happened in third, with Gonzaga's Patrick Donnelly holding off a late charge by Washington Latin's Oliver Spiva, Sidwell's Arjun Thillairajah and Wilson's Dylan Blumenthal. Had Donnelly (third in 16:51) not held off Spiva and Thillairajah by two seconds the Eagles wouldn't have claimed their fourth straight DCSAA title. 
"That scared me," Donnelly said. "I thought I had a nice lead on them, but two miles in I looked back and I only had about 30 meters.  I thought I could hold on. The Wilson crowd was pumping and I got really scared."
He crossed the road to approach the last 300 meters of the race and had a quick glance back as he rounded a tree. He couldn't tell how many of the guys were chasing him so closely.
"I just ran as hard as I could, I couldn't let them catch me," he said. "I'm glad the course wasn't even longer. I just told myself I couldn't lose to them, we needed those points."
St. John's was waiting farther back in the pack, ready to take advantage of a weakened Gonzaga team. The Cadets had five runners in before Gonzaga's fourth, but the low sticks by Capuano and Donnelly gave them the breathing room they needed for Luke Francese (18th in 17:46) and Ethan Norman (28th among team scorers in 18:18) to finish ahead 59-61.
"I was anxious buy confident halfway through, but then our fifth man fell apart and with 200 meters to go, I thought they beat us, but Ethan closed really well and he made the difference," Donnelly said.
He didn't have to worry about Capuano, who ran confident that with his lead and his kick, he could stay out of the fray.
"I knew Damian (Hackett, second in 16:47) is super strong, so I just wanted to run away from him," he said. "Even though I was out there on my own, I didn't feel vulnerable, or like a target."
Hackett said Tewalt's absence changed the structure of the race, but he tried to focus on Capuano, rather than simply running away from Donnelly.
"I could hear him behind me, so I just tried to pull away little by little," he said.
On the girls' side, St. John's regained the team title after a narrow loss to Wilson last year. The individual race featured a reunion between Lili Grant, a sophomore at Georgetown Visitation, and Meredith Gotzman, now a freshman at St. John's. Gotzman, who raced each other in middle school. Gotzman had been undefeated in individual races in the D.C. area, but Grant didn't back down from the challenge.
"I just wanted to run with her and hoped we'd get away from Ava (Nicely, from Wilson) and Zoe (Edelman, from Washington Latin) so it would just be the two of us," Grant said.
Gotzman was thankful for the company, after running all of the WCAC Championships alone last week, but was eager to part ways for strategy's sake.
"It was fun to run with her again," Gotzman said. "I tried to pull away, but she kept reeling me in. She has a good kick so I wanted to be ahead of her before we were near (roughly 500 meters from) the finish line."
Grant was amused.
"We joke about how I don't really have a kick, and I definitely didn't want to have to try to sprint in the mud at the end."
But that's what she did.
"Once I saw the finish line ahead, I knew I just wanted it, and I was going to run as fast as I had to so I could win," Grant said. "I didn't want to get focused on a specific plan during the race, because I can get stuck in my own head."
Her 19:18, to Gotzman's 19:22 did that. Behind Gotzman, her junior teammate Tara Anders, a JV runner a year earlier, finished seventh (fifth among team-scoring runners) in 20:26, sophomore Kennedy Hayward was 12th (ninth) in 21:03, freshman Caroline Gotzman was 15th (12th) in 21:12 and junior Celia Chorzempa  16th (13th) ran 21:33. Their team score of 41 had a health margin over Wilson's 70 points.
In addition to plenty of mud along the course, large pond-sized puddles tend to develop by the state meet, and that made Wilson senior Claire Wigglesworth feel right at home. As the school year began, she was nowhere to be seen around the cross country team, despite her fourth place finish last year being crucial to the Tigers' victory. She was dedicated to the crew team, though.
A few weeks later, she felt the pull of cross country.
"I felt like I had to come back, I really like the individual part of cross country races," she said. "In crew, you have to be totally synchronized with the other seven rowers, but with running it's the whole team pushing themselves in different ways."
So she came back, coming to cross country workouts one day a week.
"I missed pushing myself, seeing how fast I could go," she said.
She would be following the state cross country meet with the Head of the Occoquan the next morning.
St. John's Coach Desmond Dunham looked at the muddy course and instructed his team to go out aggressively.
"We wanted to use the course conditions to our advantage," he said. "If we got ourselves in a good position in the first mile, it would challenge people to try to move up and catch us in the mud."
Gotzman was glad to be out ahead of the field when the course caught up with her.
"There were parts you didn't know were mud until you got there," she said. "My calves started to hurt from pulling my legs out of it. I tried to run it like normal race, but after a while you can't."