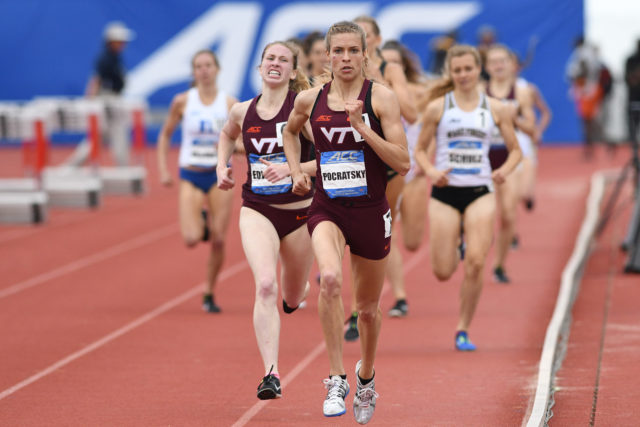 Rachel Pocratsky isn't your normal 22-year-old. The Gaithersburg, Md. native has set numerous middle-distance track records at Virginia Tech, achieved first-team status in the NCAA All-American indoor and outdoor track teams, and finished several events in times that rank among some of the fastest in NCAA track history. Oh, and she's just a few months away from beginning her professional running career in the D.C. area.
Pocratsky is a student athlete at Virginia Tech poised to graduate in May 2020 with a degree in civil engineer … and scores of running awards and accolades under her belt. She recently signed with the District Track Club, an Under Armour-supported post collegiate track club in the D.C. area — where she will begin her professional running career in the spring.
"This is all pretty exciting because I wasn't totally sure what I wanted to do after college," Pocratsky said. "After talking with the coach at [District Track Club], he said he would be able to help me improve my running and the little things to pay attention to in the post-collegiate level. It seemed like a really good fit."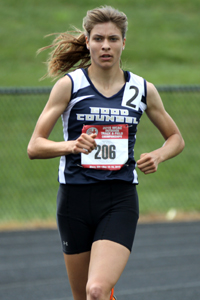 For Pocratsky, it all began in high school. She primarily played soccer while she was a student at Our Lady of Good Counsel in Olney. She started running track in 6th grade and enjoyed it, but didn't think of track as her sport of choice. It wasn't until an ACL tear during her freshman year soccer season that she reevaluated her interests.
"That's probably what helped me the most in track — while on sidelines in soccer, I didn't have the desire to be in the game," she said. "There wasn't that passion anymore and I didn't realize that until I was on the sideline."
After recovering from the ACL injury, she returned to soccer, but track was now the main star. And she was good at it, too. By the time she graduated high school, her 800 meter time was the fastest in the state of Maryland. MoCoRunning named her to the All-Decade Track Team.
Running track in college seemed like a good option to continue her momentum, so when Pocratsky was looking for schools to pursue engineering, she called up the coaches and scheduled meetings to see if they would be interested in her as an athlete as well.
"My parents said 'go to school for school, and if you can run it's a bonus.' I looked at Virginia Tech and wanted to go there for engineering — and the running was a bonus," she said. "Virginia Tech was the one that was showing the most interest and I really liked everything I saw. The coaches seemed to be really great people and had a lot of knowledge about track." 
Those coaches challenged her as an athlete and pushed her out of her comfort zone — including encouraging her to compete in cross country to help with her track training.
The fall conditioning with cross country didn't come naturally to Pocratsky at first, and it took some adjusting, said Virginia Tech Head Cross Country Coach and Assistant Track & Field Coach Eric Johannigmeier.
"As she got older, she started getting better at cross country. She was getting better at track and becoming more of a competitor in cross country, too," said Johannigmeier, who added that Pocratsky become a reliable points-earner for the team. "I think it pushed her to a higher level — and that paid dividends in track."
Pocratsky's efforts culminated her junior year when she said she "dug deep in cross country and focused on staying consistent with training and working hard." 
"I think that was good and honestly my breakout year because I really just had that base unlike before that I was able to carry into track season and use when I needed to at the end of the race," she said.
That foundation proved to be very valuable. She went on during her 2018 track season to have some of her best performances. At the ACC Outdoor Championship that year she placed first in the 1,500-meter run with a personal-best time of 4:10.03. Just an hour-and-a-half later at the same meet, she finished first in the 800-meter run with a time of 2:03.36. She described it as a moment when all of her training really came together.
"I ran the ACC meet record and it put me first in the NCAA and it was unbelievable and my time was so much faster than others I ran earlier in the season," Pocratsky recalled of the meet. 
"And coming back so soon and running the 800 made it so much more impressive for me. I'm sure my parents were wondering, 'This is a lot, I guess she's in good shape,'" she said. "…It was a really big moment for me to get on the top of the podium."
College came with its own challenges of adjusting to a life as a student and year-round athlete, but Pocratsky attributes much of her success during her time at Virginia Tech to her coaches.
"They are the ones that helped to make me into the runner I am today. I had good coaches in high school as well — but these coaches have not only been able to help drop my time significantly, but also my success has a lot to do with their faith in my abilities," she said. 
When she doubted herself or struggled, her coaches never quit on her.
"They helped me realize my potential and day-in and day-out they are always there to help me and support me and have really just been amazing in this whole process."
Johannigmeier said while the coaching staff wants to bring out the best in Pocratsky, it has been her own drive and commitment that have made her a successful track athlete.
"You have to be talented, but talent can only get you so far. You have to be committed and want to do well, and she has that drive. She's also a really good student," he said. "She knows what she wants and she's willing to do what it takes to get there."
Coming back home
As with many college students approaching graduation, Pocratsky looked ahead at what her future would hold. But District Track Club Coach Tom Brumlik had already had his sights set on her as a potential addition to the team he has coached since 2016.
"If you're paying attention to track, her junior year she was phenomenal and you've heard of her — I didn't even think I would be able to talk to her," Brumlik said.
Brumlik is always looking for new athletes who fit the team's distinct mold. The District Track Club is a non-profit that trains athletes and, in turn for helping to support them, facilitates their development as leaders in the community through mentoring and leadership-based activities.
"For us, we are looking for some physical markers, but also trying to get a feel for personality and if it's a good fit. When [Pocratsky] came to visit, she fit in really well. That's the biggest indicator if it's going to work or not," he said.
Pocratsky is still living in Blackburg, Virginia, training with Johannigmeier and the rest of the Virginia Tech coaching team while she finishes out her senior year. For now, Brumlik and Johannigmeier are both training her: Johannigmeier is working with her on running workouts on campus; Brumlik is providing her with strength training workouts from afar.
While a dual-coach set up is not typically how District Track Club operates, Brumlik said Pocratsky is "extremely coachable," making the long-distance situation more palatable. He said he's also confident she's putting in good work with the first-rate program at Virginia Tech.
In the spring, Pocratsky will move back to the D.C.-area and begin training with Brumlik and the rest of the District Track Club's 13-member team. She brings range as an athlete who can compete very well in more than one event and doesn't shy away from a race-day challenge, he said. And at the heart of it, she just seems to really enjoy what she's doing, he added.
"It seems like she really, really loves running," Brumlik said. "I think athletes who could easily do anything or make six figures out of college and they choose to run … I think that says a lot about them. She's in the same category. She has a lot of professional opportunities, but she loves running and competing and loves the process of getting better in general."
As Pocratsky looks ahead to her professional running career, she said she plans to set her sights very high: the Olympics.
"If I can just make it to the Olympics, that would be amazing. Right now I really just want to make it to the trials and the finals for the trails and give it my best shot — but a lot can change in a year," she said. "If I make the Olympic team, that's what I'm really shooting for."
While she's working toward her goals, she said she'll enjoy running familiar routes in her home region and being close to where she grew up — all of which will help with her transition to life as a professional athlete.
And her family is happy, too. When she moves back to the D.C.-area she'll live at home with her mom and dad — the support system she calls her biggest fans.
"My parents came to all my track meets. My dad takes pictures and my mom records all of my races," she said. "They are my biggest fans and really supportive through this whole process."
"Every runner needs a little fan club honestly, and it's great to have them and the others who support me around, and nearby during this next phase in my life."