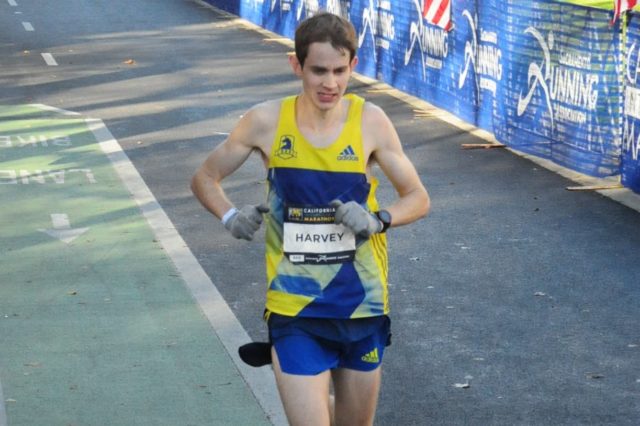 Brian Harvey has come a long way from his 24-minute 5k during his freshman year of high school. The Ellicott City native, who now runs for the Boston Athletic Association (BAA), qualified for the 2020 Olympic Marathon Trials with a 2:17:48 finish at the 2018 California International Marathon. It will be his second appearance at the Trials.
The key to success for this Cambridge, Mass., resident has been his ability to balance consistent race performances with his full-time jobs as a biomedical engineer and as a father to his two-year-old daughter. Most days his training is done by 7 a.m. so that he and his wife can get ready for work.
"Running has become less of a priority than it was ten years ago, but it's still something I care a lot about," the 32-year-old says.
Brian traces his racing roots back to the 1995 Clyde's 10k in Columbia, which he says was inspired by his mom's running habits. Years later, Harvey refocused on running  at Centennial High School after being cut from his high school soccer team and worked his way up from there. He credits David Tripp, a family friend and member of the Howard County Striders, for encouraging him to run in college. Harvey says he chose to run for Carnegie Mellon, a Division III school, because it offered the ideal combination of academic and athletic opportunities. He succeded, leading the Tartans to the NCAA champions for several years. 
He joined BAA shortly after moving to Massachusetts a decade ago and didn't let the fact that he came from a less competitive NCAA division hold him back.
"That's the good thing about running," he says. "The times speak for themselves."
In Harvey's case, they've said plenty. When he lined up for the Lehigh Valley Health Network Via Marathon in 2013, he set a goal to finish in the 2:40's just to qualify for the 2014 Boston Marathon. He won it in 2:31:33.
He admits it was pretty stupid to ruin the rest of his season like that, but it was an early indication of his potential as a marathoner.
His PR of 2:17:05 at the Medtronic Twin Cities Marathon in 2014 sealed his entry to the 2016 Trials, and it took four more marathons to get back under the 2:19 standard to repeat for 2020.
He ran 2:19:18 at the 2017 California International Marathon less than two months after a 2:19:13 at the Eversource Hartford Marathon; his 2:22:40 at Grandma's Marathon in 2018 didn't get him any closer. Without making any major changes to his training plan, everything finally came together when he returned to Sacramento at the end of that year.
"I tell myself that it was more rewarding that I had to try so many times," he laughs. "[CIM] is kind of magical. I had a pack of a bunch of people, I felt really good, the weather was perfect, the course is fast."
Harvey, who used to consider the pace required to qualify for the Trials to be "absurd," has learned to coach himself over the years and stay flexible with his training. He knows that he runs faster when he runs with a group ("If I try to work out by myself, it's usually a disaster…it's almost laughable"). He only does one workout a day and has shortened his weekly mileage to about 70-80 miles per week, as opposed to the 100-mile weeks of his younger days before work and family took priority.
Atlanta's looped course will be a dream for family members hoping to spectate in February. When Harvey ran an indoor marathon at New York's Armory Track a few months before Grandma's in 2018, his wife and daughter were there to watch the 211-lap race.
"It sounds terrible, but I thought it was pretty fun," he recalls. He finished in 2:22:18.
Don't expect Brian to brag about it, either. His BAA teammate Eric Ashe, who has run with Harvey almost as long as he's been with the team and has also qualified for the 2020 Trials, says that Brian–now Dr. Harvey after earning his PhD in Biomedical Engineering from Boston University–is one of the most humble runners he knows.
"He doesn't do it for the social media notoriety, he just does it because he really enjoys the competition and improving himself however he can," Ashe said. "I think that's why he's such a fun teammate. It's not about ego for him."
They rely on texting or the fitness app Strava to keep in touch with each other's training when family and career commitments make it difficult for the two runners to meet up. Eric says that Brian is the type of runner who gives everything he has for every race regardless of his fitness or the conditions.
It's true. When Brian talks about his 32nd place finish at the 2016 Trials, he recalls the Los Angeles heat acting as an "equalizer" for the field. It helped that he incorporated heat acclimation into his training in the weeks before the race by overdressing and running indoors, which he does for all his marathons regardless of the forecast.
So Atlanta, with its hilly course and potential for southern heat, doesn't scare him.
Harvey's top advice for first-time Trials runners is to avoid the trap of going out too fast to save energy for a strong finish, even though he says "everybody's going to go out too hard." But don't overthink it, either.
"You have nothing to lose," he says. "For somebody like me there's a zero percent chance I'm making the Olympics. So what do you really have to lose? That's how I approach it."