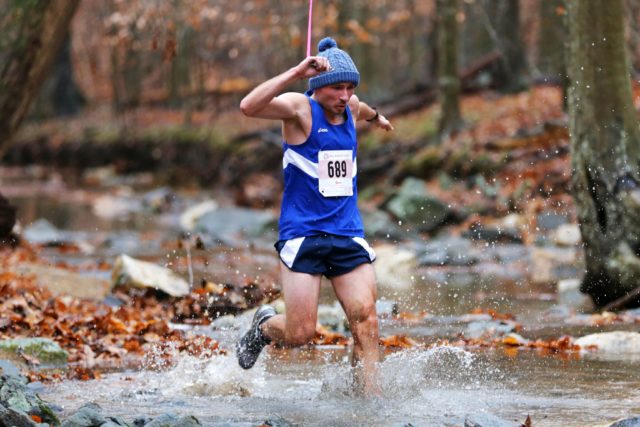 Name: Tyler Eckhoff
Self-described age group: 30-34
Residence: Alexandria
Occupation: 6th/7th grade history and science teacher in the International Academy at Francis C. Hammond Middle School (ACPS) and boys' long distance coach for T.C. Williams High School (cross country, indoor track and field, and outdoor track and field)
Why you run: This is a very loaded question. I could answer it differently every time I'm asked. Right now I'll say for me running is nostalgic and uplifting. It's hard to be in a bad mood post-run.
When did you get started running: I ran 400's and the 4X100 my junior year of high school but moved to bigger and better distances my senior year. I have been running since.
Have you taken a break from running: After every marathon, I take about a month off to focus on pizza consumption. I also catch up on things that I have let running prioritize over leading up to the marathon, but mainly I eat pizza.
Training shoe: Right now, the Adizero Boston 8.
Coach or training group: Currently unattached
The hardest race you've ever run: 2018 Boston Marathon. My first Boston was memorable with strong wind and rain in my face. I regretted my decision to wear a singlet mid-race and the idea of taking shelter in a porto-potty was debated internally.
Most adventurous decision you've made with your running: I ran a couple trail races. The first ('18 Rosaryville Half Marathon) was successful and reminded me of running through the woods at Sunken Meadow Park on Long Island in my younger years. The second ('18 Fountainhead 10 Mile) was less successful with me falling in mud and slipping all over the place. In fact, there was very little running involved in what I did.
Running mentors: I have many people I look up to in running and anyone running period gets my respect but my closest mentor would be my better half, Skylar. We tend to keep each other's crazier training/running ideas in line and I always seek her opinion and advice when it comes to anything running.
My favorite place to run in the D.C. area is: A long run North on the Mt. Vernon Trail into D.C. out of convenience
Favorite local trail: Capital Crescent Trail (hopefully one day the full loop is back)
My best race was: Probably the 2017 Marine Corps Marathon, it is still my PR (2:54:34).
Favorite local race: Marine Corps Marathon
Ideal post-run meal: Pitbull Pie from Lost Dog Pizza
Favorite flavor of gel, gu, etc: Whatever coffee flavor has the most caffeine
Pet peeve: Oncoming bikers who pass onto your side of the bike path and push you off the path, out of order bathrooms along a long-run, and forgetting to use a chafe stick on a humid day.
Goals: I'd like to break 2:50 in a marathon. Mother Nature has been diligent in trying to stop me, but I'm determined.
Your advice for a new runner: Minutes over miles and build up gradually.
Favorite running book: The Perfect Mile, I enjoyed the background stories behind the three men hunting the four minute mile and found myself favoring John Landy over Roger Bannister.
Song in your head during a run: Time to Pretend by MGMT or Hooked on a Feeling by Blue Swede
Have you dealt with a major injury: Not yet, but I deal with plantar fasciitis.
Running quote: "Some days it just flows and I feel like I'm born to do this, other days it feels like I'm trudging through hell. Every day I make the choice to show up and see what I've got, and to try and be better. My advice: keep showing up." -Des Linden
Why is the D.C. area a great place to be a runner: This is an easy place to be a runner. There are trails everywhere, numerous running groups to join, and a vast amount of road races.