The weekend of the 2019 Houston Marathon, Maura Linde reviewed the course map for a final time — not to make sure she had every turn, hill, and water station memorized, but rather to scope out the medical aid stations so she could drop out with people nearby.
"I really did think I wasn't going to finish it," she said.
Just five days before the race, she had caught a stomach virus that had torn through the cross country athletes she coached at Johns Hopkins University. She was aiming to run under 2:45 to qualify for the Olympic Marathon Trials, but she and her coach, Jerry Alexander of the Georgetown Running Club, almost pulled the plug.
"I couldn't eat real food till a couple days before," Linde recalled, saying she instead focused on staying hydrated. "I didn't run again till the Friday before for a shake out."
Despite the virus, and not wanting to be out the money she had invested to run, she hopped on the flight to Houston anyway. Her mom and sister were planning to be there, as well, so Linde figured if she couldn't run, they'd simply make it a weekend trip.
Early in the race, Linde settled in with a pace group and, much to her surprise, felt good for the first 10 miles. After mile 15, her energy was still up and her sensitive stomach was cooperating. Once she reached mile 18, she saw she had a 90-second buffer.
"I made up my mind this was happening," she said.
Linde crossed the finish line in 2:44:26, the 32nd woman and  eighth in her age group. Despite the odds, she had qualified for her first Olympic Marathon Trials.
What's more impressive is that Houston was only Linde's second marathon. Her first was the 2016 Marine Corps Marathon, which she had trained for on her own as something fun to do after graduating from college the previous spring. The heat and humidity that year were brutal, and she vomited halfway through, but finished first in her division and the eighth woman in 3:01:30.
Shortly after Marine Corps, she got a call from Alexander, who had heard she was looking for a coach. Linde has been training with GRC ever since and eyeing the Trials.
"Qualifying was something I have always wanted to do. I remember watching the 2016 trials and being so inspired," Linde said. "My coach and I knew we were going to go for the OTQ at some point, but deciding when was up in the air."
And her window of opportunity each year was small. Her focus on the USATF National Club Cross Country Championships prevented her from running a marathon in late fall and early winter, and she's struggled to train for spring marathons because of allergies.
"I also like to have a track season," she added.
But in late fall 2018, Linde and Alexander decided race the Houston Marathon. The timing was right, she said, and as a higher-mileage runner, she figured six weeks was enough time to build up her longer runs and marathon-pace workouts.
She also spent her youth years as a successful middle-distance runner, earning 10 individual state titles in cross country and on the track while attending Century High School in Sykesville, Md. In college she competed for Syracuse University and ran in the 2013 and 2014 NCAA Cross Country Championships. Additionally, she's a two-time NCAA East Regional Qualifier in the 10,000 meters.
That winter, however, made outdoor training for the Houston Marathon difficult.
"There were a lot of freezing rain days and snow days and I spent quite a bit of time on the treadmill," Linde said. "I also have a tricky work schedule [as] a collegiate coach where I travel almost every weekend in January and spend hours at track meets, so I always have to find good places to train."
Nevertheless, she persisted — thanks to grit, her coach, her family, and her teammates and GRC.
"I was pretty much the only one [of my teammates] doing marathon training at the time, but I was never alone for a workout," she said. "It was such a great feeling crossing the line with the time I needed. [The Houston Marathon] was closing out a disappointing fall and winter season, so it was nice for things to finally come together and get that big goal."
As Linde rounds out her third week of a 10-week Trials training schedule, she's focused on her miles, workouts, and staying healthy. But her primary goal on race day is "to be in the moment."
"If I focus on the moment I am currently in, it's going to be a lot more enjoyable experience and outcome. I'm feeling more excited more than anything. It was such a big accomplishment to get here, and I'm just enjoying this whole process," she explained. "I'm really looking forward to being a part one of the biggest marathon trials ever and race with so many talented women."
Recent Stories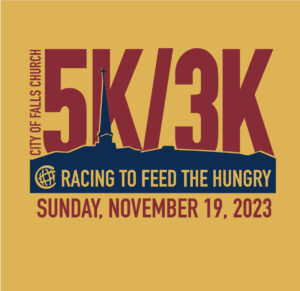 The out and back Falls Church City 5K/3K course is mostly flat on the W&OD Trail starting and finishing at 103 Columbia Street. Overall male and female winners earn free shoes and medals are awarded to all categories. Great family