Chip time doesn't mean a thing while chasing an Olympic Marathon Trials qualifier. It was going to be up to Rachel Viger to hurry across the starting line at the California International Marathon, then run the 26.2 miles even faster than the 2:45:00 qualifying time. 
She wound up taking 12 seconds to get across the starting line because she didn't make the elite start, coming into the Dec. 8 race with just a 3:03:59 personal best, set a year before at the Marine Corps Marathon. From that alone, running under 2:45, plus those extra seconds, would seem daunting. But she did it, with 46 seconds to spare.
"She was a 3:03 marathoner but she wasn't really a 3:03 marathoner," said Capital Area Runners Coach George Buckheit. "It looks shocking to a lot of people, but most people don't realize how good she was in high school and college." 
Viger, 28, raced in two Nike Cross Nationals while at Fort Collins High School and then two NCAA Cross Country Championships while at the University of Colorado. After a few years of casual (for her) running, she found herself surrounded last year by people who had much higher hopes than she did for herself.
"Back in college I wanted to do it (go for the Olympic Trials qualifier), it was a long-term dream, but I kind of gave up on it because after college I thought I wanted to not have running dominate my life," she said. 
Now in her second post-college stint in Northern Virginia, she joined the Capital Area Runners this summer just hoping to break three hours for the marathon. She works as an engineer for the Navy, where she is a lieutenant junior grade in the reserves. 
"She was set on running the Armed Forces Championship (at the Marine Corps Marathon) and I had to convince her to even sign up for CIM," Buckheit said. "We lucked out when they didn't have the championship (the World Military Games coincided with this year's Marine Corps Marathon)."
In late October, Viger didn't even see herself as a threat to break 2:45. 
"Maybe I could run in the low 2:50s," she said. 
Part of her skepticism came from less-than-ideal marathon experiences. Her debut, the 2015 Rock 'n' Roll D.C. Marathon, was cold and rainy. The 2016 Boston Marathon was not a full-hearted effort, the 2017 Houston Marathon, in a city where she lived for a year, was muggy, and the 2018 Shamrock Sportsfest was a spur-of-the-moment decision when she learned she'd be near Virginia Beach for work. Even her 2018 Marine Corps race came on the heels of the PB&J 50k three weeks before.
"That was rough," she said. "It was really hot, really humid, and I didn't even feel recovered from that by the time I did Marine Corps. It really wrecked my body"
And she didn't feel recovered afterward, either. Roughly a week later, Viger started feeling pain in her right knee that kept her out of running for five months.
"I was getting to the point where I didn't know if I'd run again," she said. "I was terrified."
She turned back to swimming, where she got her athletic start in Colorado before she realized in sixth grade that she just loved running more.
"Swimming was great, but I liked the purity of running," she said both of her youth and forced cross training. "With running, if you want to go faster, you can just run faster. With swimming, you have to refine your technique and it's a lot more complicated."
After three months, Viger saw some improvement, and she was running again in March. By late April, she set a 10-mile PR at the George Washington Parkway Classic and was thinking again about breaking three hours. She joined the Capital Area Runners and resumed training in earnest for the first time in five years. 
"It was like being back in college, having a few dozen people doing track workouts together," she said. 
Buckheit said her runs away from structured workouts were just as important.
"I think she was probably running her recovery days too fast," he said. "When she has people to run with, she's getting closer to 8-minute pace on easy days and that helps a lot."
While she was focused on breaking three hours, her coach and teammates were more ambitious for her.
"I hadn't even been wearing a regular watch since I graduated from college, so I was keeping my expectations realistic," she said. "Talking to Jillian (Pollack) got me thinking 2:45 might be a possibility, but I expected that for 2024, not 2020."
Although Viger's 1:21 finish at the incredibly muggy Rock 'n' Roll Philadelphia Half Marathon didn't inspire much confidence in her, the form Buckheit saw as she ran by was all he needed to see.
"She didn't think she'd be able to run about that time back-to-back, but those conditions were really terrible," he said. "After she ran 1:18 at Richmond, then it made a little more sense to her. That was the first time in a while she ran in good conditions."
Her confidence was at a post-collegiate high just in time for pre-race nerves to strike before California International.
"I slept for about one hour the night before," she said. "I was close to falling asleep on the bus to the start.  
After surging to catch up with the 2:45 pace group, the race itself was mostly free of tension. She stuck with the group until mile 22, amazed at how good she felt late in the race.
"It's amazing how much better you feel in a race than practice," she said. "I didn't want to get too confident, but things were going well."
While Viger did worry about her position relative to the pace group when she moved ahead, she didn't experience any severe distress, though she didn't allow herself to ease up until a few steps before the finish line.
"I wanted to be able to land across the finish if I fell," she said. 
Her 2:44:14 gave her a good cushion over the qualifying standard, and after an annoying illness took her out of training for a week, she has resumed her diet of steady runs and cross training and she starts coordinating her training with CAR teammates Pollack and Susanna Sullivan.
"When you see her run, you can see that she's super talented," Buckheit said. "With a longer buildup, I can see her going under 2:40."
Viger is busy,  with work, her commitments to the reserves and her graduate studies in electrical engineering at George Washington University, but when healthy, she always makes time for a run.
"It's a good balance, it's helpful to have running as an outlet. It's a kind of meditation," she said. "I see myself running every day as long as I possibly can. I like the racing but the running is important."
Recent Stories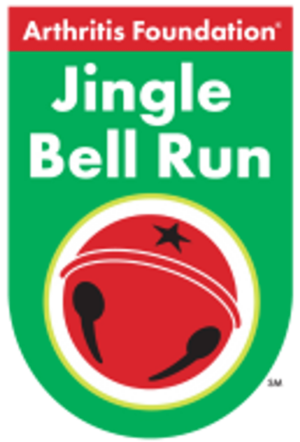 Be part of the original festive race for charity and signature Arthritis Foundation holiday event! Wear your favorite holiday attire and together, we'll jingle all the way to a cure! Register as an individual or bring a team of friends,