As she cruised along the Rehoboth Beach Seashore Marathon last December, Callie Betman had a leg up on the rest of the runners. 
She had the personal pacing help of a newly-minted Olympic Marathon Trials qualifier — her sister, Hannah Cocchiaro. Famous in their family, the Betman Racing Team, for her ability to keep an even pace, Hannah kept Callie steady on the course, not too far from the water that they would have been found in a few years before when they were primarily swimmers. 
"It was really awesome," Betman said. "It was so nice to have her there the whole time. It was good sister bonding time.
"Having grown up together (the sisters are roughly a year apart) she knew me well enough to be able to tell when I needed some encouragement and when I didn't want her to talk. She knew the right times in the last six miles to say something quick and motivating when I was really struggling."
Three weeks before, the Betman Racing Team (which includes their sister Leah Williams) was in Richmond, cheering Cocchairo (pronounced Coke-E-R-O) on to a third-place finish in 2:40:08, well ahead well ahead of the 2:45 standard that got her into the Feb. 29 Trials in Atlanta.
Cocchiaro, 28, had initially planned to make her 2:45 attempt at Rehoboth, she had won the race a year before, but her Howard County Striders teammates talked her out of it. With good reason – only woman had beaten Cocchiaro's 2:52 from 2018, and none had broken 2:50. Cocchiaro would need a fast, competitive race, Caroline Bauer and Julia Roman-Duval argued, and she'd get that at the Chicago Marathon, which they were running. 
"I thought about signing up for Richmond but always keeping Rehoboth as a backup," Cocchiaro said. "But after a while, I knew I had to focus on Richmond alone and not give myself an out."
Her friend Natalie Atabek said that was much more consistent with Cocchiaro's approach.
"When she sets a goal, she buckles down and focuses on it," Atabek said. "If she only has the chance to train before work, she will get to bed at 8 p.m. so she can be up at 4."
While Cocchiaro has always been a fast runner, her Olympic Marathon Trials goals are somewhat recent. She was a swimmer from age 5 until graduating from high school, where her individual wins in the 200 meter freestyle and the 500 meter freestyle led Eleanor Roosevelt  to its first Maryland state title in 2008.
"When we'd do 'drylands' exercises, everyone else complained when we had to run, but I liked it," she said. "I was pretty serious with swimming but I got burned out and I knew I didn't want to do it in college."
She took up running, trying out the Baltimore Half Marathon. She kept it up, without real competitive ambitions. 
"I liked seeing how I would get faster, but I wasn't doing anything organized. I was just running."
She tried a marathon in 2015–the Rock 'n' Roll D.C. race, complete with cold rain and a lonely second half.
"I thought I was going to die out there," she said, running 3:21:37.
After chickening out of the 2017 Boston Marathon, she ran 3:05:02 at the B&A Trail Marathon instead, then taking that trip to Boston a year later. Despite the freezing squall, she came out with another PR — 3:01:37. 
Throughout this progression, Cocchiaro heard from her high school teacher, Jessica Stern, that that Howard County Striders needed coaches for their Next Step half marathon training program.
"I didn't know anything about coaching," she said. "But I did it, and people started talking about bagel runs."
The bagel run is the Striders' weekly Saturday morning run from Wilde Lake High School, held since April 1979. As Cocchiaro attended, she found her niche in the lead pack, along with Roman-Duval and Bauer. 
"Most Saturday mornings, that's where I am now," she said.
Though the two were supportive early on, they became somewhat more pointed in their encouragement after Cocchiaro ran 2:52 at the 2018 Rehoboth race.
"They started asking me a little more if I was thinking about the Trials," she said. "They pointed out that I was only seven minutes off, but I was coming off a nine-minute PR."
She was a little skeptical.
Roman-Duval forwarded her workouts to Cocchiaro, who did them dutifully.
"I never did workouts before, I didn't know how to train, I didn't know anything," she said. "I didn't even know how to put a workout together. I didn't think I was supposed to be running this fast. 
"I don't think I would have done this without them."
Bauer shifted credit back to Cocchiaro, pointing out that by summer 2019, she was holding her own in the trio's marathon training runs."
"This girl's got a really good career ahead of her," Bauer said. "I was chasing her a lot last summer and that helped me get back in shape in time (for the Chicago Marathon)."
Cocchiaro insisted. 
"They were the ones who told me I could run fast if I wanted to."
Early starts to the school day keep Cocchiaro from joining the Striders for 6 a.m. track workouts before she makes the commute back to Prince George's County, where she works in elementary special education, from her Columbia home. But she likes to run in the morning, hence, the 4 a.m. wakeups Atabek mentioned.
"Hannah's the perfect example of someone who sets a goal and goes out to achieve it," Atabek said. "She'll do exactly what's on her training plan and buckles down until she finishes the work.
"She also makes sure she has fun and does other activities, but she has her priorities set and makes them happen. It's been really cool to see her get more focused on running and see it pay off."
Shut out of Chicago with her training partners, she picked the Richmond Marathon to give her a little more time to train, and tuned up with a second-place finish at the Army Ten-Miler.
"That gave me a lot of confidence and I knew I'd be able to go under 2:45 after that," she said. "I never really felt worn out," running 56:37 at Army. She recently improved her 10 mile best to 56:21 at January's Al Lewis 10-Miler.
Richmond itself went smoothly, as she negative split the ran after coming through the half in 1:20:22. 
"The lead women were pretty far ahead, so I did a lot of the work myself," she said, noting that the only other runner she saw on the brutally windy bridge in the 16th mile, a man, chose to take shelter behind her.
When she finished, race organizers rushed her into a tent to await the awards ceremony, rebuffing her efforts to get out to see her family, who had her clothes.
"I didn't know how all of that worked, it was all so new to me," she said.
Outside, the rest of the Betman Racing Team was thrilled for her.
"It's crazy because Hannah's so humble, if you didn't see her run, you wouldn't know she's this fast," Callie Betman said. "It's amazing how quickly she became good at this. It's definitely pushed me to want to get faster."
Recent Stories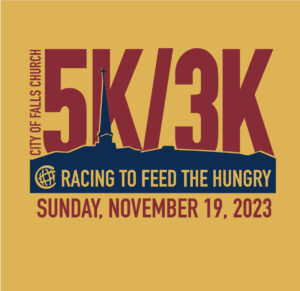 The out and back Falls Church City 5K/3K course is mostly flat on the W&OD Trail starting and finishing at 103 Columbia Street. Overall male and female winners earn free shoes and medals are awarded to all categories. Great family