Kathy Newberry's running career has spanned nearly 20 years and has included six trips to world championship races and thousands of training miles, starting when she ran at Lake Braddock Secondary School.
Her secret to such a long trip? The same as the transoceanic flights to those races — plenty of fuel.
"I get that the regular person on the street has to be mindful of their diet, but when you're running 120 miles a week, I'm sorry, I'm going to have four Dr. Peppers along with my bacon cheeseburger," she said. "And my salad."
That's a message she has lived throughout her racing career and preached as a coach in both formal and informal capacities. As she approaches the last month before her fourth Olympic Trials, and her second trip to the marathon Trials, Newberry is as dedicated to eating right as she is to mileage and workouts. Now a Wellesley, Mass. resident, she qualified at November's Monumental Marathon in Indianapolis. 
"Your body needs fuel," she said. "If you try to watch what you eat, it's a gamble you're eventually going to lose. That's a lot of why I've stayed healthy all of these years."
Newberry's focus on food as fuel is something her runners remembered strongly from her tenure as head coach for track and cross country at the College of William and Mary, her alma mater.
"If we went somewhere for a run, we would always stop for a meal afterward. Eating was a part of our running," said Robin Vanneman, a former Tribe walk-on. "She set an example with her own eating and was vocal about making sure we had enough."
Once a mainstay on the national cross country and track circuit, Newberry, 41, has laid low competitively in the last few years following moves for husband, and Langley alumnus, Alex Gibby's job as a coach at Michigan, UNC Charlotte and Harvard, and the birth of their twins in 2014. She tried to make a marathon comeback in 2015 at Grandma's Marathon, but lingering postpartum exhaustion (one kid not sleeping well is hard enough, let alone two) threw her off her game and she wound up 41 seconds short of what was ultimately the qualifying standard for 2016. She had finished 18th at the 2012 Trials.
Newberry started running as a freshman at Lake Braddock, planning to try out for soccer, but coach Bob Digby let her know he didn't want her looking to get her kicks elsewhere. It paid off, because she ended her cross country career 27th at the Foot Locker Cross Country Championships, where she was one of five Northern Virginia runners among 60 national finalists. She had what she described as a moderately successful career at William and Mary, with conference titles in the 3,000 meters and 5,000 meters, and her 43rd place finish at the 1998 NCAA Cross Country Championships led the Tribe to 10th place team finish.
She followed Gibby to Texas after graduation and continued her career, coached by then-William and Mary men's coach Andrew Gerard, now the George Mason coach, though Gibby eventually handled her training. Away from the team structure that dominated her previous eight years of running, she reoriented herself toward postcollegiate running.
"If you want to run after college, you'd better like it and you'd better have a mindset that you're seeing what you can do," she said. "If you don't PR, you need a way in your mind to tell yourself you're moving forward."
For example, when she matched her college 5k time in a postcollegiate race, she appreciated that she had done so on a cruddy day without much help on the track, instead of the ideal racing conditions she had in college.
She moved back to Williamsburg when Gibby took over for Gerard at William and Mary in 2003, and ran with the men's team until she got the women's head coaching job in 2005.
The women's team won five track and five cross country championships over her five-and-a-half-season tenure, but Vanneman said her success as a coach went far beyond those results.
"She took an interest in how we were doing every week and was so supportive," she said. "She was a coach, a mom, a teammate and a friend."
Newberry gave Vanneman guidance to get in shape after a cross country tryout her freshman year didn't go well, then rewarded her with a roster spot when she demonstrated improvement and dedication. 
"I feel like she was just as happy to see someone break 20 minutes as when someone else broke 17 minutes," Vanneman said. "She approached the sport with an attitude that made you love it, and you could tell she genuinely loved running."
Although Newberry often ran with her athletes, she kept her own competitive life out of their sight as much as she could, even as she made the Olympic Track and Field Trials in 2004 (5k and 10k) and 2008 (10k).
"I basically reworked my schedule so my racing wouldn't conflict their theirs," she said. "My cross country was during the winter, and I'd run maybe one track meet in the weekend between Penn Relays and the conference meet. Track really took a back seat, but I loved cross country. I focused on making world championships teams."
She made five world championship teams and in 2009, her third place finish at the US championships combined with Arlington's Jullie Culley's second place and Oakton alumna Samia Akbar's sixth place finish to give runners with D.C. area ties half of the top six spots at a race held in Gaithersburg. 
"We basically didn't know when she was racing unless Gibby told us they were going out of town for the weekend," Vanneman said. "We'd look up the results and congratulate her, but she was so modest. It was great having a coach who was actively competing, though. She understood what it was like to do what we were doing."
Things changed in 2010, when Gibby took the University of Michigan job and athletic department policies kept her from coaching alongside him. 
"It was bittersweet for her, because she didn't get to keep working with girls she recruited and coached, but she still loved seeing them succeed," Vanneman said.
With less time dedicated to coaching, coupled with a broken jaw from tripping on a run that kept her out of the U.S. track championships that year, she transitioned to the marathon, making her debut at the New York City Marathon. She finished 17th in 2:35:23. 
"I had a lot of friends who were experienced with the marathon that I came in knowing what it would be like," she said, particularly William and Mary (and Oakton) alumnus Jacob Frey and former Reebok Enclave runner John Clemmons.
"They scared me enough to know what could happen if I go out too fast," she said. "I'm good at being patient. I was good at resisting the urge to make a move if I felt good early. I knew how that could come back to bite me." 
Her mileage base helped too. Years of 120-mile weeks meant she didn't have to make too much of a transition in her training to get the volume necessary to succeed at the marathon.
Newberry ran on the world championships team in Daegu, South Korea, where she finished 30th in the marathon. 
Despite her success, she doesn't remember anything from the race itself. She went on to finish 18th at the 2012 Olympic Marathon Trials before toning down her racing during her pregnancy, though during her competitive hiatus, she still averaged roughly 90 miles a week.
Newberry had looked toward the 2020 Trials, but kept putting off her next marathon. Finally, Alissa McKaig, an Indiana native Newberry befriended at the 2010 New York Marathon and a teammate on the 2011 world championships team, convinced her to visit and race Monumental. 
It went smoothly and straightforward, even for someone who had taken a four-year layoff from the distance. She ran 2:43:47, mostly sticking with the 2:45 pace group for the early parts of the race.
"It was an army of women," she said. "Everyone in that pack was working together to get to the finish. It couldn't have gone better."
She's still getting her confidence back — she held off on doing measured workouts for that reason until Gibby, who has been coaching her since early in her career, got her to bite the bullet and start seeing interval times on her watch again. 
As for coaching, after years of playing host to former Thomas Jefferson and William and Mary runner Christo Landry, he's out of the house, but Newberry is now working for his coaching business, Ascent Running. 
"I'm not very good at self promotion, so I'm still building a client base," she said. "I'm not really social media oriented."
Newberry is eyeing a chance to coach a collegiate team again, but two young children and a travel schedule that could conflict with Gibby's makes that complicated.
"Alex nearly had the budget for an assistant coach at Charlotte and then he got the Harvard job," she said. "So I'm volunteering now, running with the girls," and continuing to talk openly about distance runners' dietary needs. "I just want them to know what's sustainable."
Recent Stories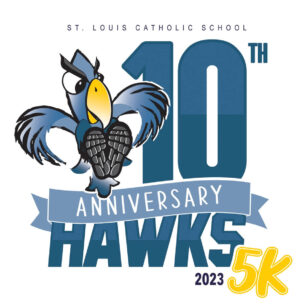 2023 will be the 10 year anniversary of the St. Louis Hawks 5K and Fun Run for Health & Wellness. The USATF certified course runs through the historic Hollin Hills neighborhood in Alexandria, VA.
The Hawks 5K goal, in conjunction