Cross country at the Thomas Jefferson High School for Science and Technology wasn't a glamorous sport, but Jonathan Phillips didn't care. 
"Basically it's a bunch of nerds doing the nerdiest sport," he said. "I loved it, that's what kept me on the team."
His journey to 40th place at the 2020 Olympic Marathon Trials started in places like Mason District Park, where the Colonials would perform their team rituals, which are best left vague for the uninitiated, or shirtless snowball fights on cold days.
"There was a team culture that really drew me in," Phillips said. "We were pretty good at running, and it was a sport that takes focus. 
"When I started running, there were a bunch of guys in the next grade and they really reached out to welcome us. A lot of those guys came down to Atlanta for the Trials."
Phillips finished ninth at the 2010 state cross country meet and seventh in the 1600 meters the next spring before heading to Cornell, to another pack of nerds with some flourishes. 
"By no means was it "bro-y," but it was bro-yer than anything I had experienced," he said. 
He credited then-distance coach Robert Johnson with not cutting him during his first semester freshman year as he struggled to adjust to a higher-mileage training load, but he soon reached a sustainable plateau.
"(Johnson) not cutting me my freshman year made me the runner I am," Phillips said. "His whole approach was to take a bunch of guys who could run in the 4:20s (for the mile), have them run a lot and see what they could do."
Though Johnson left Cornell after Phillips' freshman year, the wide base he encouraged him to build paid off, even after a stress fracture limited his junior year. 
"I was still performing well for the non-travel squad," he said. "The stress fracture, and trying to come back from it, changed things."
Phillips dropped his mileage and soon dropped his 5k PR by late in the indoor season, ultimately improving by more than 40 seconds to 14:18 in the spring of his senior year. 
"I was very glad I had a fifth year," of eligibility to use during graduate school, he said. While he didn't set any more PRs while at the University of Michigan, where he was known to most teammates as "Jonny Cornell," Coach Kevin Sullivan's high intensity training kept him closer to peak fitness year-round.
"I ran a lot more consistently," he said. "I was pretty happy running close to my PR in races in really tough conditions, like a windy track in Nebraska.
"I learned what works well for me and it informed a lot of how I train for marathons."
Fresh out of that year at Michigan, Phillips raced the Detroit Marathon, running 2:25:50 for fourth place.
"It was a solid debut, but I was a I was a cocky college trying to  run the marathon," he said. "I was 10k sharp, but I hit the wall and dropped back after holding 2:20 pace for 18 miles. I knew if I changed my fueling strategy, I could cut some more time off."
By then, he was living in Boston, working in the sustainable energy industry and running with the Heartbreak HIll Running Company team. He lived with other runners and mixed and matched his workouts with any number of competitive runners in the Boston area. 
It was around then that he realized he finally liked aqua jogging, after years of tolerating it in college when he was injured.
"I started doing it because I got a little scared of some pain in my foot, but I also tried doing it in a lake near where I live," he said. "The lake turned what had been a chore into something I looked forward to. I think aqua jogging is the reason I OTQed."
The 2017 Chicago Marathon also made that happen. Phillips kept his pace under 5:19 until 35k, but had enough of a cushion to finish in 2:18:19. 
He followed that up with a 2:22 at the Boston Marathon in 2019, acknowledging that the warm conditions after a cold Boston winter weren't advantageous to him, 
"This summer, my approach was going to be to just let the fitness happen before I got sharp," he said. "I was doing workouts that were harder than anything i had ever done but it was feeling much easier."
His typical week ended up totaling 100 miles in six days, with two hours of aqua jogging to balance it out. A trio of half marathons leading up to the Trials underscored his confidence. 
First, a 12th place finish in September's Rock 'n' Roll Philadelphia Half Marathon in 1:05:36.
"I was racing with a bunch of 2:13 marathoners, guys who were head and shoulders above me, and I hung with them," he said. "That was a huge confidence boost."
He won the Hartford Half Marathon a few weeks later in 1:04:51, then was back with the same runners from Philadelphia the month before the Trials, racing Houston in 1:04:11.
"That's when I knew I was on the verge of a breakthrough," he said. "I just needed the stars to align."
It helped that he wasn't really in a position to realistically make the Olympic team in Atlanta.
"I had nothing to lose but everything to gain," he said. "I was the most Zen I had ever been before a race."
A mile in, he bumped into former roommate Lou Serafini, and the pair raced together for 18 miles.
"He was patient when I was impatient and I was patient when he was impatient," Phillips said. "We would take turns in the wind, pick up water and share it with me. There were guys who would pass us going too hot, it was tempting to go with them to fight the wind but having him kept me from doing that. I knew I would still be okay with him."
Finally, when Phillips started racing against William Norris.
"I started picking people off the last 10k, and that was all because of that guy's move," Phillips said. "When I covered it, it really got me going."
He seemed unshaken while running the race of his life
"At no point during the race did I have that "come to God moment" you have in a marathon," he said. "There were times i missed a bottle or started puking in the middle of the race and it didn't bother me at all."
Yeah, the puking. A stop at mile 24 didn't bother him on his way to a 2:17:51 finish. He knew the time as he was led away to a medical tent, but without his phone to check results or hear from friends, he was clueless as to his finishing place.
"I thought I was around 70th place, just based on the people I saw ahead of me on Peachtree Street," Phillips said. "Turns out a lot of people dropped out in the last eight miles, and I passed more than I realized."
When he got back to his phone an hour later, his girlfriend had sent him a message telling him he was 40th.
"I was happy just because I finished with a strong kick, but I never expected top 40. I didn't even set a place goal. I was on top of the world."
Recent Stories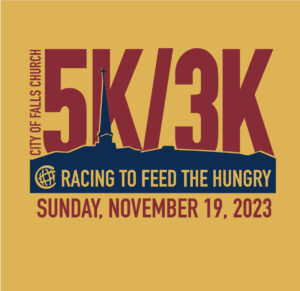 The out and back Falls Church City 5K/3K course is mostly flat on the W&OD Trail starting and finishing at 103 Columbia Street. Overall male and female winners earn free shoes and medals are awarded to all categories. Great family