All over the world, the starting guns are standing down, high fives from the sidelines are falling silent and at the very least, water cups at aid stations are giving way to bottles. And now it's happening here.
The spread of COVID-19 is forcing race directors to evaluate the risks associated with holding recreational events could serve to transmit the coronavirus, particualarly as local governments issue advisories aimed at limiting exposure.

On March 11, Pacers Running canceled its Fairfax Four Miler (March 14) and St. Pat's 5k/10k (March 15) and the Anne Arunel County Department of Health cancelled the B&A Marathon (March 15). The Rock 'n' Roll D.C. Marathon, Half Marathon and 5k (March 28) and Scope it Out 5k (March 29) lost their D.C. permits after the mayor's office declared a public recommended against gatherings of 1,000 or more people. The Credit Union Cherry Blossom Ten Mile announced March 12 it planned to stick to the April 5 race date but is allowing more deferrals through March 19. The Lucky Leprechaun 5k has postpoed until June 14.
Earlier that day, the D.C. Health Department recommended that "nonessential mass gatherings" of 1,000 or more people  "congregate in a specific location" be cancelled or postponed, through March 31.
Cherry Blossom falls on April 5, outside of the D.C. recommendation range, and draws an international crowd. Race Director Phil Stewart said he was taking guidance from public health and municipal officials, "all of whom at this point are advising that events should go forward with participants taking extra precautions including things like frequent hand washing and simply not showing up if they don't feel well," he said. "We have ordered extra hand washing stations for the staging area. Initially, for sustainability considerations, we were going to serve our post-race water in cups for the first time in many years, but due to COVID-19 concerns we will be reverting to serving it in 16.9 ounce bottles once again." 
Stewart urged runners to check the Cherry Blossom Ten Mile web site for updates.
Karen Kincer, race director for the Pike's Peek 10K, tried to keep race management, in the face of a global health concern, in perspective.
"Remember that this is bigger than all of us. It's about other people's lives. Let's not forget that," she said, noting that any decision to cancel the April 26 race would come from state or county government officials.
Kincer explained that there's a big difference between a large race like the Cherry Blossom Ten Mile or Boston Marathon and a local race like Pike's Peek. Those bigger races attract an international field where people are coming from all over the world increasing the chances of spreading the virus.
Jason Chance, director of the Salisbury Marathon, Half Marathon and 5K scheduled for April 4, said he and his team are closely monitoring the coronavirus, but have no plans to cancel or postpone the races. 
"We will take extra precautions to ensure healthy guidelines are met on the course — volunteers with gloves, more hand wash stations, sealed foods — and just advising our athletes to practice good hygiene strategies," Chance said.
No major domestic races had been cancelled yet (a statement that seems to be inevitably obsolete — and was by 5:10 p.m. March 10), though the Los Angeles Marathon referred runners and spectators to guidance from the Los Angeles County Public Health department recommending spectators remain six feet from strangers.
Internationally, however, local runners have had less good luck.
Columbia's Julia Roman-Duval knew everything had to go just right for her to make the French team for the world half marathon championship championships, but an international health crisis was the least of her worries.
She had already passed on the U.S. Olympic Marathon Trials to show off for her home team — she has dual citizenship with France — at the Paris Half Marathon March 1. 
"I traveled (to Paris) on Thursday and there were no rumors of anything getting cancelled," she said. On Saturday, she left her hotel and met her family, ready to go. 
But a few hours later, she received a text from a family friend: "So sorry, the half marathon is cancelled."
A few days before, the Tokyo Marathon had announced that due to the coronavirus, its mass participation race would be canceled, and only elites would race. Now, the same day, half the world away, nobody would be racing in Paris.
"I received no official email, no text-message. Nothing. I couldn't believe it," Roman-Duval said. "I checked the news and there it was. It wasn't even on their website. It took me a few hours to get through the shock." 
It was less than a day before the race, and still no word from the organizers. And no reported cases of coronavirus in Paris.
"There was bitterness and disappointment because [my French running club] were ready to go, we were hyped up and all of the logistics were worked out and all the personal and financial sacrifices were made."
"Worse things can happen in life, I know. I think the way things were handled is what makes me mad. It's not that things were cancelled, it's just that the decision seemed so irrational and illogical."
For Roman-Duval, it's a bitter pill to swallow. She doesn't see a path to gaining a spot on the French team at this point.
"The team will likely be (composed) of women who have the highest time ranking of half marathons over the past few months," said Roman-Duval.
"When I learned that, I knew I wouldn't make the team because there were 10 people who had faster times. [Team officials] can't rely on what could have been. It's frustrating."
The world championships were then postponed until October. Oakton and American University Keira D'Amato has been named to the U.S. team.
One week later, and for only the sixth time in history, the World Health Organization (WHO) warned of the likelihood of the virus spreading internationally, thus declaring a "public health emergency of international concern."
"In the end, they did what they had to do," Roman-Duval said. "The frustration I have is because I would have had a chance in Paris."
Laetitia-Laure Brock had dreamed of running the 2020 Paris Marathon, a different race scheduled for April 5, since she began running three years ago. The D.C. resident and Paris native turned 40 in January, and she couldn't think of a better way to celebrate her milestone birthday than by running a marathon in her hometown.
Then the coronavirus began spreading across Europe. After logging an 18-mile training run a few weeks ago, she learned that the Paris Half Marathon had been canceled and then postponed.
Brock said she's still planning to travel to Paris in April, as she already has her plane tickets, and her family is there.
"It will just be a lovely vacation," she said. "Running the marathon [in October] is still an option, it's just a matter of whether I want to spend the money again."
She's also weighing two other spring marathons as backups, the Coastal Delaware Running Festival on April 19 and the New Jersey Marathon on April 26.
"Now I just want something that's within driving distance," she said.
Francis Yu, of D.C. also sought out a backup marathon when the Tokyo Marathon was canceled for all but elite runners, opting to run the One City Marathon in Newport News, Va. on March 1. He joked that the small marathon, with just a few hundred finishers and wide open roads, was probably similar to the experience that the elite runners had in Tokyo.
"I had a great race — plus you got two free beers, a free meal from a food truck," Yu said. "I said to my wife, this was probably a better experience."
Still, Tokyo would have been his 14th marathon and third World Marathon Major. Yu said he was "super bummed" when he saw news on social media that Tokyo had been canceled, about a week before he got the official word from the race itself. Luckily, the hotels he and his wife booked refunded their money and Delta awarded them credit for the value of their plane tickets. They also were refunded most of the cost of their train tickets.
Like other Tokyo runners, Yu will get a guaranteed entry into the 2021 race. But he was registered for this year's race as a charity runner, raising money for the United Nations High Commissioner for Refugees, and it's unclear how that will translate to next year.
"I think it was a good idea," Yu said of canceling the race, though like Roman-Duval, he noted that communications from race officials could have been a lot better.
A pair of runners from the Montgomery County Road Runners Club agree. Each had booked their Tokyo marathon logistics through Marathon Tours and each said they had a good experience. All agreed that the communication was rather poor from officials of the Tokyo Marathon.
"Marathon Tours updated us every day. They were awesome," said Abbatti Afeta.
"Of course, I was disappointed [the race was cancelled].  I wasn't mad or upset. I'm a little different than others because I had run the Tokyo Marathon before," said Afeta.
"I was excited to do it with my friends. I was disappointed because it was their first time."
For Carol Braun, this was to be her fifth World Marathon Major.
"I had planned a whole family vacation around it.  My kids were meeting us. My plan was to race Tokyo and run Boston. When I found it was cancelled, I obviously cancelled the entire trip," said Braun.
"I was training hard because I was hoping to PR again. I think they made the right decision. It's just disappointing. That's all."
Afeta and Braun all said they understand about the need to cancel the race due to the coronavirus and all said they will return in 2021 to run in Tokyo.
Bethany Imondi, 28, of D.C., is registered for next weekend's New York City Half Marathon and April's Boston Marathon. If the half marathon is canceled, she said she still plans to travel to the city to spend time with her boyfriend and parents.
Boston, though, is a different story. It's Imondi's first Boston, and she said the thought of its cancellation "crushes" her.
"My training has been far from perfect due to some persistent calf issues, but my goal is simply to get to the start line and savor the experience. I would be so disappointed if the race doesn't happen, particularly since I'm worried about what it would mean for my chances to run it again," said the Rhode Island native, whose family is planning to come to Boston to cheer her on. "Boston isn't like other marathons like Paris and Barcelona which have gone on to reschedule. If the race doesn't happen on Patriots' Day, it's simply not the same."
Imondi said she's trying to stay focused on training and staying healthy.
"Worrying about the races happening is out of my control. In the meantime, I'm keeping my fingers crossed that it goes on as planned," she said.
Recent Stories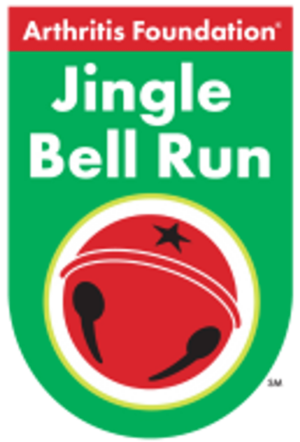 Be part of the original festive race for charity and signature Arthritis Foundation holiday event! Wear your favorite holiday attire and together, we'll jingle all the way to a cure! Register as an individual or bring a team of friends,