Five days after having pacemaker surgery, DC Road Runners Club President Ben Richter was running the streets of Columbia at the Maryland-District of Columbia RRCA 10 Mile Club Challenge.
The Capitol Hill resident had been given some restrictions, but running wasn't among them.
"They hadn't told me not to, so let's go out and test out the new equipment and see how the toys work," said Richter, now 63.  
That was in 2019, after a trip to the doctor led to a same-day surgery to have the pacemaker put into his body.  
At the 2019 Road Runners Club of America Club Challenge, Richter decided to call it a day and head back to Howard Community College after a little more than four miles because of the bad weather.
But this year at the race, which was Feb. 23, he finished in a chip time of 1:49:25 — five seconds faster than his 2018 time on the hilly Club Challenge course.
When Richter's doctor told him he needed a pacemaker, his reaction was "What?"
"Because perhaps like many people when I think of pacemaker, I think of some decrepit octogenarian bent over and barely functional," he said.
Richter said he'd gone to his doctor at Walter Reed National Military Medical Center on Feb. 19, 2019. He'd noticed a couple things: a decline in his running and an exceptionally low resting heart rate — which could get as low as the upper 20s, he said.
He had an electrocardiogram, or EKG, done, which showed that the top and bottom parts of his heart weren't working together.
Richter knew he had second-degree atrioventricular block — which affects the heart's electrical signal — but he said nobody had mentioned the importance of keeping an eye on that in case it progresses to third-degree, which it had.
Richter was taken out of the room on a gurney for a short ambulance ride to the emergency room, where he saw a cardiologist and another doctor.
Since Richter had been dealing with the condition for a year or so, it was surprising to him that having the surgery was so urgent. But he was operated on the same day.  
Now, his pacemaker has a minimum heart rate of 50 beats per minute and a maximum of 145 — upped from the previous high of 130, he said. His heart can handle it if his heart rate goes above 145. 
The pacemaker has Bluetooth capability, so a doctor can easily view data and make adjustments if needed. This caused a stir for Richter at work, because he works for a government contractor and isn't permitted to bring in wireless devices, he said.
It took about three months for him to get back to work, between getting his device approved and a contractual issue, he said. 
This year, Richter, who has been a DC Road Runners Club member since 2000, wanted to complete the Club Challenge race. He said aside from some brisk walks over the steeper hills, he ran.
"The goal was to run the whole thing and I did," Richter said.
Richter will complete his second year as DCRRC president in April and plans to run unopposed for another term. He also coaches for the club.
Kate Marden, DCRRC's director for training programs, has known Richter for about a year and said she's impressed just how involved he is with the club. She didn't realize he had a pacemaker.
Marden said after she joined the club board, she asked if there was any interest in the club getting involved with the Healthy Kids Running Series in Arlington that she was coordinating. Richter was enthusiastic to help and she first met him when he went out of his way to drop off race materials at her house, she said.
"He's definitely a solid guy," she said.
As a coach, Richter recommends runners listen to their bodies. But he didn't quite follow his own advice, waiting a while to do something about his symptoms.   
"One should not hesitate to seek medical care for something like that before it becomes really acute," he said. 
Recent Stories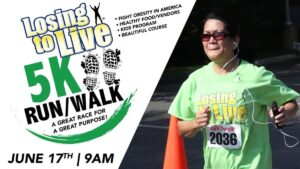 WHEN Saturday, June 17, 2023 at 9:00 am WHERE This convenient location is just minutes from your house located 1/2 mile inside the 1-495 Capital Beltway at exit 51. Spectators are welcome to watch and cheer on the runners. Capital