Motivating high school runners is not always easy, even without a global health crisis going on. But with the coronavirus pandemic sweeping the world, preventing kids from coming to school-sponsored organized practices or attending track meets, keeping high school runners motivated becomes an even greater challenge.
Anthony Belber, head track and field coach at the Georgetown Day School, anticipates that it will be weeks until the team can reunite in person, something he acknowledges is going to be difficult.
DMV Virtual Running Clinic
"[In not having our regular season], we are being tested at this moment in a way which might be far more substantial than in a championship meet. We are being asked to show just how strong we are," he said.
This challenge becomes even harder for coaches in Virginia. Last week,On Monday it was announced that there will be no track and field season for the rest of the spring season in the state of Virginia. Maryland and D.C. schools and sports are on an open-ended suspension.
Gina DeGaetano is the head track and field coach at Riverside High School in Leesburg. She knows firsthand the difficulties that this announcement brings, but is trying to stay positive in light of the news.
"The news on Monday was not what any of us expected," she said. "I hope we get back to track rather sooner than later. I miss it. I think it's important to note that as much as the athletes miss it, we (the coaches) miss it too."
But despite not having a regular season, DeGeatano still wants her athletes to continue their training.
"Sure, right now in the next three months, we don't have something to prepare for or we don't know what we have to prepare for, [but we should be open to] the thought that maybe there will be something that comes out of this or maybe there will be a race that we can be ready for."
Understanding DeGeatano's desire to have something to prepare for during this hard time, Tom Brumlik of the District Track Club is working to keep track events happening over the next weeks and months. He hopes that by offering events, it will keep local athletes motivated to continue their training.
Although details could change with the ever-changing rules and regulations, Brumlik plans to hold the DMV Meet of Champions in June. He hopes that with the loss of competition throughout the regular season, especially in Virginia, that the meet will see more participation this year than it has in previous years.
Not only does DeGaetano agree that the first meet back will see greater participation, but she also expects to see stronger performances.
"I think this [coronavirus crisis] is going to accelerate the sport more, and the excitement. I think we're going to see some good performances come out of this next race because people want it so much more."
Until June, Brumlik plans to host virtual meets. The first virtual meet will be offered for athletes in Virginia to make up for their loss of a state meet. The first virtual meet is tentatively planned for late April. Brumlik said, "If it goes well, we will try to do it again with the entirety of the DMV."
At this point, he is considering offering half-mile, one-mile, and two-mile distances. Despite the numerous challenges, Brumlik is intent on, "trying to make … this as competitive as possible as we are really trying to mimic the feel of a [regular] meet."
Hoping for his athletes to compete in upcoming virtual meets, Belber wrote extended training plans for his athletes through April 13th, but he knows that workouts alone are not going to be enough. Athletes still need the motivation behind the workouts to push them harder and faster when they cannot meet in person.
In a sympathetic email to his athletes, Belber wrote, "I recognize how challenging these days isolated at home are for us. As a track coach, I recognize the anxiety that we might not even have the opportunity to have a spring outdoor track season … There is a lot we don't know and that makes daily training even harder."
Belber knows how hard it is to deal with this news, knowing that each of his athletes are here for a reason and wouldn't be part of the team if it wasn't important to them. Despite not being able to meet for practice, Belber wants to make sure his athletes still have a "reason" to continue. His goal, he says, is to remind his athletes of why they run now too. And although their reasons for being here may have changed, his athletes still have their own reasons to be here.
Belber likens the challenges of a track season to the challenges that the country is facing now. To be a good track and field athlete requires "personal discipline, dedication, training, confidence, willingness to face and overcome challenges, and mental toughness. Those are exactly the skills we need to get through the social distancing, distance learning, uncertainty, and indefinitely delayed track season," he says.
To motivate her athletes, DeGaetano highlights the long-term benefits of the sport. "To paint the bigger picture, what I've always felt is something to get across for all athletes, is running is a sport that can be done lifelong … Right now we can't complete, but track and running is a sport that you can do forever, so why not keep training?
"There are 100-year-olds running 100-meter relays. That opportunity is still there."
But DeGaetano knows that for athletes not to see the coach in-person makes it harder to stay motivated. To keep her workouts and training on the forefront of her athletes' minds, she sends constant emails or texts asking how their workouts went, but also asking how they are doing on a personal level. Her messages sometimes include sharing old pictures and reliving old memories. "I think [what's] more important is ultimately [remembering that] they are kids and just checking in on them and their wellbeing."
Prior to the first virtual meet at the end of April, Brumlik plans to offer a virtual clinic for coaches April 2, led by speaker Lucas Jadin, who will talk about mindset and mental training.
"I think that topic is more important now than ever," said Brumlik.
The virtual clinic will also feature a roundtable discussion with area coaches to talk about mindset, team culture, and leadership. "I think the exchange of information here would be invaluable as all coaches are facing their own personal hurdles while they try to continue helping their athletes," Brumlik said.
At the end of the roundtable discussion, all participating coaches will have an opportunity to ask and answer questions. "This would be a 100% free event," said Brumlik, who hopes to have as many local coaches participate as possible.
Even before the upcoming clinic, many coaches have already altered their coaching or training. For instance, Belber will offer individual time trials or strength tests for athletes over the next few days and will send out "correspondence competitions" for athletes that might need some more motivation.
DeGaetano says one area she's had to adapt to is handling track workouts for athletes who no longer have access to a track. "[I'm] taking what would be a track workout and formulating it to say, 'How would this look in other areas like in a neighborhood or on a bike trail?'" 
Even if athletes cannot follow the training plans, Belber said that, given the situation, "any running or training is going to do you good right now. Jogging laps around your block for 15 minutes per day is far better than staying in the house." He even offered alternatives to athletes who are unable to go outside and must stay indoors. He does not expect or require any of his athletes to follow his training plan to the dot, but instead offers these training plans more as guidelines.
Belber also encourages those who are running outside to practice good distancing. He advises avoiding running through very crowded areas and suggests running early in the morning to avoid crowds.
Recent Stories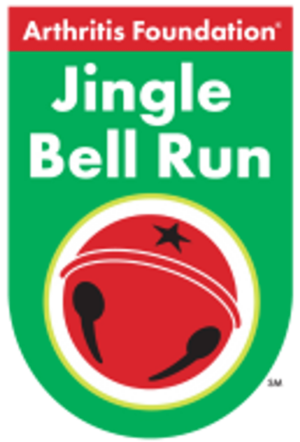 Be part of the original festive race for charity and signature Arthritis Foundation holiday event! Wear your favorite holiday attire and together, we'll jingle all the way to a cure! Register as an individual or bring a team of friends,