Name: Rachel Clark
Self-described age group: 27
Residence: Logan Circle, DC
Occupation: Digital consultant
Volunteer roles in the running world: The occasional volunteer shift at one of DC's parkruns.
Why you run: It's been hugely important in maintaining my mental health. It's one of the times when I do my most productive thinking about problems or opportunities at work or in life. And I love going on a long run and then being able to murder a brunch and call it "recovery."
When did you get started running: Honestly? I hated every minute of one (1) unremarkable season of track in high school.
Have you taken a break from running: After my brief high school career, I took up (and gave up) running in fits and starts throughout college. It finally stuck when I moved to D.C. in 2014.
Training shoe: My current favorite is a pair of Brooks Ghost 12s that I lucked into in their Best Fest 2019 giveaway.
Coach or training group: Nothing formal. I've got Daniels' Running Formula on my to-read list.
The hardest race you've ever run: The 2017 Baltimore Marathon. It got into the 70s, it was humid, and as anyone who's run that marathon (or half) before knows, it's HILLY in the back half. And it was my first marathon! It was hell.
Most adventurous decision you've made with your running: Probably entering the lottery for last year's Berlin Marathon on a whim, forgetting I'd done that, and then getting absolutely shocked by an email saying I'd gotten in. (It was awesome, even though it poured.)
Running mentors: None personally, but I've learned a lot about mental toughness from Deena Kastor from afar, and I'm always inspired by Mike Wardian's Strava.
My favorite place to run in the D.C. area is: Start at my house, run by the mall and across the river to pick up the Mount Vernon Trail, get in ten miles, and finish at Killer ESP on King Street in Alexandria for a Nutella latte.
Favorite local trail: It has to be the C&O. Every time I think I'm getting bored of my usual stretch of it starting in Georgetown, I notice something new — like when I got surprised by a beaver(??) sitting next to the trail, entirely unbothered by me. And there's so much more of it I've yet to explore! I finally got out to the bit by the Seneca Aqueduct last summer for a 20-miler and loved it.
My best race was: Either last year's Credit Union Cherry Blossom Ten Mile (it felt like everything just went right), or last year's Vale of Three Falls 5K in upstate NY (climbed a few hundred feet in the back half to get my second-ever age group win).
Favorite local race: I love Crystal City 5K Fridays — a fast course that ends with a beer? No better way to start a spring weekend. I'm really going to miss the series next month.
Ideal post-run meal: Gimme an everything bagel loaded with hummus and veggies from Bethesda Bagels.
Favorite flavor of gel, gu, etc: The sea salt chocolate Gu that's basically chocolate pudding.
Pet peeve: When people drop their empty gel packets on the trail. Y'all. Please. Put them back in whatever pocket you used to carry the gel to the trail in the first place.
Goals: Everyone wants to BQ someday, right?
Your advice for a new runner: I can't recommend parkrun highly enough for new runners looking to dip their toes into a 5K, get timed, and track their progress in a super low-pressure environment. The communities at all of DC's five (!) local parkruns are incredibly welcoming for runners at all levels.
Favorite running book: I really loved Deena Kastor's memoir, Let Your Mind Run.
Song in your head during a run: Lately, "Jackrabbit" by San Fermin.
Have you dealt with a major injury: Fortunately, no.
Running quote: Just do the work.
Why is the D.C. area a great place to be a runner: Where to start? There are infinite route options, from scenic streets to wooded trails that mentally transport me hundreds of miles from the city. I can walk to any of at least three running stores to get gear whenever I need it. There are group runs to suit literally any sort of runner. There are phenomenal races throughout the year and amazingly supportive crowds at the big ones. I can't imagine a better place to be a runner.
Recent Stories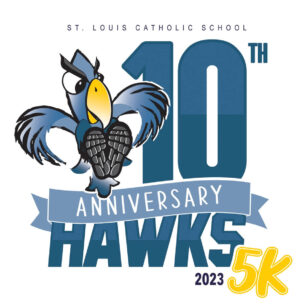 2023 will be the 10 year anniversary of the St. Louis Hawks 5K and Fun Run for Health & Wellness. The USATF certified course runs through the historic Hollin Hills neighborhood in Alexandria, VA.
The Hawks 5K goal, in conjunction