Tysons's Chris Gellene, 58, spent his Easter Sunday differently than most. While families around the country were asleep in bed, Gellene was finishing up a 100-mile run sometime between 3:30 and 4 in the morning. But after some rest and a good night's sleep, he says, "I got up the next day, it was Easter morning. I got and went about my Sunday."
Originally signed up to run the Pistol 100-Miler in Tennessee, Gellene was worried when he learned that he would not be able to run the race. Gellene is no stranger to the 100-mile distance. The Pistol 100-Miler would have been his 12th.
"I trained for it and I was in shape and I'd run a lot of mileage," he said.
Not wanting to lose his training, Gellene decided to run the distance himself without an official course, event, or time.
"This race, like all, they offered a virtual option. At first, I thought I'm not going to run 100 miles for fun. But I was ready and in shape and I knew where to go and I figured I can do this on my own."
The decision to do it took Gellene about two days to make, but once he committed to the idea, he set a date 10 days ahead. He intentionally chose to do the run on Easter weekend so that he wouldn't have to take two days off from work.
Now with the date chosen, the next thing Gellene had to do was map out a course. That proved to be easier than he expected. Gellene, who works full-time at the Potomac River Running store in Reston, used that store as a marker and an aid station for his event.
"The distance between where I live and the Reston store is about 12 miles, so the route worked that if I did four loops, that's about 100 miles," he said.
Gellene also liked that the 12-mile stretch was entirely along the WO&D trail. That kept it simple, but also provided enough variation in the hills and terrain so that he wasn't using the same muscles throughout the run. He credits this as one of the reasons he did not feel sore the next day.
Wanting to add some novelty to the event, Gellene reached out to Commonwealth Race Management to see if they would provide him with a race bib for his run. They said, "If you pay for shipping, we'll print you a bib." And so, he did and ran with a bib.
Despite running the 100-mile distance before, this was his first time running the distance outside of an organized event.
With his route in place, Gellene made up his aid stations. He had three aid stations set up along the 12-mile stretch, "I made my house, my car, and the Reston store the aid stations. [I] cooked  pasta, cooked pizza, cooked meat, and made trail mix. [I] took food you would see at aid stations. I just made those three stops aid stations."
His car was parked at the Clark's Crossing Parking lot, a soccer field right along the WO&D trail.
Also at each station were a change of clothes and a change of shoes, along with stuff to take care of his feet like foot powder, foot cream, and foot medicine. "Every time I did a turnaround, I would change shoes, socks, and powder my feet."
Despite having never done this on his own, his experience running 100-mile distances in the past gave him confidence. "One of the reasons I felt like I could do it is because I had done it before. I knew the drop bags, the aid stations, where to park… I knew what to do."
Gellene started running around 8:00 am on Saturday and finished between 3:30 and 4:00 am on Sunday. According to the Nike app he used, he ran a total of 101.5 miles. His running time was 17:30, but the amount of time elapsed from start to finish was 19 hours, 57 minutes.
Sam Riley, a colleague of Gellene's, ran nearby to help him finish the last portion of his run. Although he planned to do the entire run by himself, he jokingly says, "I planned to do all the running by myself, but some people wanted to run with me."
The final segment was a bit longer than the others, but Gellene says he and Riley had their reasons for extending the last leg. "We actually passed the place where I parked my car and the reason we passed it was because we were kind of going on a downhill and we wanted to make that sub-20 cutoff and we were going so fast and we looked at each other and we said at this pace, we are flying, so we went a mile past where the car was."
Rather than turn around at the point that made it an even 100-miles, Gellene and Riley ran farther, then walked the rest of the way back to the car once they were done. "At that point, we'd done 100 miles and it was early in the morning and I said there's no reason to overachieve. Let's just take our time and go back."
Gellene was thrilled with his time, having finished in under 20 hours. He says his next goal is to get a similar time in an actual organized race.
"With 100-milers, the benchmark is to finish in under 24 hours. This wasn't official, but it was particularly good for practice. It was a big confidence builder because I did do well."
There are two reasons Gellene says the run went so well: "I used four different pairs of shoes and the shoes that I picked worked out great. They were just right for the WO&D trail. The shoe selection was on point," he says. "I also took really good care of my feet. I changed my socks probably every six to 10 miles. I powdered and creamed and took care of blisters."
"Between the shoes and taking care of my feet, I felt great the whole way."
Gellene felt so good that he even worked a seven-hour shift when returning to work on Monday.
Weather that day was also on his side. "Saturday was fantastic!" The weather was sunny and in the mid-50s during the daytime and in the low-40s at night. "You can see throughout the pictures, I kept taking layers off and putting layers back on. But the end picture is almost the same outfit as the very first picture of me before I left."
When asked if certain parts of the run were tougher than others, Gellene says, "I was laughing and smiling the whole way."
The lessons he learned from this "practice run" will be valuable for him in the future. "It was good as far as learning. [I have] more experience taking care of [my] feet and picking [my] shoes."
The next race on Gellene's list is the Marine Corps Marathon, which will be his 29th consecutive race there.
Recent Stories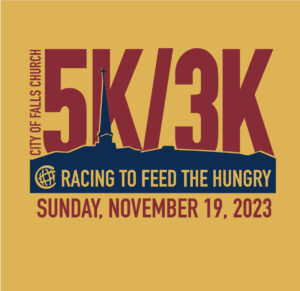 The out and back Falls Church City 5K/3K course is mostly flat on the W&OD Trail starting and finishing at 103 Columbia Street. Overall male and female winners earn free shoes and medals are awarded to all categories. Great family