Name: Jackie Ogden
Self-described age group: whatever 30 falls into
Residence: Logan Circle
Occupation: Capital markets strategist
How has your running changed in the last few weeks: Learning to manage breathing with a mask is adding some solid lung capacity. Definitely avoiding some of the more crowded paths along the Potomac, where possible! It has been fun to explore some alternative, less crowded running routes through the city!
Why you run: I do it for mental wellness, for friendship and community (shoutout to my beautiful running crew, Knife Hands, @goknifehands) and because I need balance for all of the sweets I eat.
When did you get started running: I started running around the age of 5, when I realized I was terrible at soccer and preferred to stay away from the ball. Running along the sidelines was a more enjoyable experience for me.
Have you taken a break from running:  I stopped running competitively for about four years in college to focus on becoming a D1 rower! But fear not, there was plenty of running required for training.
Training shoe: I mix it up, but right now I'm digging the On Running Cloudswift..
Coach or training group: KnifeHands!
The hardest race you've ever run: Valley of Fire Half Marathon in Nevada. Three words: Hot. Desert. HILLS. But it was also the most beautiful race!
Most adventurous decision you've made with running: Ijoined a random Ragnar team that needed a runner like two days before the race.
"So a bunch of strangers are picking you up in a big white van and driving you 200 miles away so you can run through the woods and run home?"- my concerned friends
"Yes. Obviously." – me
My favorite place to run in the D.C. area is:  Hains Point gets me in my groove
Favorite local tail: Schaffer Farm trail system in Germantown
My best race was: Probably the Philly Love Run Half… was just feelin' myself and PR-ed without really trying!
Favorite local race: Marine Corps Marathon was amazing.
Ideal post-run meal: Homemade Belgian waffles and beer
Favorite flavor of gel, gu, etc: HoneyStinger Fruit Smoothie
Pet peeve: Oblivious tourists walking 17 across
Goals: My partner, Katherine, and I are attempting to run a half marathon or marathon in every U.S. state and D.C. (14 down!)
Your advice for a new runner:  Everyone runs for a different reason – health, challenging yourself, winning races, a break from the digital world, friendship… and all are equally valid reasons to love running! Find your thing you run for and find the joy in your unique motivator! Oh, and make sure you're hydrating.
Favorite running book: The Terrible and Wonderful Reasons Why I Run Long Distances, by The Oatmeal
Song in your head during a run: "Roses" by The Chainsmokers has been on every running playlist I've made in the last five years.
Have you dealt with a major injury: My knee gave out at mile 21 of the Paris Marathon in 2018. Walked the last five miles and then had to rehab for three months.
Running quote: "It's the hard that makes it great… if it was easy everyone would do it."- Jimmy Dugan aka Tom Hanks in A League of Their Own. Not a running quote but a great one.
Why is the D.C. area a great place to be a runner:  Beautiful running routes. Amazing community.
Recent Stories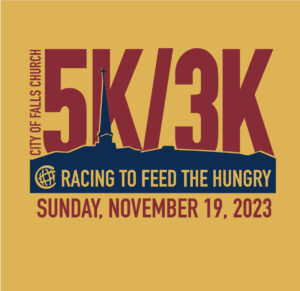 The out and back Falls Church City 5K/3K course is mostly flat on the W&OD Trail starting and finishing at 103 Columbia Street. Overall male and female winners earn free shoes and medals are awarded to all categories. Great family