Twenty-one years of distance didn't make the recent explosion at the Beirut seaport any easier for Zé Dagher.
Though he has been away from his native Lebanon for roughly half of his life without plans to return, the explosion, which killed more than 180 people, injured 6,000 others and caused more than $15 billion in property damage prompted the Falls Church resident to do something.
At this same time, his friend, Patrick Vaughn, had been making nearly-annual trips to the country over the last two decades, mostly with his Lebanese ex-wife and their children. Their commisseration led to inspiration.
"It was a pretty rough moment, we decided we had to do something together," Dagher said.
Most of Vaughn's trips to the country were heavy on family visits and didn't allow him much of a chance to run until he ran the Lebanon Mountain Trail in 2017, a trip that earned him the fastest known time (FTK) for the 292-mile-long course and the starring role in a film produced by his crew for the run. That trail has become the centerpiece of an effort they have untaken to raise money for the Lebanese Red Cross.
"We wanted to create a challenge that's unique, but also gets people around the world involved," Dagher said. 
So Saturday will mark the start of a six-person effort to run the distance and the elevation of the trail from several different points on the globe. Vaughn, formerly an Arlington business owner now living in West Virginia's eastern panhandle, will run 15 loops of the ski slope at the Timerline Resort- 1,000 feet of climbing in a mile, then back down. Dagher will tackle Hawksbill Mountain in Shenandoah National Park, aiming for four climbs of 3,000 feet over three miles or so. Along with four others, including Arlington's Mike Wardian, they will cover 292 miles of distance and 24,000 meters of elevation over 48 hours.
One runner, whom Vaughn said will be taking aim at his FKT in September, will be doing his mileage on the trail itself.
Along with their official run, they are recruiting others to track their runs over the same time, all via Strava groups.
"I wasn't even going to ask my friends in Lebanon, but they all wanted a distaction," Vaughn said. "It will be cool to see the tally grow with all the miles people run."
Dagher sees the explosion as the catalyst to help a conflicted region right itself in a way that wasn't possible before.
"I didn't see the region coming together unless it started over, but this is that kind of opportunity," he said. "We chose the Red Cross because they demonstrated the transparency that we needed for people to trust what we're doing."
Recent Stories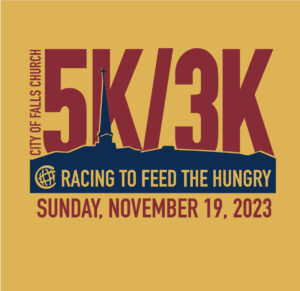 The out and back Falls Church City 5K/3K course is mostly flat on the W&OD Trail starting and finishing at 103 Columbia Street. Overall male and female winners earn free shoes and medals are awarded to all categories. Great family