Keira D'Amato has made her own fun the last nine months, refusing to let her momentum from the Olympic Marathon Trials go to waste, even as the COVID-19 pandemic has transformed the racing landscape. This morning, she made her own race, and came out of it with an American record for the women's-only 10 mile in 51:23. Janet Bawcom had set the previous record, 52:12, at the 2104 Credit Union Cherry Blossom Ten Mile, which she watched up close, holding the finishing tape.
A Cherry Blossom-managed race in Anacostia Park in Washington, D.C., dubbed by D'Amato the "Updawg Ten Miler," drew Olympic Marathoner Molly Seidel of Boston, locals Susanna Sullivan and Bethany Sachtleben (now of Boulder) and Flagstaff-based Emily Durgin. But D'Amato, an Oakton High School and American University alumna who lives near Richmond, was already two seconds ahead of Seidel roughly a quarter-mile into the race and wasn't in jeopardy the rest of the way as she ran to a 2:13 margin.
"I was trying to stay as relaxed as I could for the first loop because I could see myself hitting the wall toward the end," D'Amato, 36, said. "I just wanted to get the first two loops out of the way and grind out that third lap."
Updawg Ten Miler
Nov. 24, 2020
Anacostia Park
Washington, D.C.
1. Keira D'Amato 51:23
2. Molly Seidel 53:36
3. Emily Durgin 54:03
4. Susanna Sullivan 54:22
On the heels of her 15th place finish in Atlanta Feb. 29, D'Amato was scheduled to race March's World Half Marathon Championships in Poland before focusing on the Olympic standard for 10k (32:25). The World Half was postponed to October and the United States ultimately did not send its team. Likewise, the Olympic postponement gave her 10k plans a longer timeline. But in the meantime, she ran 15:04 in a 5k time trial on the track, 32:33 in a small 10k race and a 1:08:57 half marathon in October, where she split 52:37 for 10 miles. She is due to run a marathon in Arizona Dec. 20.
"It ended up being pretty close to what we would have done for a fall season," said Scott Raczko, D'Amato's coach. "She was still able to find races, and things have pretty much gone according to our long-term plan."
That long-term plan has taken D'Amato, who as Keira Carlstrom finished sixth at the 2005 NCAA, back to the national prominence after a foot injury effectively ended her elite racing career 13 years ago and she settled into life as a realtor and mother of two. She began her long-term comeback more than three years ago.
At the Updawg Ten Miler, with three out-and-back stretches along the Anacostia River sandwiched between four loops of the park's skating rink, D'Amato started off with a 5:12 mile before splitting 5:07, 5:09, 5:11 and 5:10 to hit halfway in 25:48 before closing with five 5:09s.
"In the last mile I was really hurting, but I tried to put in a little more effort," she said. "I saw the clock every mile, so I knew I was a little ahead of pace, and that let me get a little more comfortable."
The course was inspired by former Cherry Blossom Coordinator Jeff Darman's ACLI Capital Challenge, a three-mile race typically run in May. D'Amato first ran it a day before the race, and despite the high winds that caused a one-day delay for the 10-mile, saw its advantages to East Potomac Park, another course candidate.
"Hains Point can be a coin flip whether it's going to be windy, especially this time of year," D'Amato said. "This was a great staging area for the event and it was a lot easier to get a permit on short notice, and it was easier to close the roads."
As Letsrun pointed out, D'Amato was not only forfeiting the $10,000 bonus for the record (the race, while supported by the Cherry Blossom committee, did not offer prize money, bonus awards or travel subsidies), she was also bearing some of the costs to put on the race, including the National Park Service Permit and Park Police staffing. She did, however, have support from the Cherry Blossom committee on which she has served for years and Potomac River Running, where she works as a marketing director.
"I try to treat every race as a workout, but knowing how many people put in their time, volunteered and donated their services, I felt like I couldn't let them down," she said. "It was humbling to see how many people contributed."
Potomac River Running owner Ray Puglsey said it wasn't hard for the stores, and their event production team, to get behind the event.
"If you meet Keira once, you'll be cheering for her," he said. "She's great for the sport."
Seidel was still easing back into training following her 2:25:13 London Marathon finish in October, but was eager to help D'Amato fill out the race, which needed three starters to be sanctioned for record-eligibility.
"I told her I wasn't in super great shape, I wasn't going to be running American record pace, but I'm easy to convince to do last-minute crazy suff like this," she said. "I tried to hang but I fell off within a half mile."
When the Cherry Blossom team looked nationwide for a race field, Durgin responded, eager to try more long-distance racing after running her first two half marathons early in the year.
"When the opportunity came up, I knew it was something I wanted to do," she said. "It fit well into my training, hopefully this will lead into a half marathon early in 2021."
Not too far behind Durgin, Reston's Susanna Sullivan finished in 54:22, a nine-second improvement and, by her accounts, her first personal record in four years. She had finished 150th at the marathon trials in February, and given the pain she felt in her hip flexors in the weeks leading up to the race, it could have been worse.
"I felt like I was heading to the firing squad before the trials," she said. "Last night, I was so excited to race I could barely sleep. I hadn't been this excited to race in a long time."
Her goal at the trials was to finish the race, a far cry from her 20th place finish in 2016.
"I'm glad I finished because I don't know what kind of state I'd be in if I had DNFed what could have been my last race of the year in February," she said.
She took most of March easy and let her hips heal, then started to run without pain a month later. By May, she hit her first hundred-mile week in years. Soon, she was working with George Mason's Andy Gerard and then running with Sachtleben, who was in the process of moving to Boulder. Sachtelben did not finish the ten-mile. The two of them, along with McLean's Kelly Calway, will join D'Amato for the marathon Dec. 20.
"My second workout with him was two-by-5k, and my second was in 16:09," she said. "My PR is 16:00, so I knew I was in the best shape of my life.
"Even if this race ended up being a time trial, I knew I could grind it out because I've been running so many miles alone. This wasn't a heroic effort for me today, so I'm optimistic there are good things on the horizon."
Recent Stories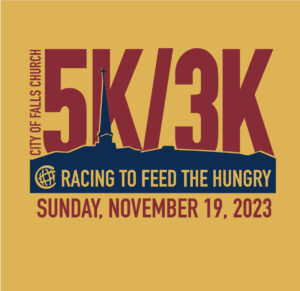 The out and back Falls Church City 5K/3K course is mostly flat on the W&OD Trail starting and finishing at 103 Columbia Street. Overall male and female winners earn free shoes and medals are awarded to all categories. Great family