---
Since publication of this article, D'Amato ran  2:34:55 at the 2019 Berlin Marathon and 1:10:01 at the 2020 Houston Half Marathon. She was once again named USATF's Virginia Long Distance Runner of the Year.
---
Setting a PR in the 10k seems like it would make most people happy. Especially if they do it at age 34, more than a decade after the conclusion of an All-American running career.
Not Keira D'Amato. She was third at mid-April's Monument Avenue 10k in Richmond, and she was pissed. Winner Bethany Sachtleben gapped her by almost a minute.
"I got crushed," she said the next day. "I ran the best I could and I didn't even last a mile with them."
She acknowledged the obvious.
"I'm just a competitive person," she said. "I know I should be happy, it was a lifetime PR (33:37)," she said. "I'm now in better shape than I ever was in college."
The 34:14 at the Mt. Sac Relays in 2006 that served as her 10k PR for so long followed a sixth place finish at the NCAA Cross Country Championships, the third All-American cross country finish (and one in track) during her career at American University as Keira Carlstrom. That was a springboard for a short post-collegiate career that ended in the specter of a costly operation.
"We collectively felt she had a lot of unfinished business," said Scott Raczko, who coached her both before and after her hiatus. "Now she has the opportunity and a career that allows her to pursue the things we knew she was capable of doing."
A few career changes and life changes later, it wasn't a hunger for competition that brought her back to running, it was a hunger for dessert.
Living in Midlothian, Va. after having her second kid, D'Amato was looking to lose some weight.
"I decided I was going to run three whole…minutes," she said.
She made it about a minute and a half, cried and walked home. It was a short walk.
The next day she tried again, and made it a little farther.
"My muscles were massively out of shape," she said, estimating she was 50 pounds heavier at the time. "I felt like I was running on a different planet with 10 times the gravity."
She made it up to seven miles then posed a challenge to herself. If she ran 10 miles, she could have a root beer float.
"I started running 10 miles every day because I wanted a root beer float every night," she said. "It turns out that if you do that, you get pretty fast."
She's always been fast. While she was hoping to make it as a soccer player, her junior high coach told her mother that the best chance for Keira to get a scholarship was for her to start running.
Her first few weeks of cross country were going great her freshman year at Oakton until the season-opening Monroe Parker Invitational, where she was put in the JV race. She wanted to be where the action was, and responded by winning and posting the fastest race of the day for the Cougars. She spent the rest of her career near the head of the team, winning state titles in cross country and the 1600 meters.
Sold on Coach Matt Centrowitz and staying in the D.C. area, she chose American, which got a boost after her decision when her high school coach, Terry Weir, told her he'd be taking an assistant coaching job for the Eagles, too. Weir is now the head coach at George Washington University. She'd also have Oakton teammate Samia Akbar, with whom she also trained after college.
"I got to school and trained my ass off," she said. "I was running about 50 miles a week my freshman year, but as a senior I had worked up to 80 miles a week. I've been really lucky to be able to handle the miles without getting injured. I'm a talented runner, but the cumulative work added up."
In November 2005, she finished sixth at the NCAA Division I Cross Country Championships. Four years earlier, she had finished ninth at the Foot Locker South regional, the first non-qualifier out of four regions.
"For never making it to nationals in high school, being sixth in the whole country was amazing, " she said.
She kept rolling after graduation, joining the D.C. Elite post collegiate team that Raczko coached. She hung her hat on a fifth place finish in the mile at 2007 indoor nationals, running 4:38.74, but in the next year she suffered two stress fractures in her left foot, which ended up being attributed to an extra bone.
Surgery to fix it wasn't covered by her insurance, so the sensible thing to do, the adult thing to do, was enter the "real world."
D'Amato leaned on her computer science and mathematics degree and got a job as a developer and project manager for Freddie Mac. She bought a house. She grew up.
"That was a really rough time for me because my identify and everything I associated my life with, everything I had worked towards, was gone," she said.
She became "Keira the runner" who doesn't run. She did project management. That said, she loved putting on normal clothes, being an adult. And her improved health insurance covered the surgery to fix her foot.
Then Potomac River Running came calling in 2011, pitching her on the job of directing the stores' marketing.
"I didn't know how to do that, I was a developer," she said. "It was kind of a risk, coming from a stable field like information technology."
But she took the job and embraced the new perspective on the sport and her chance to be involved again.
"I had always lived the pretty narrow life of being an elite runner, but now I got the chance to see the sport through the eyes of someone running their first 5k, or their first marathon, or taking up walking," she said. "I had my heart broken by running, but these new perspectives showed me all the reasons all of these people run and it make me love the sport in a new way."
She also fell in love with Anthony D'Amato, married him in 2012 and took a stab at the Marine Corps Marathon, but it ended badly and scared her away. An Air Force move to Tampa and two children later, she was as far away from running as she had ever been. They moved back to Virginia, to his hometown of Midlothian, in 2016.
"One of my best friends asked me three years ago if I ever saw myself doing it again, and I said no," D'Amato said. "I was never going to be the same runner, and around those days I couldn't run a 5k in 30 minutes."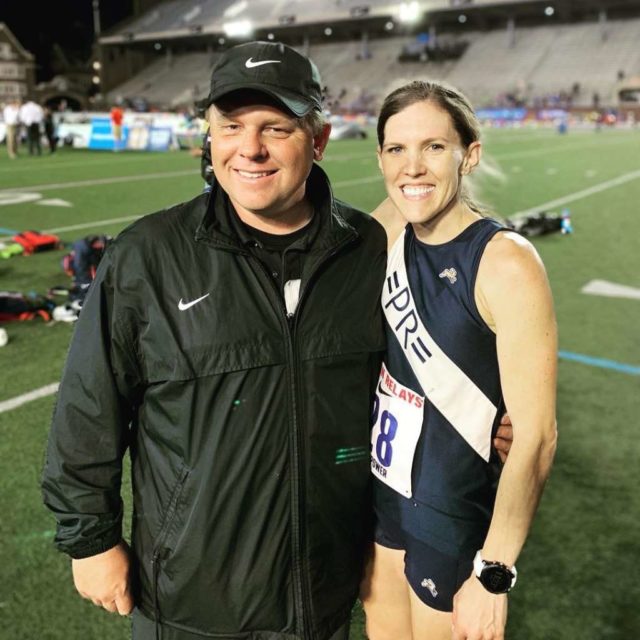 Sure enough, she isn't the same runner. In her 20s, she worked to support her running, "extremely part time." Now, as glasses from all the root beer floats filled the dishwasher, she was balancing a family, including a husband who was deployed for months, a budding career as a realtor and her work for Potomac River Running. She also had a large family of in-laws nearby who she credits with helping her make it all work.
As she got in better and better shape, D'Amato entered some races and found her old form coming back. At the 2017 Richmond Marathon, she finished fourth in 2:47:00 — two minutes off the Olympic Marathon Trials standard. She won the Rock 'n' Roll D.C. Half the next spring before taking on the historic Boston Marathon deluge and bending, but not breaking, to finish in 2:56.
"After Boston I knew it was time to bring in a coach," she said, turning back to Raczko. "I needed someone to teach me some patience."
To Raczko's chagrin, she eased into the patience part, lining up two months later for Grandma's Marathon in Duluth, Minn., where she ran 2:44:03.
"I just wanted that (Olympic Trials qualifying) time," she said. "Then I could just race the Richmond Marathon and not worry about qualifying."
Race it she did, finishing second, but she also improved her PR to 2:40:56.
Now she is full ensconced in Raczko's training.
"I don't know how people do it without a coach," she said. "Scott's my saving grace. I don't tell him that enough. He's helping me to keep it my fun thing but also to add structure, work towards a goal and do really intentional training that will accumulate and turn into something really awesome."
What has been most crucial to D'Amato's second act as a runner has been the balance it helps maintain in her life. And she and Raczko are careful not to disturb it.
"Running is my thing, and I'm worried to go all in because I don't want that to take away from it being my fun thing," she said. "It's my 'me time,' when I don't  have the kids, I don't have four eyes looking at me asking for more orange juice. I was worried that if I took it too seriously, I would lose part of that."
The solution is to keep her options open throughout the week. Raczko gives her a mileage goal and some workouts but lets her choose how to get the total. If she doesn't feel up to a run, do it later. Her busy time at work falls in the evening, but leaves much of the day wide open for running.
Raczko said her eagerness and steady improvement, coupled with inventive workouts, are keeping the challenge in running for her.
"The workouts are never the same thing and we adjust them as she is capable of doing more and more," Raczko said. "We're always looking for the stimulus for her to improve. We're really excited with where she is right now, able to have a nice consistent progression and a chance to keep improving."
D'Amato was not that far off of her 13-year-old track 5k PR, running 16:38 to win March's Lucky Leprechaun 5k in Reston. Raczko said her developing race schedule will target progressively competitive races to sharpen her racing instincts before running September's Berlin Marathon. Her Olympic Trials focus will start shortly after that.
She won the Olympic Development section of the Penn Relays 10k April 25 in 33:43, though overall winner Jacqueline Gaughan of Notre Dame put 30 seconds on her in the last 2.2 miles.
"She'll get there," Raczko said.
Days before Penn, D'Amato fretted about what kind of shoes to wear for her first serious track race in more than a decade.
"Should I wear spikes? I don't have any anymore," she said. "I don't want to be the mom that runs the race in flats."
She was, she did, and she beat almost all of them. She's getting competitive, alright.