When Gavin McElhennon decided on a college last year, he didn't expect to spend his first semester thousands of miles away from Johns Hopkins University's campus in Baltimore.
But with the COVID-19 pandemic forcing classes online for his first semester, Gonzaga alumnus McElhennon and 13 of his first-year classmates took their academic flexibility to Flagstaff, Ariz. The Blue Jays weren't alone — college runners from across the country, including many in and from the D.C. area, took a consolation prize from a deferred fall season and did some altitude training.
"We started texting pretty much as soon as we found out we wouldn't have classes in person," McElhennon said. "Within a few days we had a house that could fit all of us."
Though some parents voice concerns about letting 14 college freshmen — six men and eight women — spend their first significant stretch away from home without resident advisors and meal plans, before long they figured out their independent living situations.
"There were definitely a lot of responsibilities, but we figured out how we would handle them and each of us got pretty good at some reliable recipes so we could take turns making meals for everyone," McElhennon said.
The transition wasn't as hard as he expected, thanks to the rough July D.C. weather.
"Going from 90 degrees and humidity to 60 degrees and dry wasn't too bad," he said. "You could definitely tell you were at altitude because going uphill was really hard and seven-minute pace wasn't as easy as at sea level, but most of the time it didn't bother us too much."
In Boulder, Colo., National Cathedral School alumna Page Lester felt altitude hit her when she swam.
"You get so little oxygen to begin with," she said. "It was a double whammy. Then when I did some uphill strides, I felt like I was sprinting."
Lester had been interested in altitude training after traveling to Colorado Springs for triathlon training and competition, but finally took a long-term trip once Princeton University closed down its campus for the fall semester. She has spent most of the late summer and fall there with her junior class teammates.
"I'm used to my legs hurting before my lungs, so this was a change," she said. "I've had to adjust my expectations, like knowing when things had topped out on progression runs and I wasn't going t be able to plan on going much faster."
Like Hopkins, most of the Georgetown men's cross country team also headed to Flagstaff, drawn in part by its comparatively lower cost compared to Boulder. Some of Georgetown's women went to Boulder.
"I didn't orchestrate any of that – I was pretty honest with the guys all summer that it was pretty clear we wouldn't have a fall cross country season, nor would we be on campus, said Coach Brandon Bonsey. "I think at that point, they were all fairly sick of training on their own and they wanted to get a group together in a safe manner."
Though the altitude was a benefit Bonsey had a hard time discounting, just being able to get together to train was the most important part of the enterprise, and though he didn't join them in Flagstaff Bonsey heard good feedback along the almost three-month stint.
"There are so many distractions on a college campus, and I think they really saw what they're capable of when they're devoted to school and running and nothing else is going on," he said. "It was kind of a culture shift that maybe we needed as a team that I wasn't necessarily expecting to get when I couldn't see them for a long period of time. Each guy seemed so excited and dedicated and I didn't expect that to be the outcome of all of this, but that trip opened up a lot of guys' eyes."
Both teams have aspirations for their respective national championships. With Division III's cancelation of the fall season, Hopkins will have to wait a year to improve on the team's fifth place men's finish in 2019 and another women's championship. A shortened Division I season may give Georgetown one chance to race before the Big East Championships, with hopes that those two opportunities are enough to make a case for their selection to the NCAA Championships, following the cancelation of the regional qualifiers.
Though the immediate physiological benefit to coming back from altitude would be lost by the time they have a chance to race again with their teams, some of the locals did see their efforts pay off, and will still benefit long-term from the hard training. McElhennon ran a 24:50 8k time trial roughly three weeks after returning to D.C., and recent Georgetown transfer grad student Robert Brandt qualified for the Olympic Trials in the 10k. In addition, three more Hoyas ran 3k PRs in New York after returning from Flagstaff.
"It showed altitude was working," Bonsey said. "They didn't really know what the workouts meant a lot of times because none of them had been to altitude. They were hurting bad on some of this stuff and there were moments they got pretty tired. But they had good validation of the work they put in."
McElhennon thinks the team bonding will outlast any physiological gains the Blue Jays made.
"With the fitness, in a year from now you won't be able to tell anymore, but the bonds with my teammates will last a lot longer," he said. "It's crazy that we all got along as well as we did, but I think it's setting a real team culture that's going to last."
Recent Stories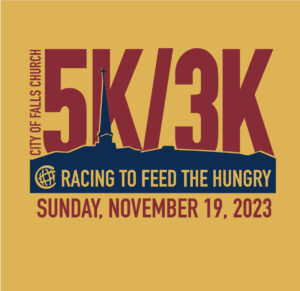 The out and back Falls Church City 5K/3K course is mostly flat on the W&OD Trail starting and finishing at 103 Columbia Street. Overall male and female winners earn free shoes and medals are awarded to all categories. Great family