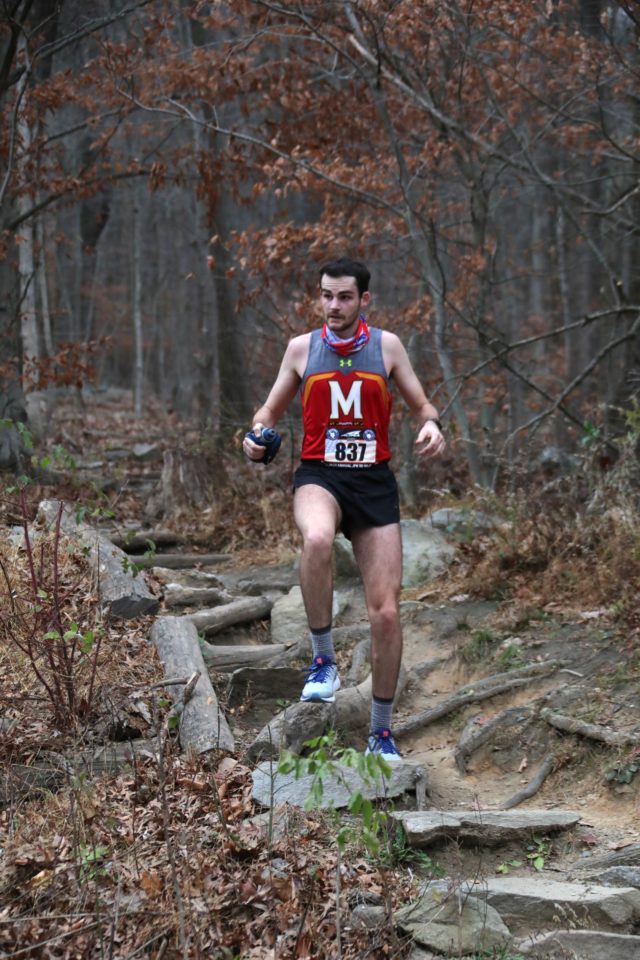 Time moves differently now for Andrew Lent. 
Part of it is his age — he's 21, and a minute, an hour, even a month exists on a broader scale than it did a few years before. 
But he's also made new choices. Since he finished his high school career at Poolesville with a state runner-up finish in the 3,200 meters behind teammate Ryan Lockett, he's now competing in situations where those same 3,200 meters can include two walking breaks, even on his way to a top-10 finish at the storied JFK 50 Miler.
"You can get a real second wind in ultra running," he said. "It could take hours, but at some point, you usually come back around. 
"It amuses me that it can happen. You come from track and cross country where your race is about 15 minutes and if things feel bad, it's not going to get much better. Now I'm in situations where an hour ago, you couldn't fathom taking another step and all of a second you're running even better than you had been."
In a way, he had been heading on this path for a while, starting with his tutelage by Poolesville coach Prasad Gerard, owner of a robust ultra running resume. Lent was an avid backpacker, and when he moved on to the University of Maryland and found initial prospects for running varsity track unwelcome, he found a home on the school's club team and more self-sufficiency.
"That was better for me because it's taught me to coach myself," he said. "I know how to train better than I probably would focusing on college racing, and since I'm not winning (club running) titles or anything, I have plenty of competition."
That's not to say he lives divorced from the goals his peers chase. As 2020 dawned, Lent was eyeing a sub-15-minute 5k in the spring. During a lull in January training, he went after the Fastest Known Time (FKT) on the Seneca Creek Greenway Trail, heading south to Riley's Lock from Damascus, a 30-mile run he finished, unsupported, in 4:11:05. Nicolas Crouzier has since run 3:35:23.
It was a long-held dream that brewed as he grew up running the part of the trail and the Schaeffer Farms trails near the Maryland Sportsplex in his childhood home of Boyds.
Still, although he dabbled with long distance running while studying in Madrid, he envisioned a long-term progression to ultras. 
"I figured I wouldn't peak physiologically until my 30s or 40s, so I might as well run fast until then," he said.
Then, that shot at a sub-15 moved farther and farther away as the COVID-19 pandemic spread. 
"I kept training for a while, but I lost a lot of motivation," Lent said. "The idea of going out there alone for time trials, even just workouts by myself, I wasn't having any fun."
So he started running longer. A 38-mile run along the Appalachian Trail throughout Maryland. Pacing for a friend running the length of Shenandoah National Park. Lent found a blend of the backpacking and running.
"I always generally liked cross country a little more than track, and ultras seemed like a combination," he said. "I still like the racing aspect of track, but I love being able to go out and spend a long time in nature, feeling in tune with everything around you while carrying as little as possible."
He got the push to start competing in ultras when Northern High School coach Josh Dawson invited Lent to join his JFK team.
"It was always something I wanted to run some day, but I didn't think I'd do it for a while," Lent said. "But it gave me what I needed."
What he needed was focus and a reason to get out of flat College Park on the weekends to train.  
Although he saw some valid concerns about a large race in Washington County, Md. during the pandemic, the ease with which Lent could show up, race and go home soon after tipped the scales for him to race on Nov. 21.
He had modest goals for the first 15.5 miles, climbing, descending and navigating the technical Appalachian Trail portion in roughly two hours. 
The first 14 miles of the 26.3-mile stretch on the towpath went well, though Lent's disposition soon changed.
"When I was in high school, the canal was boring, but when I got to college, I was always happy to run somewhere soft and straightforward," he said. "But after 30 miles (during JFK), you weren't going up, you weren't going down and you could always see about two miles ahead and it all looked the same."
He was also experiencing a race setting unlike any other he had seen in his life. 
"You don't see anyone, another runner or spectator, for a half hour at a time and you have to remind yourself you're racing," Lent said. "It was dead silent a lot of the time."
Add in his disappointment when he realized an aid station wasn't where he expected one and some Gatorade that he forgot to water down, and he was hurting. That's when the walk breaks started every mile, but also the countdown to that fabled second wind.
Some of his Maryland club teammates were out on the course crewing for him, and at 39 miles, one shoved a Twix bar into Lent's mouth.
"It was the greatest thing I ever had," he said. "The only thing I had been able to swallow earlier was flat Coke." 
Three miles later, he got his wish, he was off the towpath and headed for the finish at Boonsboro High School.
"Getting off the canal was amazing," he said. "Things got better after that."
Lent finished 10th in 6:27:23 the second local behind Alexandria's Mark Gaudet in 6:08:49. D.C.'s Raquel Morgan was the first local woman, 14th, in 8:49:21. He headed home after a few congratulations, knowing he missed out on the regular race atmosphere.
"When I was on the starting line, I felt like the only person who didn't know anyone else up there, everyone was catching up after being apart for a year," he said. "I'm looking forward to coming back some time when I can really enjoy everything around the race." 
Until then, he's continuing to use running to keep him moving ahead during the pandemic. A few days ago, Lent and his club teammates ran a mile every hour, on the hour, with an extra 2.2 tossed in there to complete a marathon in a day, along with some other activities during the day. It keeps them sharp, mentally and emotionally.
"When you're on Zoom all day, getting out the door is the highlight."
Recent Stories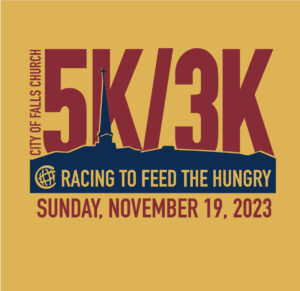 The out and back Falls Church City 5K/3K course is mostly flat on the W&OD Trail starting and finishing at 103 Columbia Street. Overall male and female winners earn free shoes and medals are awarded to all categories. Great family