Taylor Knibb had already gone an entire year without competing in a triathlon, so what was a few more months?
Possibly the difference between making the U.S. Olympic Team and staying home.
For the first time since she was 11 years old, growing up in Washington, D.C., Knibb had a year off, with the competitions she had planned following her graduation from Cornell University all scuttled because of the COVID-19 pandemic.
In that year, she settled into her life as a professional in Boulder and toward the World Triathlon Championship Series race in Yokohama, Japan May 15. Winning that race made her the youngest U.S. Olympic triathlete in history at 23.  
"I had the most solid six-month block of training I have ever had in my life," Knibb said. "There were no interruptions because I wasn't racing. I didn't race in early March to save on the trip and just kept working.
"There was no one heroic session where I felt now I'm ready to race, it was just week-on-week-on-week of training."
There was a single Olympic team spot available at Yokohama, to the first American woman who finished in the top three overall. Eighteen months ago, Knibb needed an unorthodox plan to even be close to the conversation going into the anticipated 2020 season. 
After a lackluster summer in 2019, she added a race in the Dominican Republic in hopes of boosting her ranking. It came in the off week in Cornell's postseason schedule, between the Heptagonal Championships and the NCAA Northeast Region Championships. A year before, Knibb had qualified as an individual for the national meet (finishing 109th), so competing on her down week was a gamble, but one that paid off when the Big Red finished second as a team.
"I went from racing in 90 degrees and humidity to 20 degrees in Buffalo," she said. "I was wearing tights while all the other girls were wearing shorts, but my body just couldn't handle it a few days later."
She went on to finish 125th at the NCAA Championships in 2019 in her fourth race in as many weeks, second for Cornell's 29th place finish.
Knibb started as a swimmer with the Sea Devils and then Nation's Capital clubs, but she wasn't content to watch her mother Leslie compete in triathlons.
"I'm too competitive to sit on the sidelines," she said.
She spent a few years doing low-key triathlons before the first of three straight U.S. age group championships and later, two world junior championships in 2016 and 2017. By then, she had started running cross country at Sidwell Friends School as sophomore, where coach Gaby Grebski later put her on a "pitch count" to keep her fresh. She won two D.C. state meets, the DCXC Invitational senior race and two D.C.-Maryland Private School Championships, edging her friend and training partner Page Lester.
"She got me into triathlons and most of what I've done with triathlon training is what she's influenced," said Lester, a National Cathedral School alumna who now runs for Princeton. "I've learned so much from her, even when she was young and inexperienced. She just doesn't leave any stone unturned with what can make her better.
"She loves the training and working hard."
Knibb didn't race much on the track, which she thought would limit her college recruitment, but she knows now worked in her favor.  She went into college running with the express intent of improving her running for the triathlon.
"A lot of college coaches didn't respond to me," she said. "If I had track times and options, I might not have gotten a program that was supportive of me as an athlete and person."
Then-Cornell coach Artie Smith saw where she was going and saw how to make it work out.
"I had the world championships four weeks into my freshman year, and he never treated it like it was a problem," Knibb said. "He didn't care if I was just running 40 miles a week but swimming and biking outside of that."
Though Knibb chafed against the reduced workouts Smith prescribed, and was dismayed to have him take tempo runs and long runs off her schedule, she saw her performances improve and put her in the national championships as a junior.
"He could have raced me so much more, he could have done so much more but he wanted me to develop as an athlete over four years," she said. "I was probably the only person on the start line who didn't run at least 50 miles a week."
Mike Henderson, who succeeded Smith as Cornell's coach, continued to allow Knibb to prioritize triathlon training. She joined the Cornell swimming team for her last two years, including the last season before the pandemic prompted the Ivy League to end competition for more than a year.
Then, it was off to Boulder, where she rejoined coach Ian O'Brien's training group, which includes Georgetown track and cross country alumna Kirsten Kasper. 
Her workload has totaled about 26 hours of training on her legs, on a bike or in the pool each week, before adding in strength training. The routine rotates around two hard workouts per discipline, with the hardest day coming on Saturdays, where a bike ride is mild recovery between a hard run and a hard swim.
Heading into Yokohama, Knibb felt some pressure despite her late-season heroics in 2019.
"I knew based on my 2019 results that I wasn't going to earn a discretionary selection, so if I wanted a change I had to just go out and earn it," she said.
 "I had nothing to lose."
She did gain a few hours flying west to Japan, which meant she'd wake up with plenty of time before to race to fuel and prepare, and she would need it.
"If you compare her results with the other top U.S. women (who were ranked third and third in the field), you would not have picked Knibb," said Lindsey Jerdonek, a professional triathlete who swam for the University of Maryland.
She had a better swim than she expected, coming out of the water fifth, six seconds behind the leader. She took control on the bike as she raced Dutch athlete Maya Kingma head-to-head, far ahead of the pack, which gave her her best cushion over fellow American Summer Rappaport, who had already made the Olympic team.
"She capitalized on unique circumstances in the qualifying race," Jerdonek said. She pointed out that travel restrictions thinned the pack of international athletes that may have pushed the pace and in their absence, Knibb took control. 
"She put herself in a good position where she could make an impact on the race," Jerdonek said. "There are not a lot of athletes who can and are willing to make a breakaway, so it's always cool to see the ones who take that risk."
Rappaport closed hard on the run, but couldn't make up the 30-second lead Knibb had built up.
"I had been at altitude for four months, so having 17 percent more oxygen was nice," she said. "I was definitely getting depleted at the end of the run, it was very long.
"I knew if Summer passed me I would still make the team, but I wanted to win. I flew all the way to Japan for this."
The distances in an Olympic Triathlon can be within 10 percent of their standard distances of a 1.5 kilometer swim (which Knibb completed in 19:35), a 40 kilometer bike course (58:21) and a 10k running course (35:09). With her transitions, which added up to less than 90 seconds, Knibb finished the race in 1:54:27. With Rappaport a non-factor in Knibb's bid for the Olympic team, he closest competitor was Taylor Spivey, in fourth, who finished in 1:55:23.
Jerdonek was impressed.
"It was her first WTCS win which I don't believe she has done before," she said. "It's really something to do it for the first time when it really counts."
Knibb didn't feel secure in her position until she crossed the line, and then didn't fully grasp her achievement until she was on the plane the next day.
"There were a lot of messages, a lot of people I wanted to talk to," she said. "When I got on the plane I had some time to myself."

She caught up with Lester. 
"I was so excited, she made the Olympic team," Lester said. "In the middle of all of that, she wanted to know how my track race had gone the day before. She's the most humble person I know."
Jerdonek is familiar with that.
"She's unassuming," she said. "Until you see her in training."
Knibb is back in Boulder, sticking to the routine that got her here.
"I need to work on handling on the bike and my nutrition," she said. "I don't want to change too much, I'm just going to focus on the process.
"This is exciting and I'm grateful for the opportunity, but it's basically another step in my development as an athlete. I just want to get better each year."
As she works toward the July 27 Olympic race, she will embrace Boulder's altitude and the moderating effects it has on any tendencies to push too hard in training.
"At altitude, the punishment for going overboard is so harsh," she said. "It's just one day of training at a time, doing what I need to do and not over-analyzing it."
Recent Stories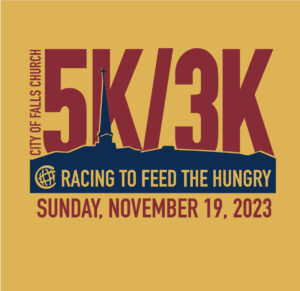 The out and back Falls Church City 5K/3K course is mostly flat on the W&OD Trail starting and finishing at 103 Columbia Street. Overall male and female winners earn free shoes and medals are awarded to all categories. Great family