Five years after Loudoun Valley's Drew Hunter kicked off his professional running career right out of high school, his mother Joan is making the same jump.
She will oversee training for the Boulder-based Timman Elite, an all-male collection of distance runners, including her son, who mostly represent the United States. She brings with her 18 years of high school school coaching at three different Northern Virginia high schools — with two Nike Cross Nationals titles in the last four seasons — and several intervening years coaching a youth team. Hunter served as a remote interim coach since March, before she and husband Marc retired as Loudoun Valley's track and cross country coaches.
The job is a reclamation project, with six of the team's 13 runners injured when Hunter took over, and only one making an Olympic Trials final. Drew Hunter had the 5,000 meter Olympic standard, but a torn plantar kept him out of competition.
"Right now we're looking forward to getting everyone healthy and individualizing things for everyone," she said. "We have so many who aren't so much 'injury prone' as you've had a lack of oversight. You've got guys who are really driven and maybe they've lost some focus on how to stay healthy when you're trying to do big things."
Hunter traveled to Boulder in early July and aside from some short trips back to Virginia, where Marc and several of their children remain, she plans to be on-site at most Tinman workouts as the family plans its westward migration.
"Marc and I had planned to move out here someday when he retired (from his full-time job) and help out however we could," she said. "Once the team decided they needed a change, it became evident we had to be out here."
Hunter was originally recruited by her James Madison High School coach to handle middle distance runners soon after she graduated from college. She and Marc coached at South Lakes High School and then the Northern Virginia Athletic Club before coming to Loudoun Valley when Drew was a sophomore. 
As a practical matter, she'll have far fewer runners to manage after years in which Loudoun Valley's boys' and girls' teams often combined for 150. 
"I'm looking forward to not having as many athletes," she said, but noted she'd apply a lot of the same approach she did with the more dedicated high school runners, with the fundamentals of distance running remaining the same on both levels.
"I'm a collaborative coach, I try to empower them to understand their training so they really got what they needed to do and why," she said. "That's probably a little odd among high school coaches, but it fed on their commitment."
The difference is that rather than working with the blank slate of novice teenage runners, Hunter will have more background in crafting plans for athletes in their late 20s. She's also doing her first marathon coaching.
"I'm not trying to come in here and apply what I think blindly to the group as a whole," she said. "They all have a good understanding of running and training and what's led them here."
She also doesn't see many dramatic changes in the team's foundational training because her training philosophy has been heavily influenced by the team's prior coach Tom Schwartz, who coached her as a masters runner. 
"I was successful coaching middle distance runners because I fell in line with the high-intensity, low-volume training in the 90s," she said. "I was always negligent in developing stamina, and that's something Tom helped me understand and master. That's something Marc and I knew we wanted to lean on when we started coaching at Loudoun Valley."
Recent Stories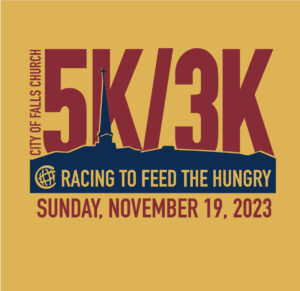 The out and back Falls Church City 5K/3K course is mostly flat on the W&OD Trail starting and finishing at 103 Columbia Street. Overall male and female winners earn free shoes and medals are awarded to all categories. Great family